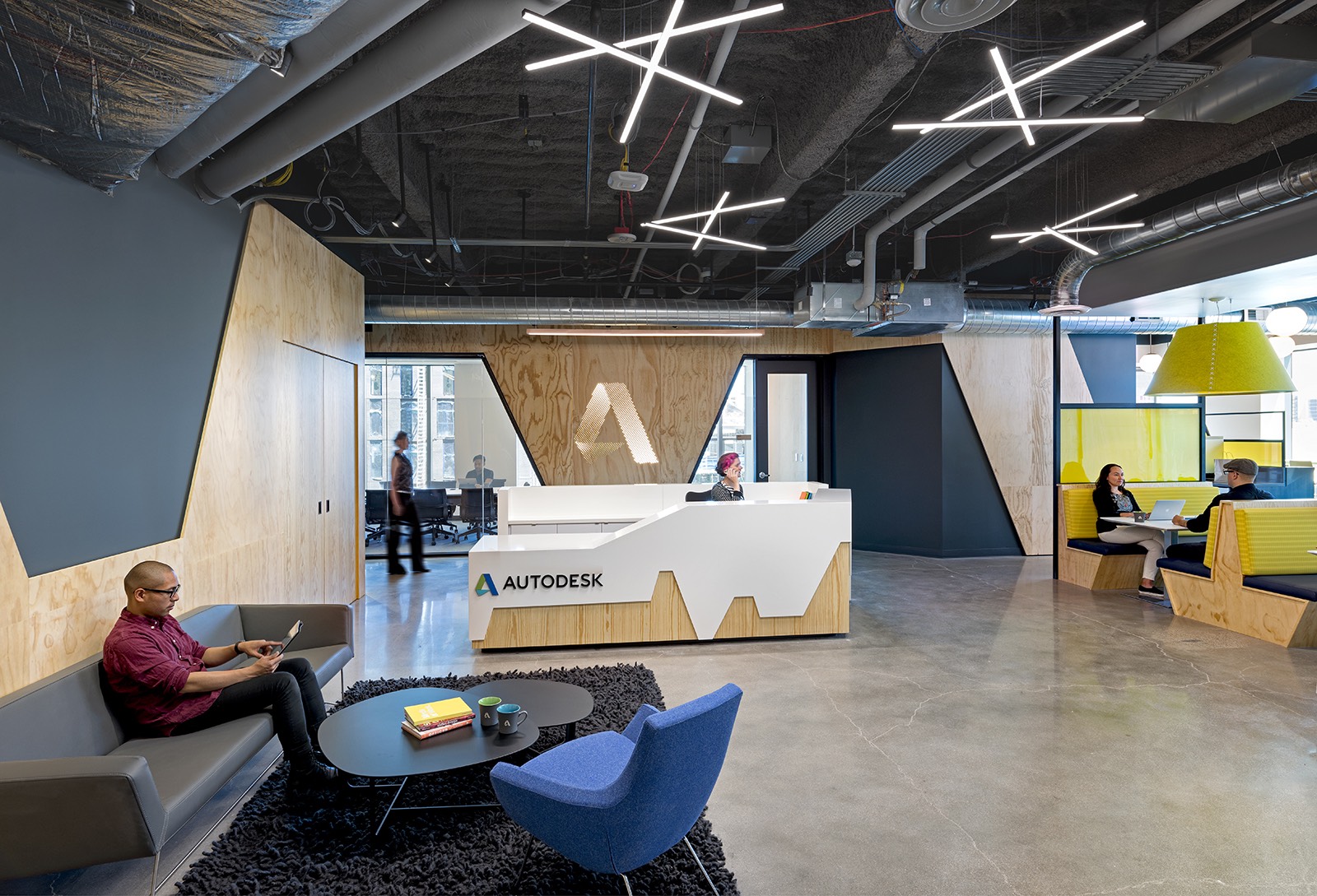 A Peek Inside Autodesk's New Denver Office
Autodesk, a software company developing 3D design software for use in the architecture, engineering and construction, recently relocated its sales hub into a more modern office space, which was designed by San Francisco-based interior and architectural design firm Revel.
"The Denver location needed to be a unique design with a strong visual tie to the company and to the region. The design goal for Autodesk Denver was to provide a vibrant and energetic environment that would inspire and motivate both employees and visitors. NicholsBooth collaborated with the client to identify key branding elements and locations, as well as create a series of unique graphics that both complement the digital nature of the brand and reference the natural surroundings of Colorado, using punches of nature-themed color. The angles of 67 and 113 degrees were borrowed from the Autodesk logo and are used prominently and playfully throughout the space, in a variety of different materials. They convey movement and activity as they trace their way around the office, providing interesting finish transitions, framing graphics, and shaping glazing. On the face of the main reception desk, the abstracted logo geometry provides a subtle reference to the profile of the nearby Rocky Mountains. Behind the reception desk, the Autodesk logo has been reimagined using a halftone technique. In a one-of-a-kind statement, hundreds of varying-sized holes are CNC routed into exposed plywood panels, which were hand-selected for their prominent wood grain, and are backlit by a continuous LED light source. The reception and breakroom areas work together as the main hub of all activity in the office, providing convenient and interesting areas to greet, meet, and eat. Walking through the space from there, unique forms, elements, and landmarks randomly unveil themselves along the way, creating a variety of different experiences, depending on the path taken. Building materials such as plywood, concrete, blackened steel, and more provide an urban and industrial aesthetic, while exposed infrastructure and the resulting transparency of construction showcase the end result of using Autodesk products. Ceiling clouds over workstations provide a subtle reference to peaks and valleys, and tents and camping at the same time. Random organic carpet patterns in open office areas contrast with angular linear patterns in meeting rooms—again providing balance between the natural beauty of Colorado, and the digital and precise nature of Autodesk".
Location: Denver, Colorado
Date completed: 2016
Size: 19,868 square feet
Design: Revel
Photos: Jasper Sanidad