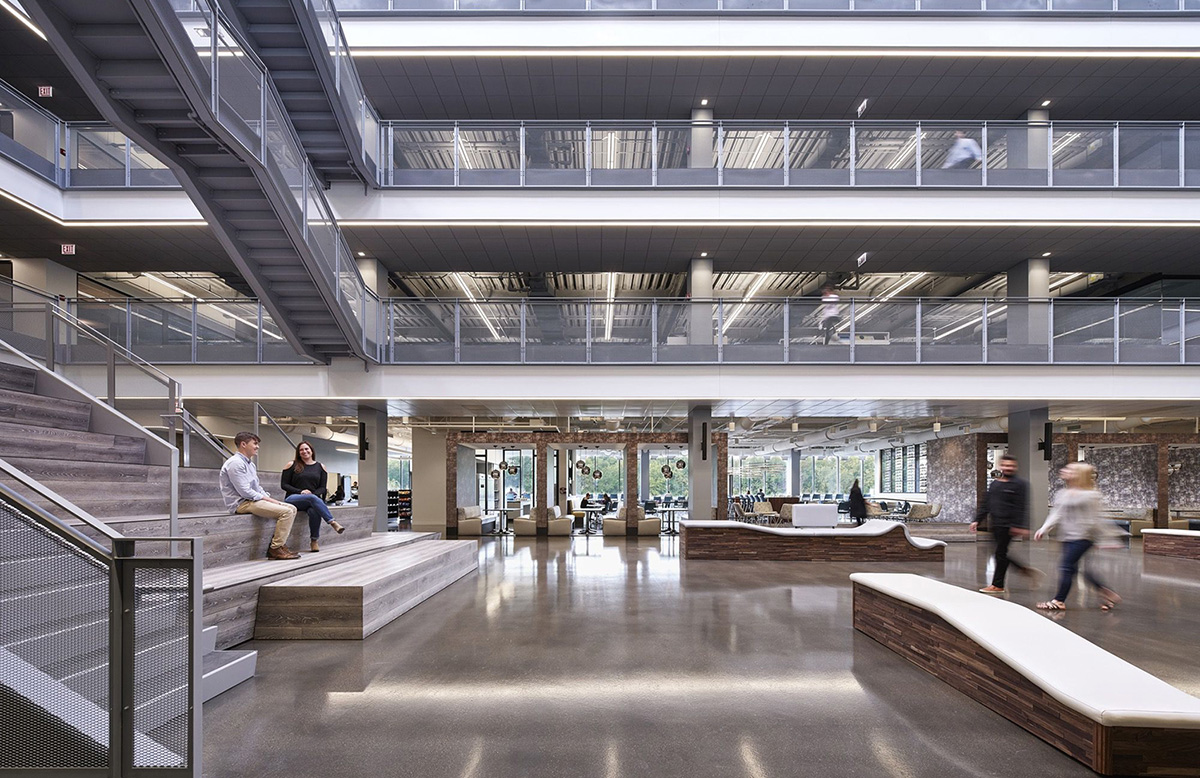 A Tour of C.H. Robinson's Modern Chicago Headquarters
C.H. Robinson, a transportation company that provides multimodal transportation services and third-party logistics, recenly hired architecture and interior design firm Vocon to design their new headquarters in Chicago, Illinois.
The building, located at 1515 West Webster Avenue along the Chicago River, is designed around an open central atrium that spans the height of the building with a dramatic glass skylight overhead. Open staircases within the atrium anchor the property, promoting movement and helping to create the feeling of a dynamic town square. The first floor houses the lobby area and serves as the activity hub of the building with conference rooms and amenities including a cafe. The building also features a 5,000-square-foot rooftop space with sweeping views of the river. Led by Paul Voinovich, principal, the Vocon team explored C.H. Robinson's business to understand the company's needs and identity. According to designer Julie Engstrom, the resulting design reflects CH Robinson's core logistics business, referencing modes of transportation and highlighting themes of speed, fluidity and transparency. While the exterior of the building is clean and sleek, Vocon worked with the client to create a warm, loft feeling for the interior that is at once contemporary and casual with dark wood, exposed ducts, rough metalwork and a sleek color palette that hint at ground and air transport. To create a dynamic employee experience, Vocon developed an open-office layout featuring small break-out spaces for group meetings and one-on-one mentoring sessions. Inspired by employee wellbeing, Vocon employed open corridors and glass throughout the space to maximize light, air and daylight views. In addition to the first-floor gathering area, Vocon provided access to lounge and pantry amenities on each floor. The building is located on a public transportation hub and the surrounding area offers bike trails, pedestrian paths with bike and vehicle parking options onsite. One of the signature design choices is the large illustration of Chicago's transport maps in the central atrium. The statement design spans all four floors and is located behind the building's focal staircase, which also serves as a gathering space. The design team also included several unique nods to C.H. Robinson's business focus, with a large wall of shelves showcasing scale model trucks featuring the names of individual clients. The space establishes this as a model for the C.H. Robinson employee experience and corporate aesthetic, and local company branches may incorporate elements of the design to create continuity in the brand experience.