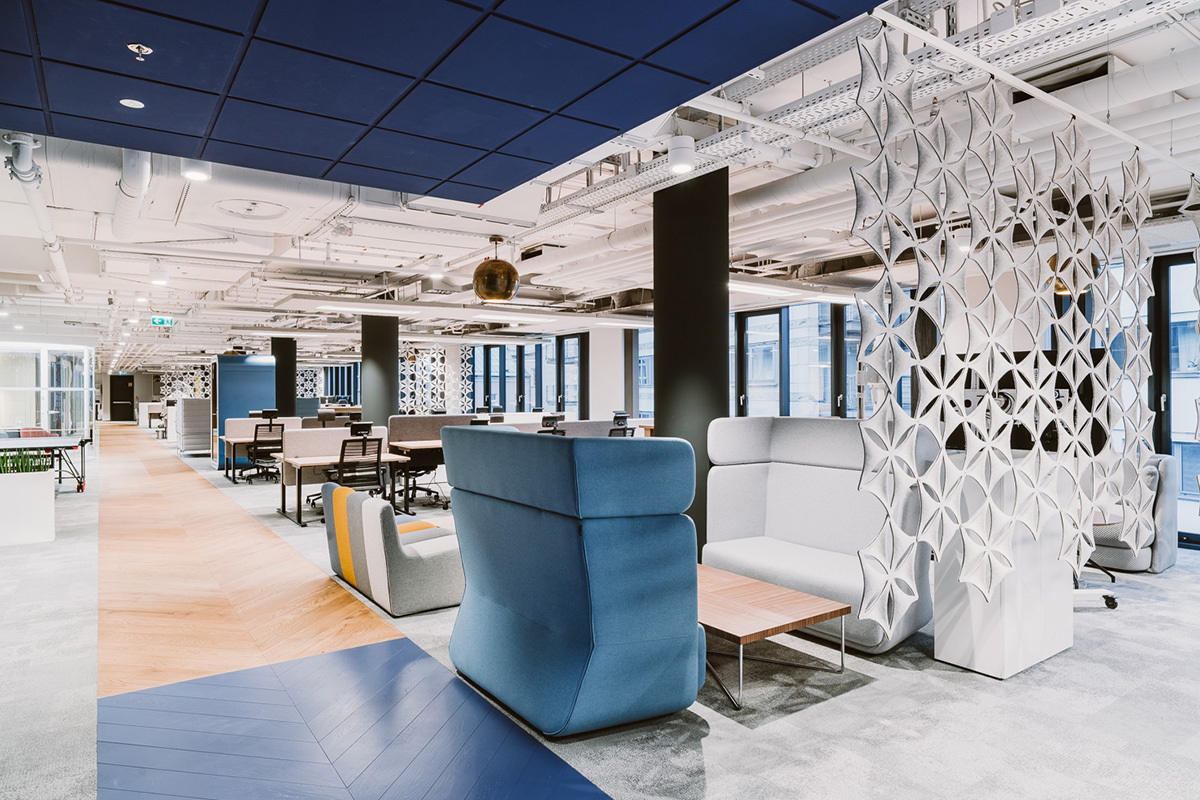 A Tour of Ergo Digital's New Warsaw Office
Digital technology company Ergo Digital recently hired architecture interior design firm Trzop Architekci to design their new office in Warsaw, Poland.
"Workspace has a modern character and reminds more of an elegant hotel lobby, than a traditional IT sector office. Guests and employees are welcomed by a representative reception, combined with a common space of over 300 sqm.

The office is designed with several different features for collaboration between employees or more independent and reflective work. The design represents a well-balanced space where collaboration happens for a purpose and spaces which enable collaboration are designed with supreme approachability across the office. The heart of the office consists of a big part of the space to create a good first impression when you enter the room. It's designed for social settings in all its varieties; space is used for meetings, coffee and lunch `breaks.

Warm, cozy wood and cold, monochromatic color tones combine easily, when it's necessary to define spaces for individual work, cooperation, or when it's essential to connect people. A distinctive element of the office is a blue ribbon, seamlessly connecting the office space, passing through the floor, brick walls, naked and exposed technological ceiling, furniture and acoustic panels. It's a space filled carefully, not just divided into ordinary cubicles. Semi-transparent meeting rooms separate individual workplaces, yet keep the space continuous and flowing. Only due to the combination of cool and warm shades in particular ratios used along with layering transparent constructions, it has been possible to achieve a captivating illusion of depth and distant views. Employees can use small meeting rooms in the form of a cylindrical roller. The construction of the room was quite a challenge. It's a completely new idea on the Polish market, however the architects managed to select the appropriate systems, from which the form was made. The dynamic, diagonal arrangement of rooms makes the office compelling and is an interesting alternative to typical meeting rooms.

The abandoned layout was transformed into a walkthrough experience full of community areas such as game zones and amphitheater, spots dedicated to cooperation and creativity, lounge zones and places for calm, focused work. Workplaces are equipped with electrically operated Lift Desk desks allowing to change position during work and relieve tried spine", says Trzop Architekci.
Location: Warsaw, Poland
Date completed: 2018
Size: 30,138 square feet
Design: Trzop Architekci
Photos: Pion Studio