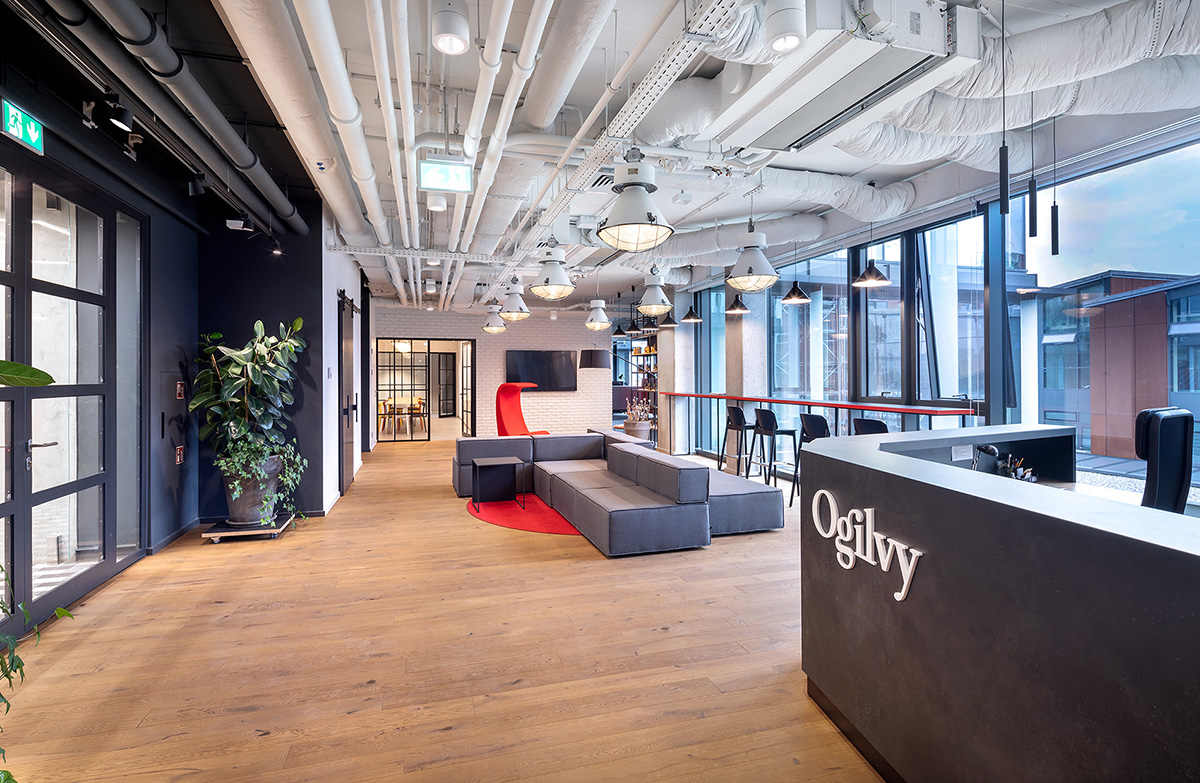 A Tour of Ogilvy's Cool New Warsaw Office
Advertising, marketing, and public relations agency Ogilvy recently opened a new office in Warsaw, Poland, which was designed by architecture interior design firm Trzop Architekci.
"The Trzop Architekci studio created an elegant, open space for Ogilvy's team, a workspace enabling free interpersonal communication, leaving employees a sense of intimacy at the same time.

When advertising agency Ogilvy decided to relocate their team, it was clear that the future space must support the creative way of thinking. The former vodka factory "Koneser" now houses under its roof a clear, concentration conducive office – an aspect that is particularly important in the creative industry. Architects decided to put in the project very subtle elements in the flagship red color of the agency – ceiling installations in the conference room, an armchair placed in the central point of the office, and a large lamp warming the interior with a delicate light.

The agency's new office balances industrial elements with clear, neutral collaborative spaces like the lobby and a kitchen. The post-industrial climate was maintained by placing a red brick on the walls and painting it white, referring the motif used in the revitalized neo-Gothic complex of "Koneser". Factory accents are also sliding doors made of raw, hot-rolled steel and glass walls dividing the office into zones and maintaining an open space at the same time. This system fosters communication between employees, increases efficiency and helps build relationships.

Arranging an office is a complex process, which is why, apart from the quality of the project and its implementation, cooperation between its creators is also important. Trzop Architekci studio managed to capture in this interior the character of Ogilvy and stimulate the creativity of employees. The solutions proposed by the architects were entirely in line with the agency's vision. Thanks to this relationship of great understanding, designed office creates a modern company image and fully reflects what Ogilvy is – a solid foundation, a huge brand, and a timeless entity," says Trzop Architekci.
Location: Warsaw, Poland
Date completed: 2018
Size: 8,611 square feet
Design: Trzop Architekci
Photos: Szymon Polański