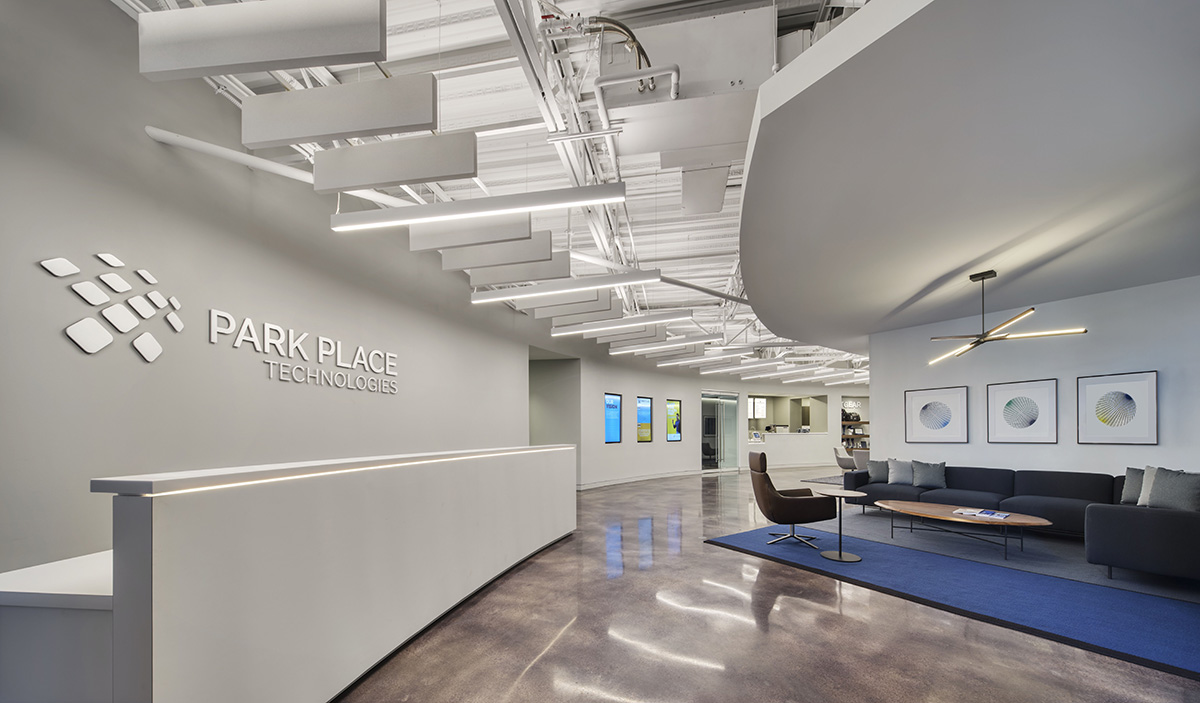 Inside Park Place Technologies' Minimalist Headquarters in Cleveland
Park Place Technologies, a technology company that provides data center maintenance services, recently hired architecture and interior design firm Vocon to design their new headquarters in Mayfield Heights, Ohio.
"Park Place Technologies sought a space that would offer employees and clients cutting-edge technology and engaging amenities and in a contemporary environment. The Vocon team provided the headquarters with dynamic new meeting and workspaces along with productivity and wellness enhancements to support employees and provide an environment that promotes creativity, productivity and a positive workplace culture.

To accommodate Park Place Technologies' need for company-wide town hall meetings and employee training, Vocon created a combined, collapsible room with moveable glass walls that can support both uses. The glass walls can be removed to create an open meeting space whenever needed. This unique space has four training rooms and a break out area for smaller groups and also features writable wall surfaces, multiple screens for presentations and full technological capabilities.

Another core element of the project is the "UpTime Cafe," a coffeehouse and market that is staffed with a full-time barista. The cafe uses the latest identification and payment technology, enabling employees to purchase items through an advanced thumbprint scan payment system. The café also offers a variety of dining seating options that serve as workspaces, including convertible Ping Pong tables. The redesign also enabled Park Place Technologies to offer in-house catering. As part of the project, Vocon redesigned the firm's multi-purpose fitness room, remodeling locker rooms and showers while positioning the facility to offer yoga and exercise classes.

Importantly, Vocon's redesign reflects Park Place Technology's brand and company culture. The design team's color scheme references the company's branding, using different shades of blue throughout the project. They also created a founder's wall in the café and dining space that features the three founders, the company's mission statement, and includes a globe showcasing the company's locations across the world. The lobby space includes a store area that features Park Place Technologies gear for sale and that is often offered to employees as giveaways.

Additionally, the Vocon team provided the firm with state-of-the-art audio-visual and video conferencing capabilities in all meeting rooms," says Vocon.
Location: Mayfield Heights – Cleveland, Ohio
Date completed: 2019
Size: 16,536 square feet
Design: Vocon