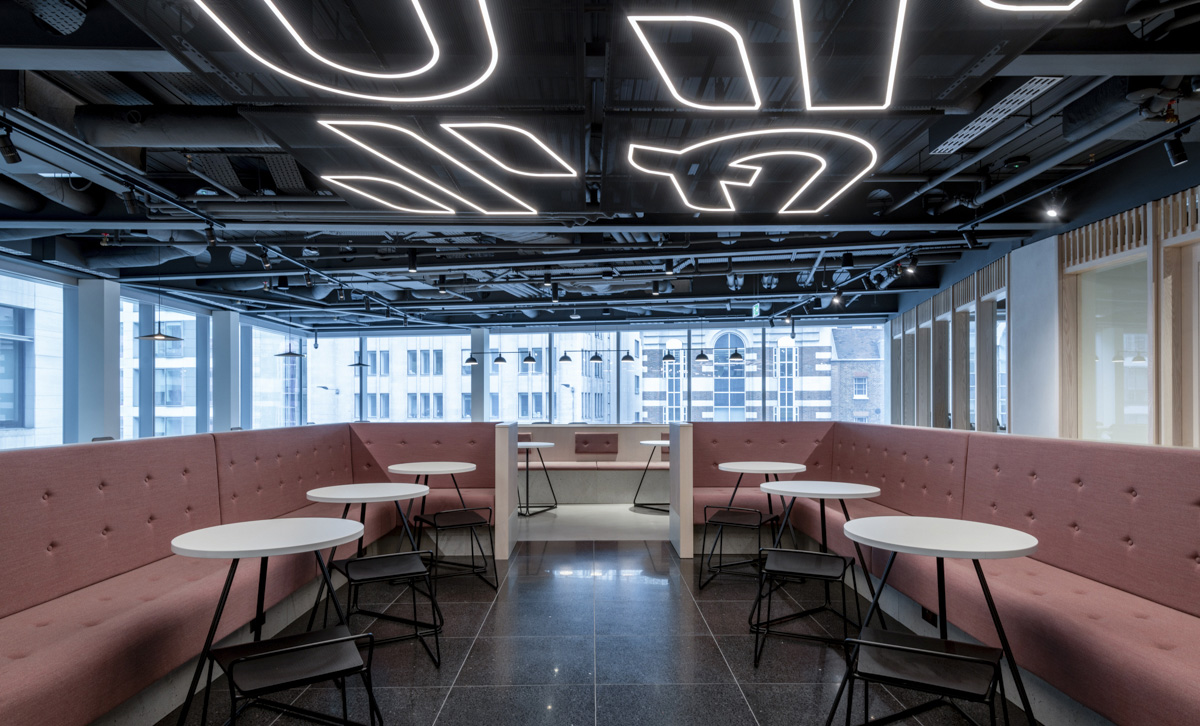 A Peek Inside HubHub's London Coworking Space
Coworking space provider HubHub has recently opened a new coworking campus in London, England, designed by office design firm Area.
"Since the facility would be a flagship for HubHub in the UK, the client wanted a high-class, arresting design that would attract attention. Each floor has its own unique specification and provides different amenities, including an events and auditorium space on the second floor, a gaming area on the third floor, a cinema and podium on the fourth and a library on the fifth floor, as well as a variety of breakout spaces. All of which Area were responsible for delivering in line with the project timescales.

The project presented a number of challenges. Area worked closely with lead designers dMFK, sister company Sketch and other contractors to deliver a quality space with bespoke finishes within a tightly controlled timescale and budget. The client's senior team had a clear vision of what was required and set strict design guidelines. Area needed to source high-quality but competitively priced materials to achieve the desired outcome.

The timescale involved tightly phased deadlines to ensure early access for the IT, AV and furniture suppliers. Area collaborated with HB Reavis to fast track the delivery of one floor in order to enable a San Francisco based occupier to move in. Overall, the space required substantial modifications to the mechanical, electrical and plumbing services (MEPS) governed by building management protocols and standards.

The result is an attractive, welcoming workspace combining spacious communal areas with varied settings for meetings, collaboration and quiet working. Exposed services, contemporary furniture and stylish lighting create a sense of energy offset by warm neutral colours and beautiful joinery that is a standout feature of the scheme," says Area.
Location: London, England
Date completed: 2019
Size: 40,000 square feet
Design: Area