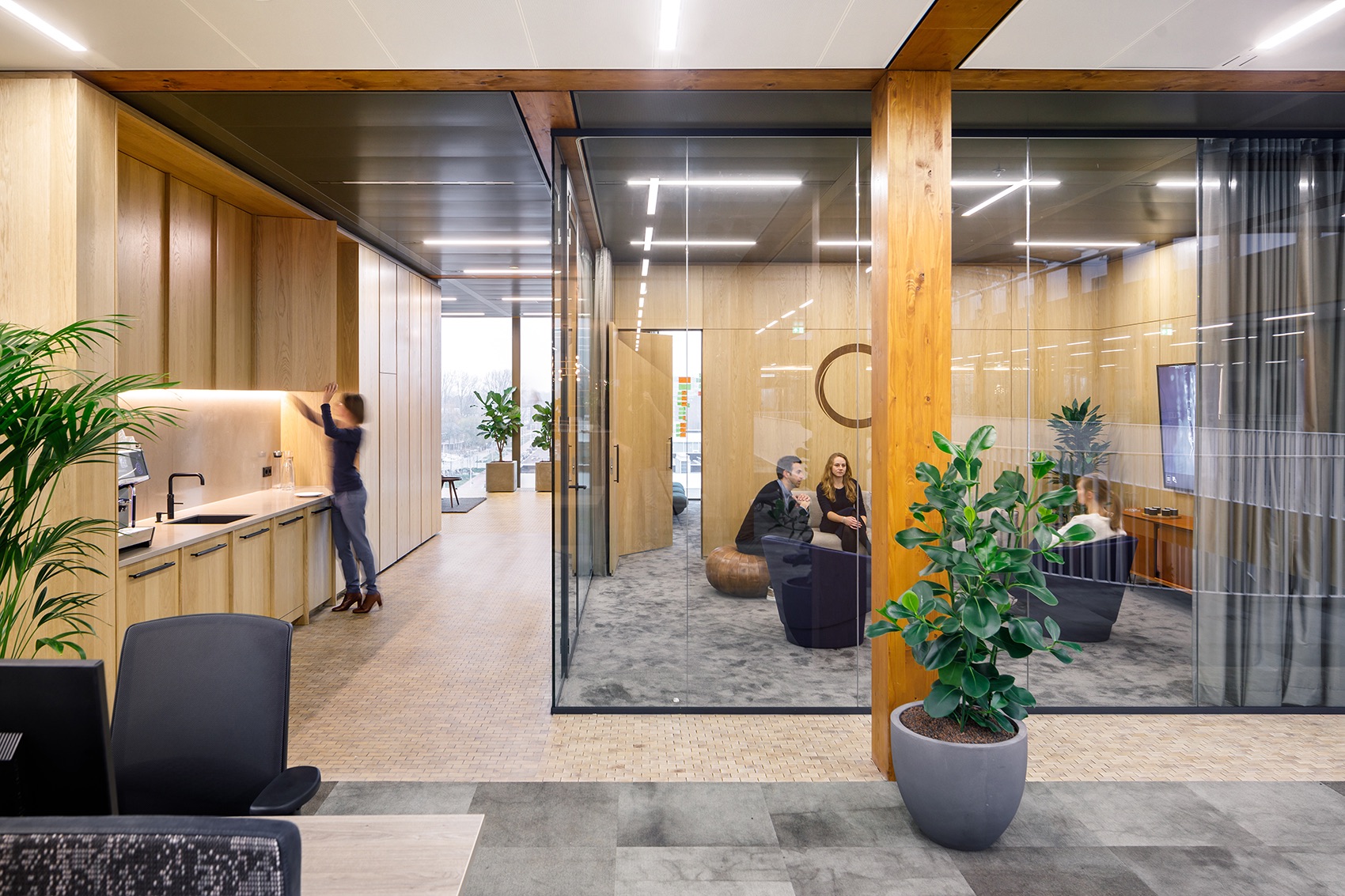 A Tour of EDGE Technologies' Modern Amsterdam HQ
EDGE Technologies, a real estate developer focused on building sustainable, resilient buildings, recently hired architecture firm Fokkema & Partners to design their new headquarters in Amsterdam, Netherlands.
"In order to 'actively contribute to the health of people'; EDGE buildings gather and analyse data, based on which the spatial experience and energy performance are optimised, from the interior climate to the lighting, which adheres to the biorhythm. For the EDGE headquarters on the top floor of EDGE Olympic in Amsterdam the seemingly impossible assignment sounded: Design an office that does not look like an office. A space that can serve as an experimental garden for new ideas and technologies, and that is actually green as well. Moreover, EDGE wanted a WELL certification, prioritising on human health and wellbeing. All materials are screened for sustainable origin and toxic components and the interior design – from layout to detail – is based on biophilic design principles derived from nature, to include organic forms, patterns, excitement and rhythm with unobstructed views alongside the facades and atrium edges.

The discussions on how a forward-thinking developer's office could look like resulted in the desire for a warm, personal atmosphere; it had to feel like home. This fits EDGE's approach to technology: it should be invisible, work intuitively and support comfort. This led to the NO OFFICE concept: a space that radically clashes with the traditional office space, but remains a great place to work. The apparent opposites of health and high-tech have been unified in an exciting synthesis of hospitality, technology and sustainability.

While integrating the existing qualities of the building, the open space has been divided into three zones. These offer a variety of places and freedom to choose where and how you want to work. The home zone around the atrium features sitting, standing and lounge spots, separated by a fluent configuration of low elements upholstered in leather. People looking for peace can go to the tiny villa part, which represents a modernist residence in structure and atmosphere. There is a 'living room' with a seat and a garden swing, a library with study spots and a small 'botanic garden' that also serves as a meditation space. The dynamic urban zone contains two board rooms and a tech playground used for the demonstration and testing of new technological developments, such as 3D-printed furniture and Virtual Reality glasses. The bar, offering a magnificent view of the city, is the perfect meeting place; (business) lunches, drinks or a game of table football – it is all possible.

From the hand-laid library floor, made of end-grain wood, to the gender-neutral toilets and a waterfall with soundscape; the design combines an endless number of new ideas, techniques and materials. EDGE has opened all registers to show what technology has to offer for mankind, and the design shows how you can use these 'building blocks' to create attractive and inspiring spaces. This is the new office typology that the company wants to develop further, and also makes for the perfect calling card," says Fokkema & Partners.
Location: Amsterdam, Netherlands
Date completed: October 2018
Size: 19,375 square feet
Design: Fokkema & Partners
Photos: Bram Vreugdenhil, Ronald Tilleman