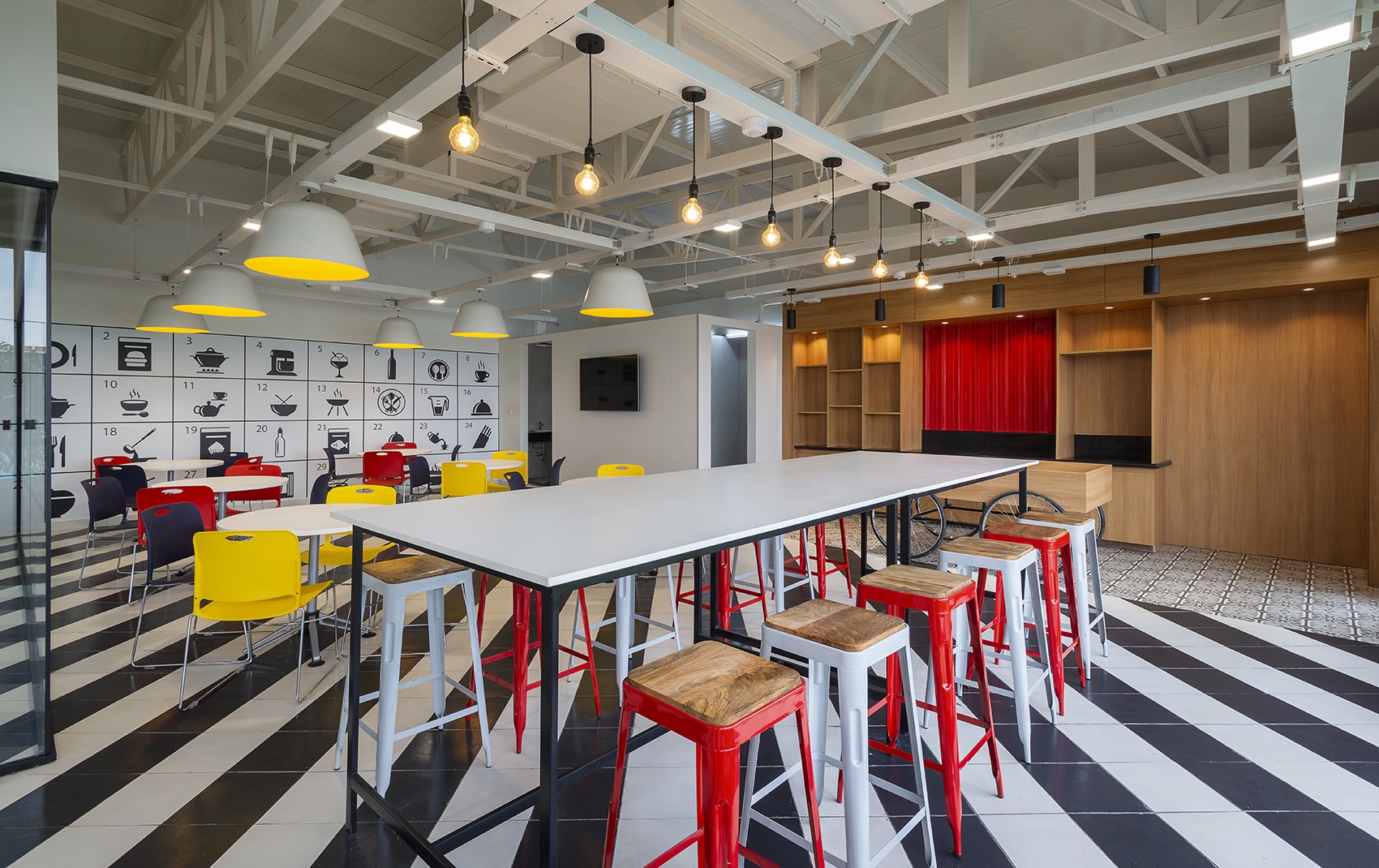 A Look Inside Udaan's New Bengaluru Office
Udaan, a B2B platform designed for small & medium businesses in India, recently hired interior design firm Zyeta to design their new office in Bengaluru, India.
"We were fortunate to collaborate with the giant in conjuring up the ideal workspace design for their fast-growing, creative and imaginative employees. One that would act as an ideal platform for the company as it continues to chart its unmitigated growth, and help build an exceptional work culture.

The third successive office we designed for the company (aka 'Phase 3') offers both a creative workaround that highlights its various departments (Home Appliances, Fashion, Gadgets, Comics, Food Items) in ways aflush with creative touches. All the while offering spaces that offer room for healthy collaboration, flexibility, and a constant harmonious atmosphere. Building a constant, uninterrupted workflow that would make everyday fun and inviting—all the while removing any barriers to communication. The look of the office interior design reflects uniqueness, flexibility, freedom, harmony and strong functionality. Ensuring that the office becomes a vital aspect of its employees lives.

The design elements of each floor—both symbolic and thematic, are drawn from the department itself. This adds a special, personalized touch to employee surroundings, boosting their sense of workplace identity and further inculcating a sense of inclusion that motivates them to excel. Inspirational quotes featured in specific walls add a spark of vitality and verve to the overall corporate interior design. Natural light forms an enveloping aura, helping employees bathe in an atmosphere of well-being throughout the day.

Recreational elements offer that extra boost that further adds a spark that ignites employee creativity and imagination. These include sudoku walls, puzzle walls, exercise bikes, swings, dartboard, carom and board games. Thanks to them, employees take joy and pride in moving around the space and interacting with their colleagues, for both individual and collective betterment. The office interiors are further accentuated by fabric lights and engagement walls.

Tasty respites conjure themselves in the form of dry pantries and a fully featured cafeteria, which makes every lunchtime and gather-round an occasion. Elements like these are the special touches that go a long way in making employees' lives a bit more wholesome.

Overall, the third consecutive workplace interior design that we developed for Udaan reflects a mutual synchronicity between what the two companies do best, and a great example of a collaborative effort in designing creative workspace interiors that go above and beyond in empowering their employees," says Zyeta.
Location: Bengaluru, India
Date completed: 2019
Design: Zyeta
Photos: Prashant Bhat