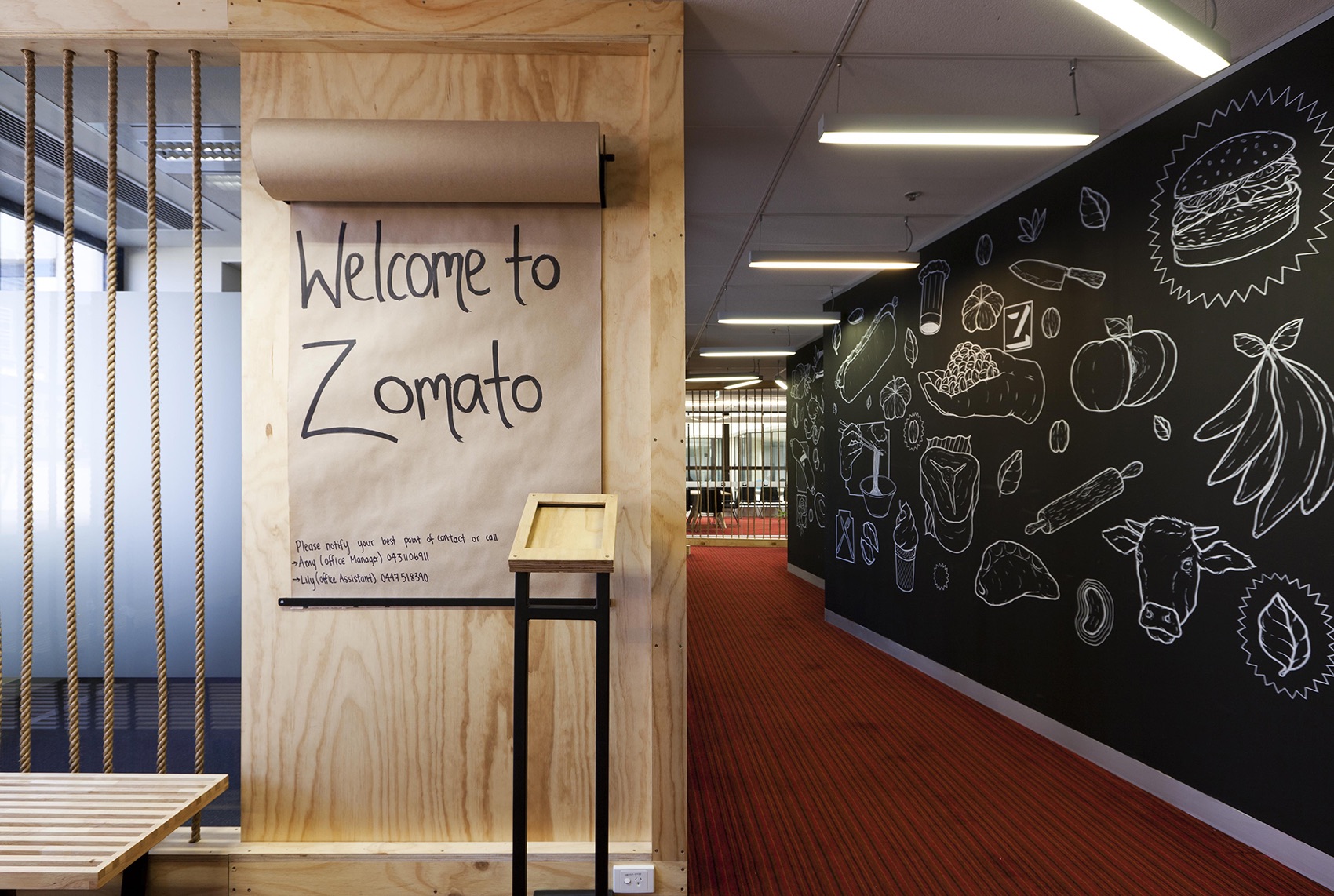 A Look Inside Zomato's Asia-Pacific HQ
Zomato, a technology company that connects over 55 million users to restaurants in 24 countries across the world, hired architecture firm Inbetween Architecture to design their headquarters for Asia-Pacific region, located in Melbourne, Australia.
"The brief was to design a fresh, fun and adaptable work space that could cater to their highly transient and ever changing workforce.

In a very refreshing approach, the client was genuinely open to just about anything, if it achieved the 'bums on seats' required in an affordable and effective way. In response to the particularly tight timeframe a 'charrette' design process was employed to quickly workshop and lock-down the brief, with all stakeholders, from high-level management to part time reviewers, able to guide this critical stage. It became clear that a focus on flexible zoning and meeting the needs of a range of specific work styles would be the basis of the design.

The large floor plate is now zoned to offer spaces to hold a meeting (large or small), spaces that are ideal for quick collaboration, display and reflection, areas to drop-in briefly or to set up work for the day. With few fixed position staff members, the focus was on providing flexibility without compromising functionality.

Keen to make the budget stretch as far as possible, the design integrated the existing infrastructure as much as possible including carpet, office partitions, lighting and even power umbilicals found on site. Big impact, low cost interventions such as commissioned wall graphics and a rope screen inject an urban edge into what could have been a very conventional office environment. Similarly, off the shelf and low cost furniture was sourced and utilised to zone and give distinct character to the various functional spaces. Plywood linings were applied to standard shelving units to give a bespoke look for a mass market price. Colour, texture, raw and natural finishes and vegetation were emphasised throughout to avoid a slick corporate environment. The centre-piece of the design is the elevated plywood platform which wraps around the central light-well – an innovative opportunity for a casual workspace in everyday mode and a focal point for addressing large groups in briefing or function mode.

The result is a contemporary, comprehensive fit-out design, with future expansion built it, allowing the design to grown alongside the business," says Inbetween Architecture.