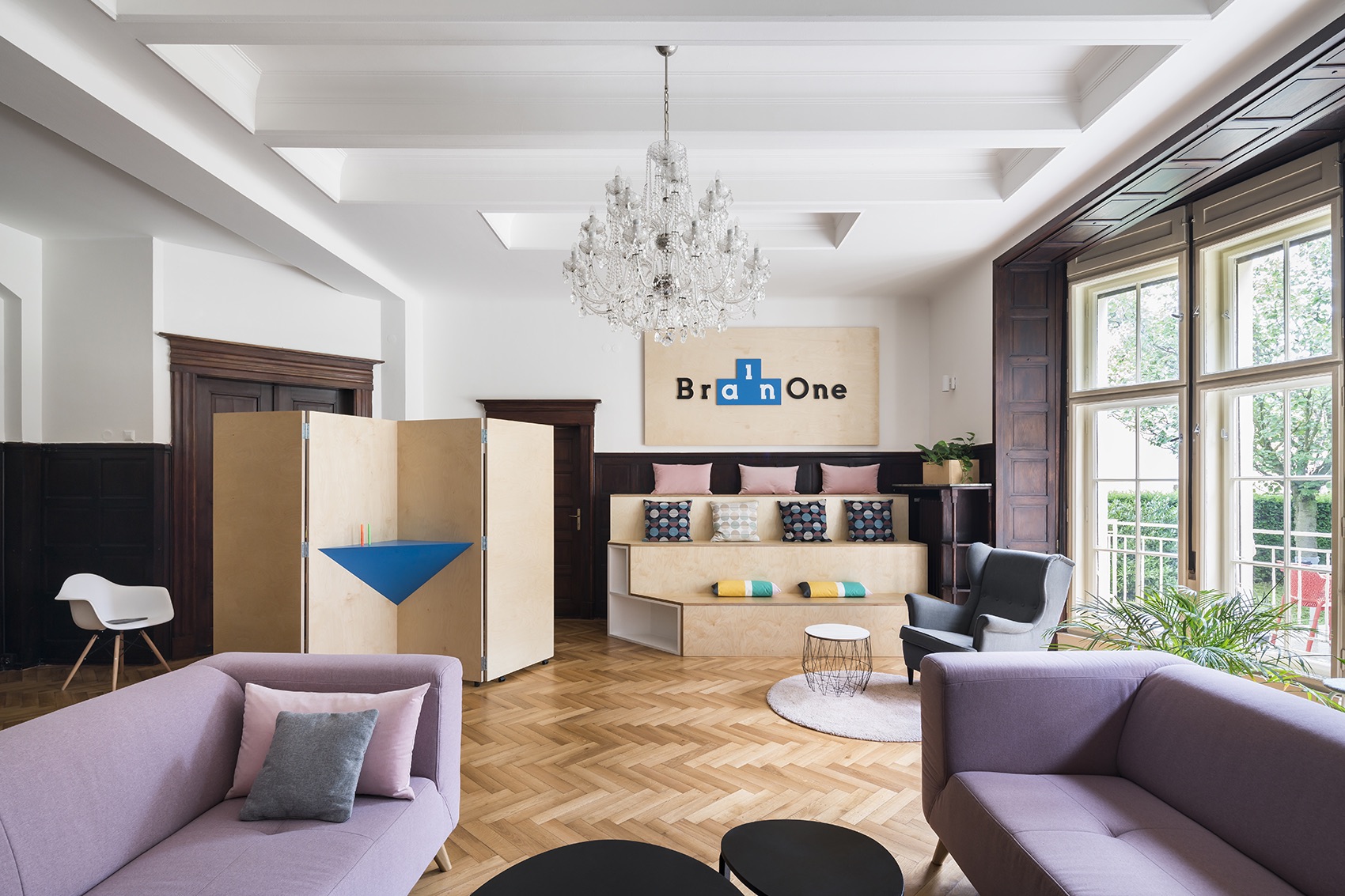 A Tour of Brain One's Cool New Prague Office
Marketing agency Brain One recently reached out to architecture and interior design firm Versatile to design their new office in Prague, Czech Republic.
"New headquarters of marketing agency Brain One located in Bubeneč, Prague has very strong atmosphere of a neo-classicist villa. We didn't try to hide historical features – on the contrary, they are placed in direct opposition to new modern interventions, thus making a creative environment. The ubiquitous geometry, where the shape of a regular hexagon appears across the villa, is enhanced by the entry of new, even more expressive geometry of newly designed tables and lighting fixtures.

Brain One sees the business as a race and they want to have fun while working. The aim was to bring life of young and dynamic agency into traditional and historical interior to enhance their creativity and playfulness. Most of the new interior elements are based on the Brain One logo and their corporate colors. Their teamwork and community is reflected in the use of one large table instead of several individual tables for each team member. The large table dominates each of the office rooms, its shape is also reflected above the tables in the form of a suspended custom-made lighting fixtures.

The center of the office is the entrance hall, where the combination of history and presence is most evident – dark solid wooden paneling, crystal chandelier, profiled ceiling or fireplace with bronze bust are complemented by a bright plywood tribune with colorful pillows, pink sofas and other modern small pieces. A large number of different working and leisure areas have been created to bring and element of unusuality and variability into the work process.

An important part of the headquarters is a large garden. The principle used in the garden is the same as in the interior – the distinctive and seemingly random placed pieces of furniture are scattered across the garden creating a variety of working and relaxing areas," says Versatile.
Location: Prague, Czech Republic
Date completed: 2019
Size: 3,229 square feet
Design: Versatile
Photos: Studio Flusser