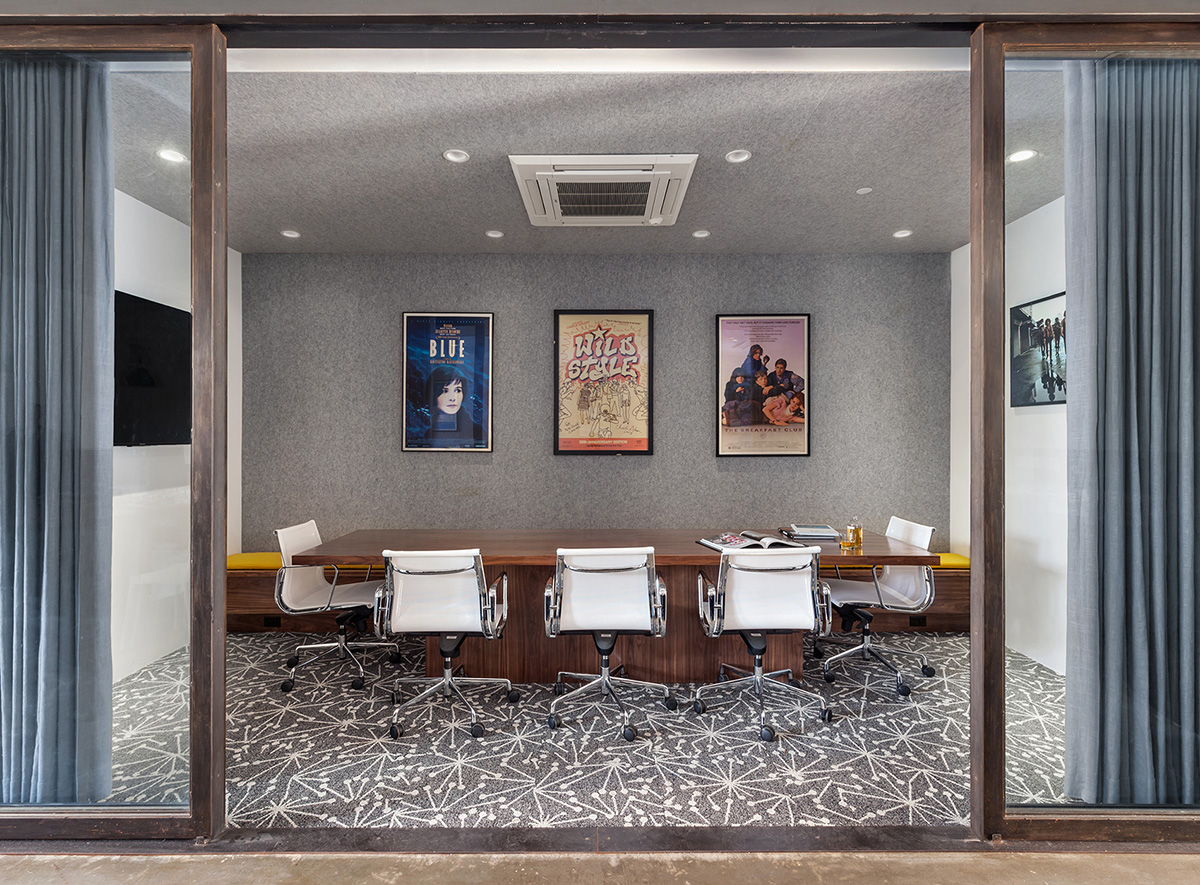 A Peek Inside Nitehawk's New Brooklyn Office
Nitehawk Cinema, a boutique theatre committed to enhancing the cinematic experience by projecting iconic films on 35mm, hired architecture firm thread collective to design their new office, located in Brooklyn's Williamsburg neighborhood.
"After outgrowing their previous office above their first Williamsburg moviehouse, the Nitehawk team turned to thread collective to renovate the interior of their new workplace, conveniently located across the street from their theater and previous office space.

For their new headquarters, Nitehawk wanted to integrate cinema culture into the office's design and functionality. The 1,800 square-foot office takes cues from a collection of movie memorabilia, along with pops of Nitehawk-yellow, resulting in a warm, modern-industrial aesthetic. Throughout the space, raw materials such as blackened steel and concrete are juxtaposed with softer elements of light-colored ash wood and yellow fabrics, adding a resimercial vibe.

Inspired by cinema culture, a feature wall of VHS tapes serves as a focal point for the front entrance. Accomodating a staff of 10, the boutique office maintains an open-concept layout, incorporating a conference room, private phone booths, and a screening area. A rear patio, equipped with a set of benches and tables, allows for a shaded outdoor retreat during the work-day. To maximize natural light within the space, a full height garage door was repurposed as a window and accessorized with a series of planters, yielding views of the Manhattan skyline.

The existing exposed cement block walls provided an obstacle for clear acoustics within the space. As acoustics are vital to a large part of the team's work, the design team incorporated a felt-lined acoustic finish on the ceilings and walls as well as Kirei Echo-panels in a variety of colors to help mitigate the effects of the concrete. The conference room and telephone booths were also outfitted with acoustic insulating material and soft surfaces to moderate sound transfer," says thread collective.
Location: Williamsburg – Brooklyn, New York City
Date completed: 2019
Size: 1,800 square feet
Design: thread collective