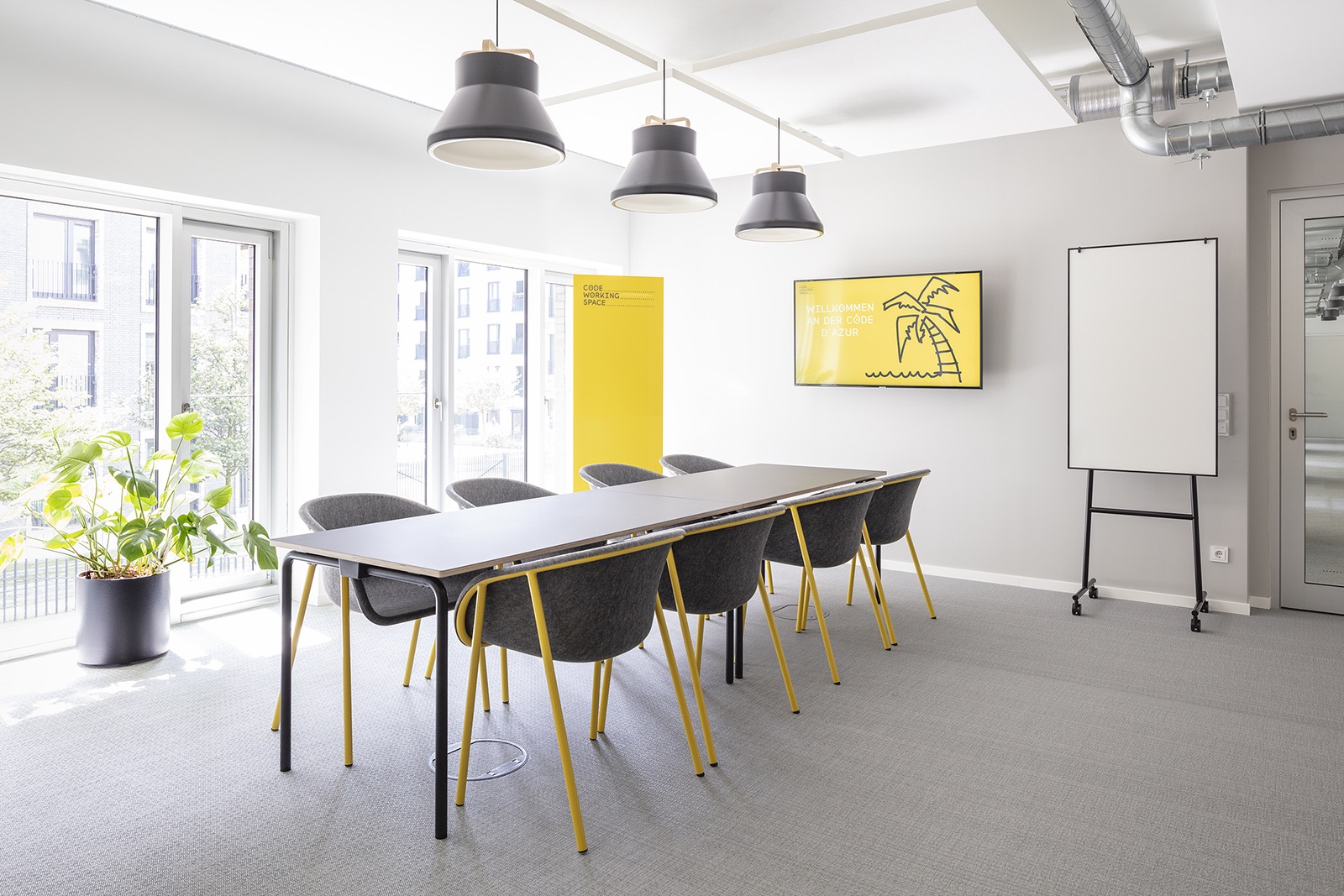 A Tour of Code Working Space's Hamburg Coworking Campus
A team of designers from interior design firm PARAT has recently completed a new interior for Hamburg-based coworking space Code Working.
"Visitors come into the reception area through an entrance completely in yellow, passing a counter to their way to the core element of the 6.5-metre ceiling-height space: a seating stand. Featuring plugs and a lowered padded area on the upper level, this centrepiece functions as a place for users to enjoy some quiet time – or, alternatively, can be turned into a ball pit. Overhead, three large acoustic lamps mark the upper limit of the space.

Code Working Space offers a variety of different areas, including the Flex Desk area, with 12 compact workstations to let, with seating cubbyholes and two telephone cabins providing seclusion when required; the Fix Desk area offers users height-adjustable tables, roller containers, and planted sideboards with storage space.

Spread over two floors, the 480m² space also includes a communal kitchen and several small meeting rooms; a flexible workshop space with its own kitchenette offers a versatile additional option.

The interior design approach takes CI yellow as a thread which accentuates furniture and walls throughout the space, contrasted with warm grey and green colour tones. At central locations in Code Working Space, large-format murals by Stefan Mosebach function as eye-catching design elements.

Having provided support at every stage of the planning process, PARAT is delighted with the end result: a thoroughly contemporary space which encourages cooperative working and networking in a fun environment," says Parat.
Location: Hamburg, Germany
Date completed: 2019
Size: 5,166 square feet
Design: PARAT
Photos: Andreas Meichsner