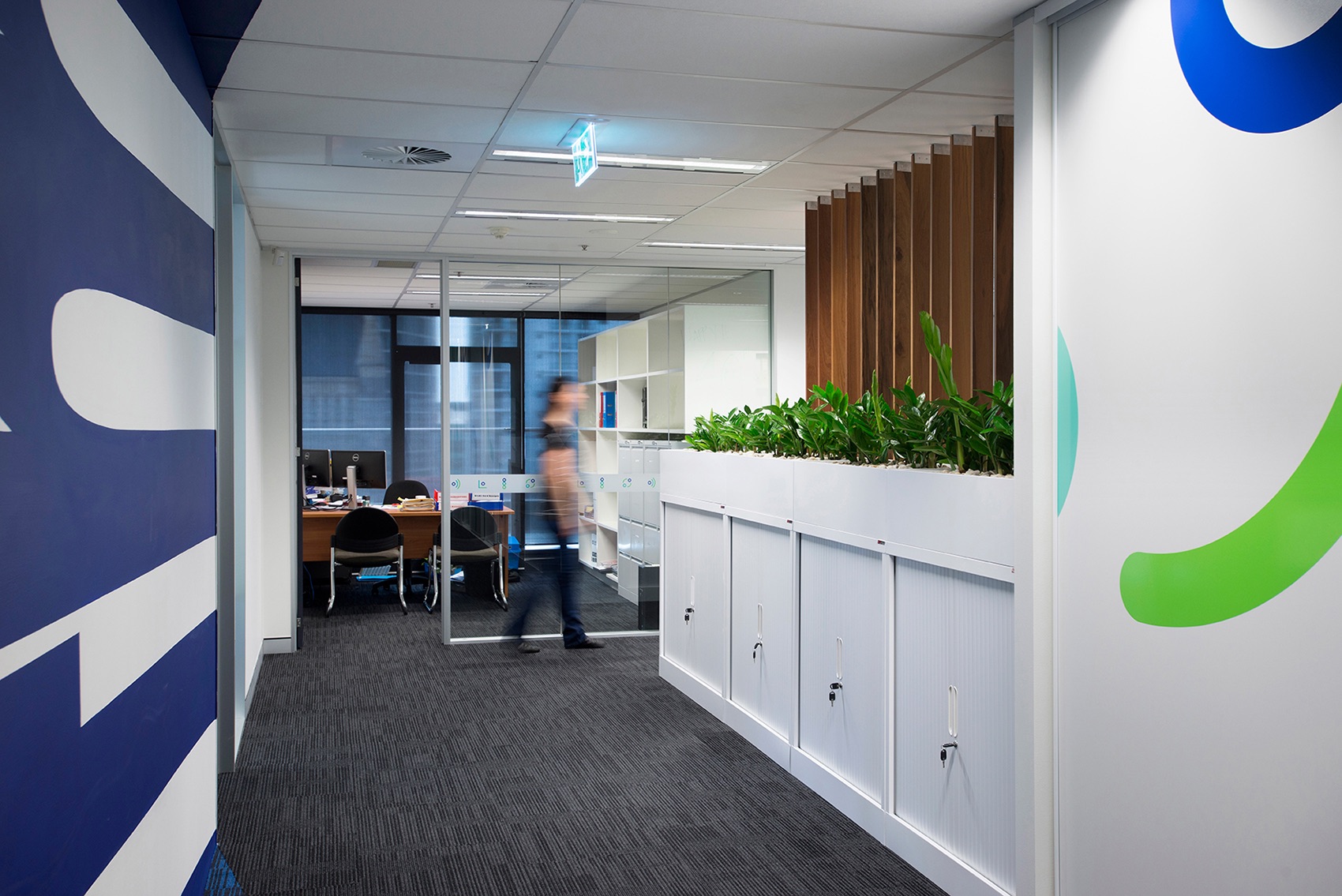 A Look Inside TTM's New Brisbane Office
Engineering consultancy company TTM recently hired architecture and interior design firm Studio 15b to design their new office in Brisbane, Australia.
"An existing top-level CBD tenancy received a colourful upgrade for its new occupants as designed by Studio 15b. The project retained much of the existing fit out and focused on small interventions with maximum impact. The established consulting firms corporate branding was applied creatively throughout and spaces rearranged to meet the needs of staff.

A bold ribbon of TTM blue was shaped around the existing reception desk, creating a focal point on entry, along with new furniture and planting completing the space. An 'anamorphic' logo image flanks the corridor leading to the boardroom, coming in to focus as the user approaches. A corporate frosted film gives privacy to the newly created meeting room. Fresh neutral paint with splashes of colour included on selected columns helps to continue the TTM brand through-out. Careful thought went into the planning of team locations in relation to each team leader, as well as ensuring administration staff have privacy for confidential tasks. Sliding doors with abstract graphical logos have been used through-out to conceal utility areas, archiving, filing and other storage. The existing kitchen was adjusted to suit the client's appliances and has utilised an existing built-in seat with a new graphic pin board, feature lighting and TVs.

With minimal intervention and a fresh colour palette Studio 15b transformed this existing tenancy. The project successfully meets the needs of TTM, providing a unique home for the firm to continue growing in the CBD," says Studio15b.
Location: Brisbane, Australia
Date completed: 2018
Design: Studio 15b
Photos: Mindi Cooke