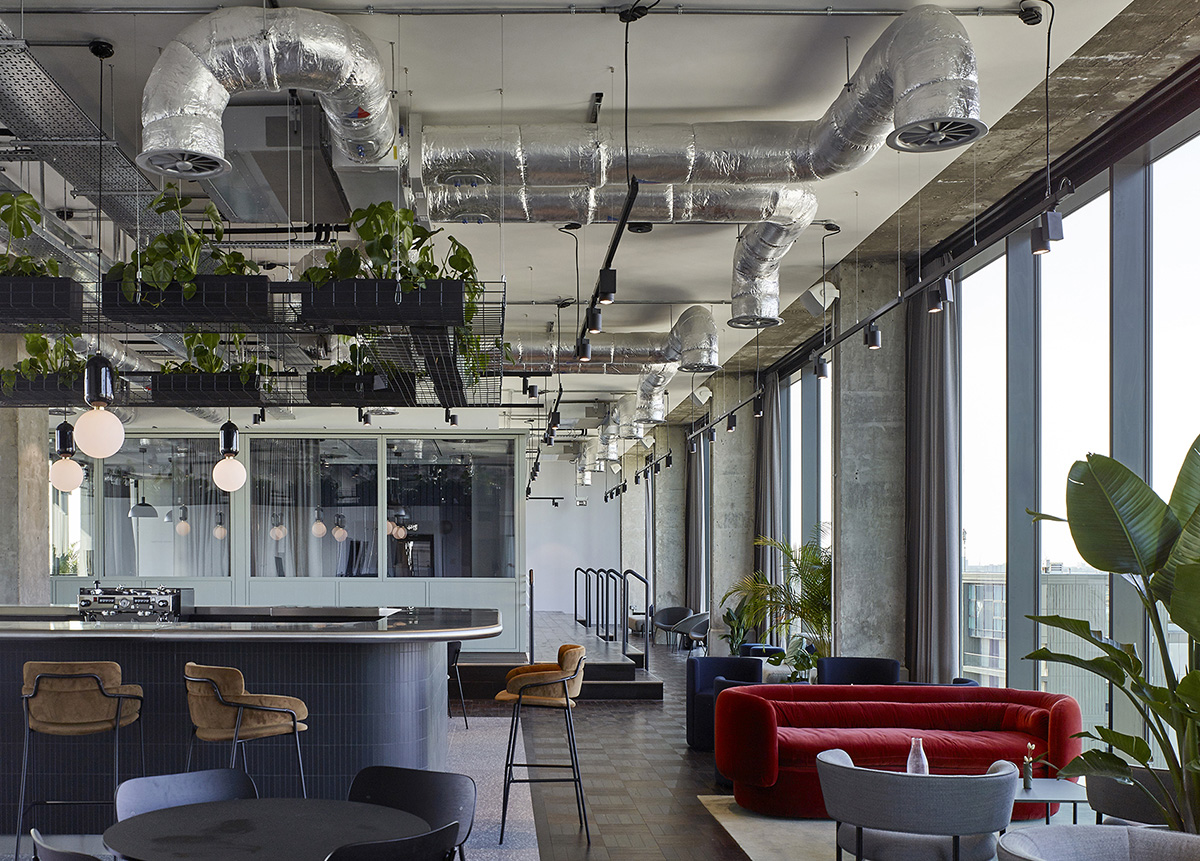 A Tour of Lyric Square Office Building in London
Architects and designers from architectural firm Stiff + Trevillion recently completed a new office interior for Lyric Square office building in London, England.
"Stiff+Trevillion were commissioned to re-imagine 1 Lyric Square and provide new Grade A workspace. Embracing the unique character and constraints of the original structure the design aimed to reposition the building for a newly emerging tenant profile.

Fundamentally changing the MEP strategy to floor by floor plant rooms in combination with new windows and facade systems, allowed the design team to convert previously under-utilised plant spaces at level 1 and 13 into high quality office accommodation. Reconfiguring the services within the existing office spaces removed the necessity for ceiling distribution, maximising the constrained floor to ceiling heights and improving views and natural light.

Efficient planning of the cores and rationalisation of MEP services resulted in an NIA increase of 15% within the same building volume. The majority of this additional space was delivered at the highest value 13th floor (in lieu of an old plant room) and at the first floor level which served to bridge the original vertical transition between the ground floor entrance and level 2 offices. The new first floor offices also provided the opportunity to convert a servicing route into a spectacular roof terrace.

The principal factor that sets this project apart are the sweeping unobstructed views across London and beyond from almost every angle on the upper floors the building. High levels of natural make this a highly desirable environment in which to work in spite of the constraints imposed by the existing building.

Its location, in Hammersmith, an area undergoing rapid change also offers first class transport links, ideally situated to make use of public transport and proximity to the river walks by the Thames.

Many of the features that made it a good example of commercial design of its time have been adapted to reposition the building for innovative organisations. This is the perfect example of a building being given a new lease of life, preserving it for the next 30 years plus. The reimaging of this local landmark has made a positive contribution to the west of London, bringing vitality to this corner of Hammersmith. The radical transformation of the thirteenth floor from out dated plant space to a spectacular bright office floor is a particular achievement.

Opening up the staircases have not only improved the natural daylight entering the building but have made a postitive contribution to the circulation and movement of people on the lower floors, encouraging a more collaborative style of working.

The outside terrace space will provide a welcome green oasis for informal meetings and respite from the hustle of the city streets below," says Stiff + Trevillion.