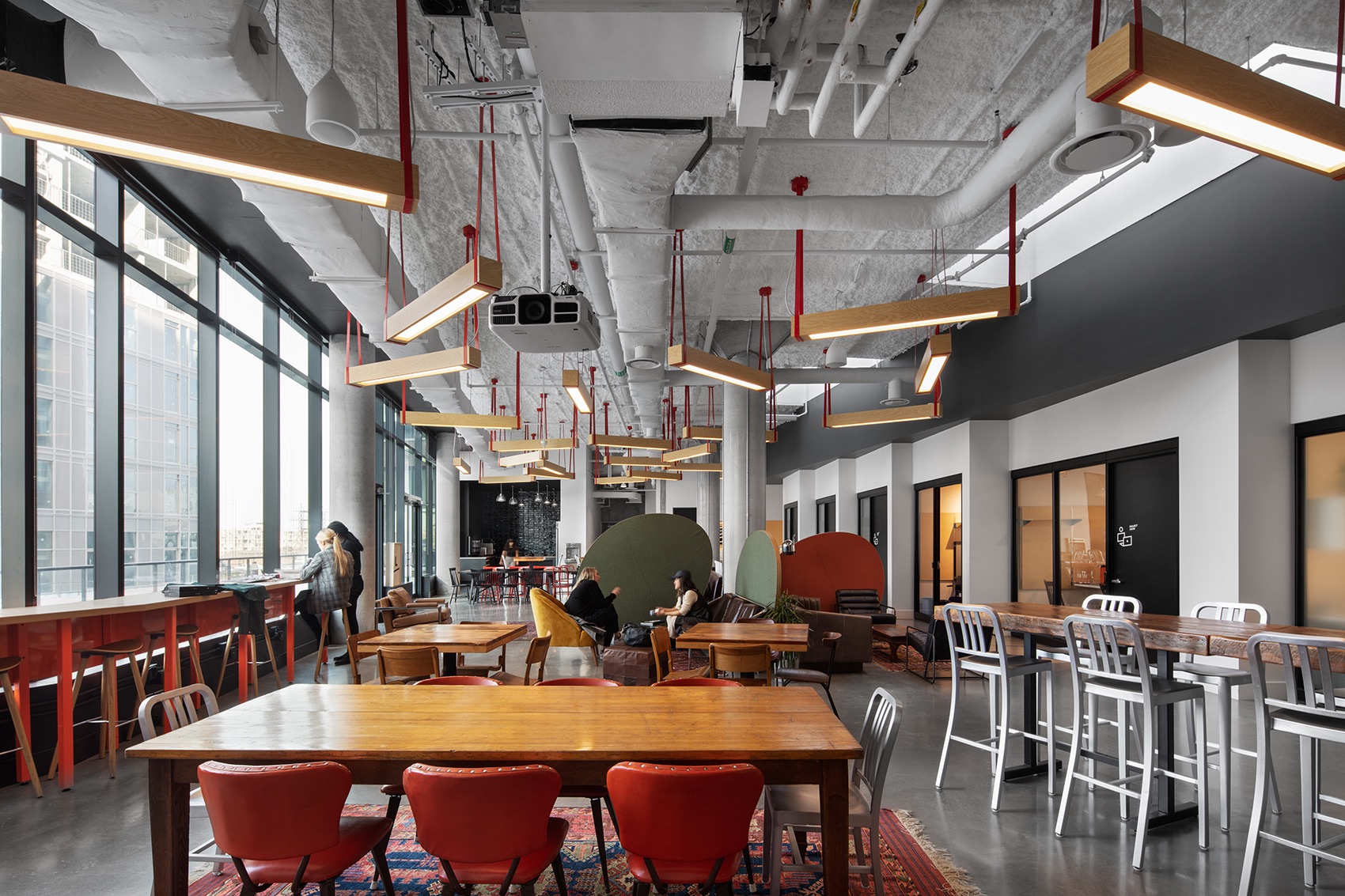 A Tour of Artscape Daniels Launchpad's New Toronto Coworking Space
Artscape Daniels Launchpad, an arts-focused co-working facility that provides office space to artists and makers, recently hired architecture and interior design firm Quadrangle to design their new coworking space in Toronto, Canada.
"Artscape asked Quadrangle to transform the new 35,000 square foot facility into a luminous, accessible, and tech-enabled interior that would inspire creativity and professionalism in equal measure. "One challenge presented by the project", says Quadrangle principal and project lead Caroline Robbie, "is that often artists and creative entrepreneurs aren't used to having new buildings — they're used to working in older, repurposed spaces. In response, we wanted to give them a space that is purpose-built to meet their needs, and that has personality, even if it doesn't yet have a history."

Therefore the design team established an environment that blends ideal working conditions with seemingly ad-hoc and playful elements such as splashes of colour and reclaimed furniture to economically create interior focal points and make the creative community feel relaxed and at home without distracting from their work. The design supports networking and community, as well as pride and workplace flexibility, without distracting from the focus on learning and the things being made.

To offset the building's newness, many finishes are upcycled or handmade. There are tabletops made from reclaimed wood, hand-painted wall tiles and a 'board room' with floors and walls finished with wood flooring salvaged from a Hamilton high school gymnasium — a cheeky visual pun that gives this business- like space warmth and vitality.

With over 90 unique rooms, the facility is unified by a single connecting corridor that runs from north to south to form a spine or 'main street', lined on both sides by open seating booths resembling houses and the steel-framed glass 'storefronts' of workshops and breakout meeting rooms. To one side of the spine are workshops for fashion and textiles, another for fine metals and jewellery, and a third for combined woodworking and digital prototyping. To inspire a vintage workshop feeling, the designers incorporated industrial lighting which complements the natural light that floods in through the floor-to-ceiling wraparound windows.

Across the street are studios for quieter work requiring less light: photography, digital media, audio and VFX. At the south end of the street is Sugar Hall, a 'blackbox' event space that can be effortlessly subdivided into three smaller rooms, offering a sweeping view of the harbour and the Redpath Sugar Refinery. The Hall is supported with adjacent project rooms for meetings, seminars or long-term projects, each with their own aesthetic personality. At the north end, the Commons, a large co-working and social space, includes an open kitchen and 'living room' with an eclectic mix of new and vintage including a mobile faux fireplace," says Quadrangle.
Location: Toronto, Canada
Date completed: 2018
Size: 35,000 square feet
Design: Quadrangle
Photos: Gabby Frank, Adrien Williams, Catherine Ryan, Bob Gundu