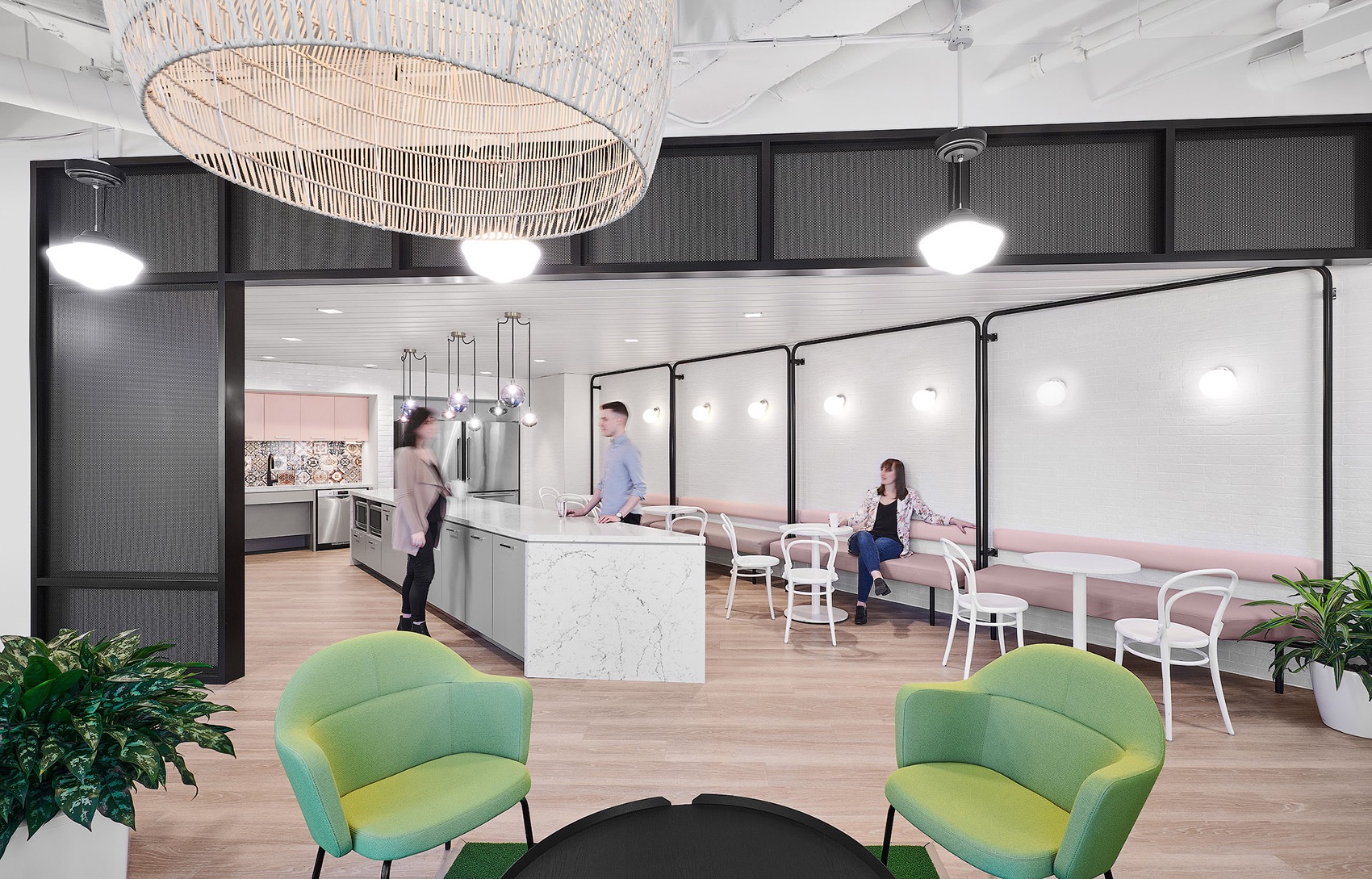 A Tour of IPG Mediabrands' New Toronto Office
IPG Mediabrands, a global media marketing agency that manages $39 billion in marketing investment, recently hired interior design firm figure3 to design their new office in Toronto, Canada.
"Figure3 performed visioning exercises with the Mediabrands leadership team to determine the ideal design approach of their new office. During one of these exercises, a participant presented a photo of a vintage Airstream trailer surrounded by string lights, as a source of inspiration. They had expressed they wanted the space to be as imaginative and whimsical as possible, so the design team created the design concept with the spirit of that image. Exhibiting great confidence in what the firm could produce for them, the design team was given total freedom to create a highly unique space that would reflect the company's culture of creativity and fun.

In the lobby, it was important that the design created a sense of harmony and balance, as its asymmetrical shape does not produce this impression naturally. Diagonal lines were introduced through a metal plank ceiling and wood vinyl floors that create a strong sense of uniformity. A subtly-patterned tile floor is also placed on a diagonal and acts as an anchor for the furniture in the centre. The design was kept open and airy to highlight the large windows offering expansive views of Lake Ontario.

Texture was a central inspiration for the office, and we used layers of materials and patterns to convey the eclectic feel Mediabrands enjoys. No surface is flat or static. Instead the office is covered in contrasting textures and colors, creating a sense of organized chaos. In the boardroom, bold palm leaf patterned wallpaper and bright green chairs are contrasted by luxurious purple drapery. Folded felt acoustic treatments were inserted with lightbulbs and repurposed as light fixtures, serving a dual role of lighting and sound absorption. An informal meeting room nicknamed "The Living Room" features residential-style seating which creates a comfortable atmosphere, accented with pink walls and a vibrant palm leaf patterned accent wall. Green AstroTurf acts as carpeting throughout the office; an unusual choice that reflects the free-spirited nature of Mediabrands' innovative personality. Its green, textured quality also has a biophilic effect that lends a sense of life and energy to the space.

In the café, walls and columns clad in brick-finished tile continue the exploration of urbanity. High ceilings make the space feel light and bright, qualities that promote more creative and inspired thinking. The café is a lively space that promotes socialization and does not feel like a typical office setting. Mediabrands is all about combining work and play, and staff enjoys working in the cafe, holding client meetings there, and of course taking time to celebrate together," says figure3.
Location: Toronto, Canada
Date completed: 2019
Design: Figure3