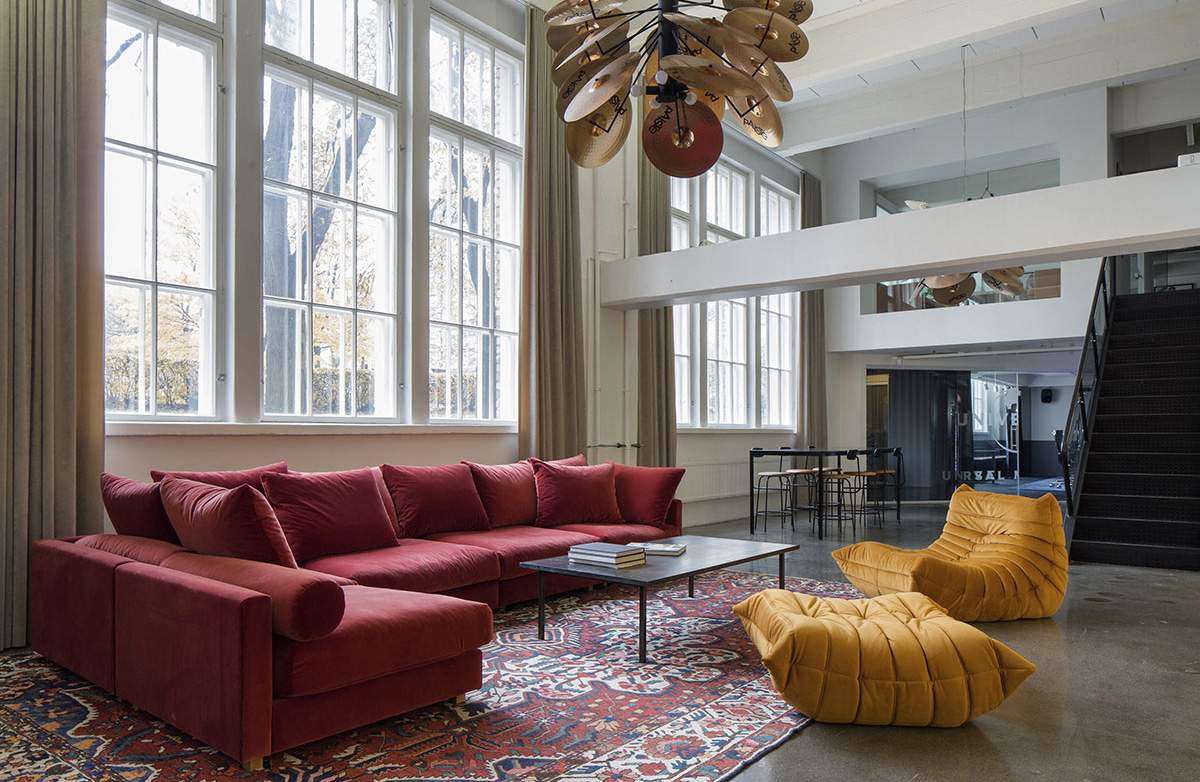 A Tour of Universal Music's Modern New Helsinki Office
Universal Music Group, a global music company that provides recorded music and music publishing services, recently hired interior architecture firm Koko3 to design their new office in Helsinki, Finland.
"Universal Music Finland's office is located in a historic industrial building close to the seafront. What used to be an old cable factory now serves as a creative hub for new and legendary Finnish musical talent and the team that makes it all happen. Stunning architectural details remind of the building's industrial past – the office boasts rough concrete floors and paned windows that reach the entire height of two-story space.

To make the most of their prime location and iconic office space, the team hoped for updates that would make their work easier, gatherings more convenient, and everyday tasks more functional. A wish to achieve an overall "cool" factor, in line with Universal's cutting-edge brand image and business model, was the cherry on top.

Together with a designated task force, we set out to transform the office into a relaxed, inviting and functional work environment where employees and guests alike can feel at home. A prime goal was for each visitor to know exactly who they are visiting. An important update was the main lounge area on the ground floor, where artists come to wind down and hang out. With an over-sized sectional, a huge oriental rug and velvet curtains emphasizing the height of the space, the lounge was turned into the ultimate hangout space and the epitome of "retro glam meets cozy." A movable reception desk and modular furniture allow the lounge area to be transformed from a living room to a performance space when needed.

Warm, earthy tones, color blocking, and monochromatic color schemes were used as creative tools for differentiating and accentuating separate spaces within the office. A spectrum of materials, from disco-style mirrors to raw copper and blackened steel creates a unique look with true edge. With an updated floor plan and smaller desks as per the client's wish, the crowded office space became more spacious and now offers workstations for more employees than before. A previously unused water station on the second floor was turned into a fully equipped bar in the heart of the open-plan work area, complete with a table and stools that invite employees to gather and enjoy their entire office space throughout the day and well into the evening," says Koko3.
Location: Helsinki, Finland
Date completed: 2019
Size: 7,556 square feet
Design: Koko3