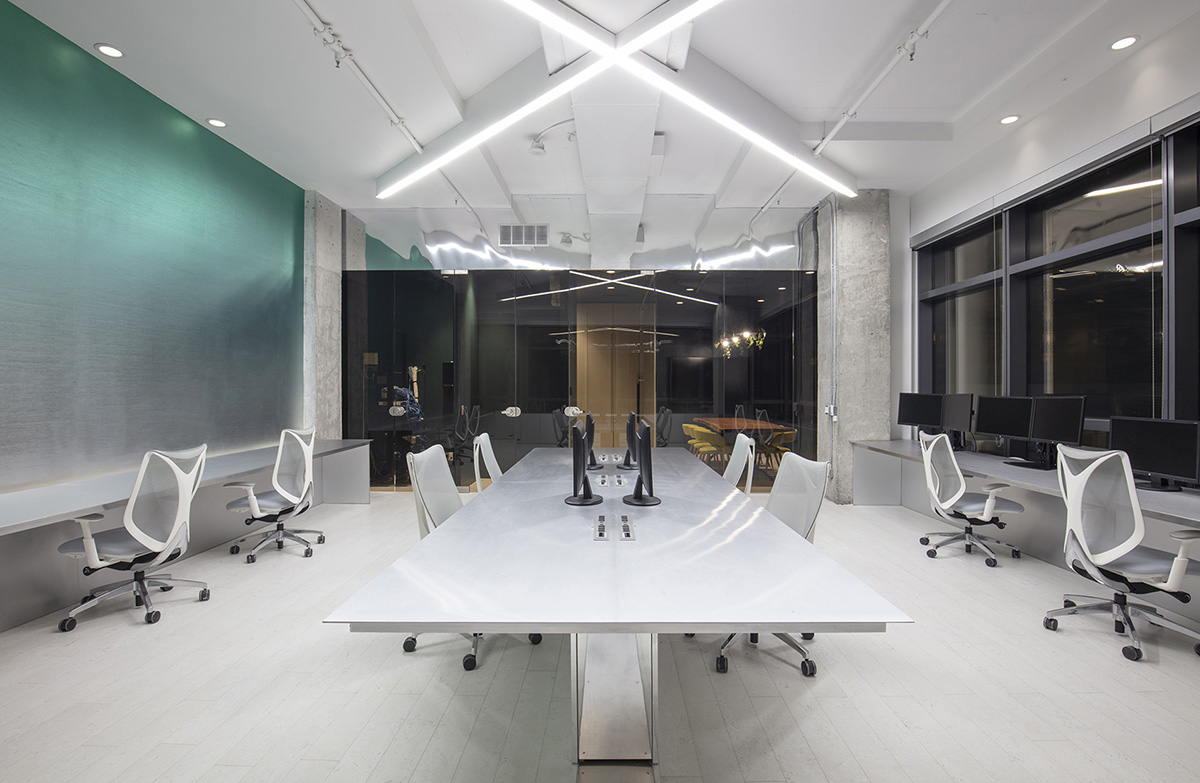 A Peek Inside CO-Sol's New Toronto Office
CO-Sol, a Canadian IT company that specializes in providing 24-hour IT services to its clients in Japan, recently opened a new office in Toronto, Canada, designed by architecture & interior design studio UUfie.
"Drawing on the contrasting elements of machinery and nature, this design was created for a new workspace for a Japanese tech firm's first Canadian location in Toronto. The company, CO-Sol, which also has offices in Tokyo and Fukuoka, requested that their third office evoke a sense of "authenticity in a new culture."

The 1,000-square-foot office is divided into two sections by a bronze-tinted glass wall. The workspace is airy, crisp and minimalist. The large aluminum communal table, built-in shelving and custom X-shaped fixtures feature prominently. In the summer, the glass high-rise building façade provides green roof views reflected within the metallic gradient mural. The floor finish is a white stained cork plank, which provides a soft acoustic underlayment throughout the office.

The front office includes a common area, library, server room, meeting room and kitchen that is cozy, natural and intimate. The walls and ceiling are finished in rich green tones, with a soft green stain on oak millwork stretching from floor to ceiling and accentuated with arch-shaped cubby seating. Chairs in green felt fabric, a live-edge wood table and light fixtures integrated with different natural plants occupy the meeting room. Black veneer was used to create the kitchen cabinetry, counter and backsplash, mixed with matching appliances and fixtures to create a shadow box.

Different materials such as aluminum, wood and cork were used to create distinct spaces for the staff, since they will be occupying the space during varying hours in the day. The different atmospheres of warmth and crispness, relaxing and functional forge a new identity for the company's future vision, crossing cultures between Canada and Japan," says UUfie.
Location: Toronto, Canada
Date completed: 2019
Size: 1,000 square feet
Design: UUfie
Photos: Maxime Brouillet