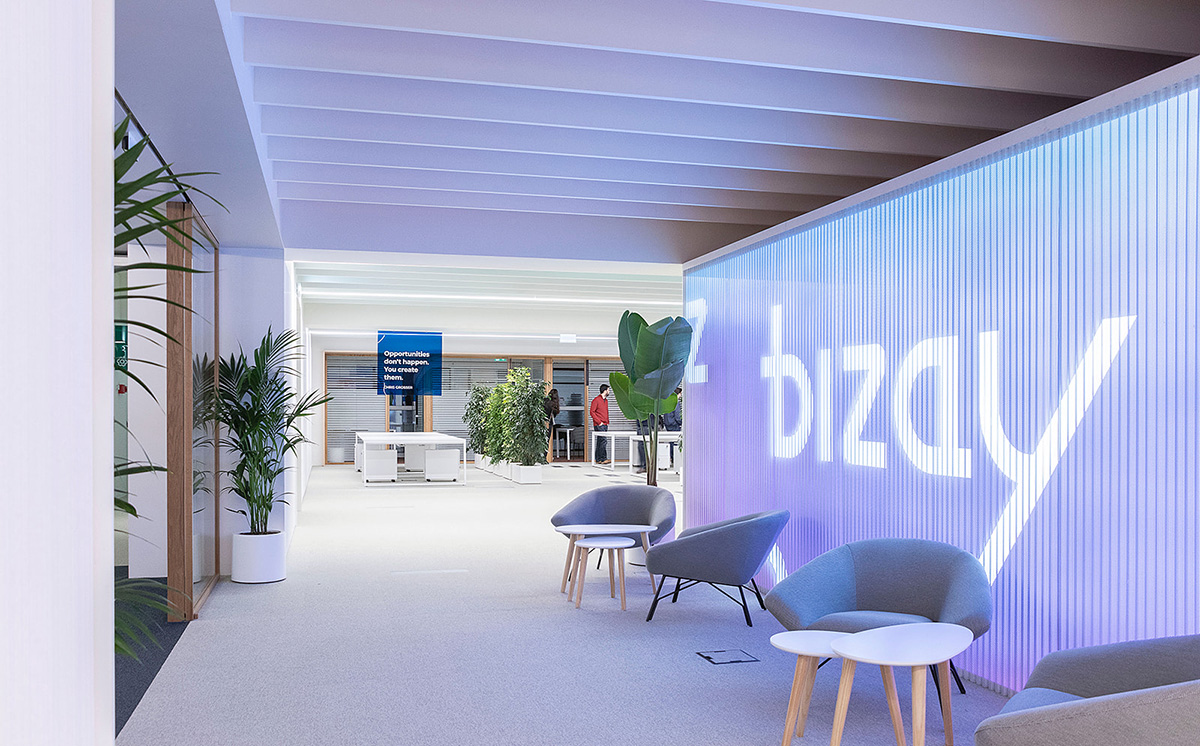 A Look Inside Bizay's Minimalist Lisbon Office
Digital company Bizay recently hired architecture & interior design firm Paralelo Zero to design their new office in Lisbon, Portugal.
"The office of BIZAY shows the strong dynamism, ambition, and contemporaneity of this young Portuguese tech-company.

Introducing itself as a business marketing services product platform, your office understands very demanding and job-intensive programmatic needs.

The intervention space is characterized by a huge open space with a high intensity of natural light, open on three fronts, with a strong marking of the concrete structural beams with a large separation corridor between service area works (facilities). toilets, storage, technical areas, and emergency stairs).

The concept of the project started from a synthesis of printing with the spatial elements to be composed of planes with different densities, textures or wefts, representing the various types of print media – paper – with White as the base color, thus transmitting an image of enormous tranquility and harmony, light and shadow, which gives it a timeless character.

In contrast, the color on the base tone appears in a second-level – layer – representing a huge Pantone 360, which gives the environment a certain immediacy, contemporaneity, and personality.

Colors are thus used both in printing and personalization and in space design through decorative elements, values, branding and signage.

The rich palette of materials complement an image of quality and sobriety through oak wood (as in partitions or furniture), but also a technological image through gradients and translucent materials such as acrylic elements.

The project thus results in a space of great simplicity and elegance that reflects the image and status of this young company," says Paralelo Zero.
Location: Lisbon, Portugal
Date completed: 2019
Size: 21,527 square feet
Design: Paralelo Zero
Photos: Carolina Delgado