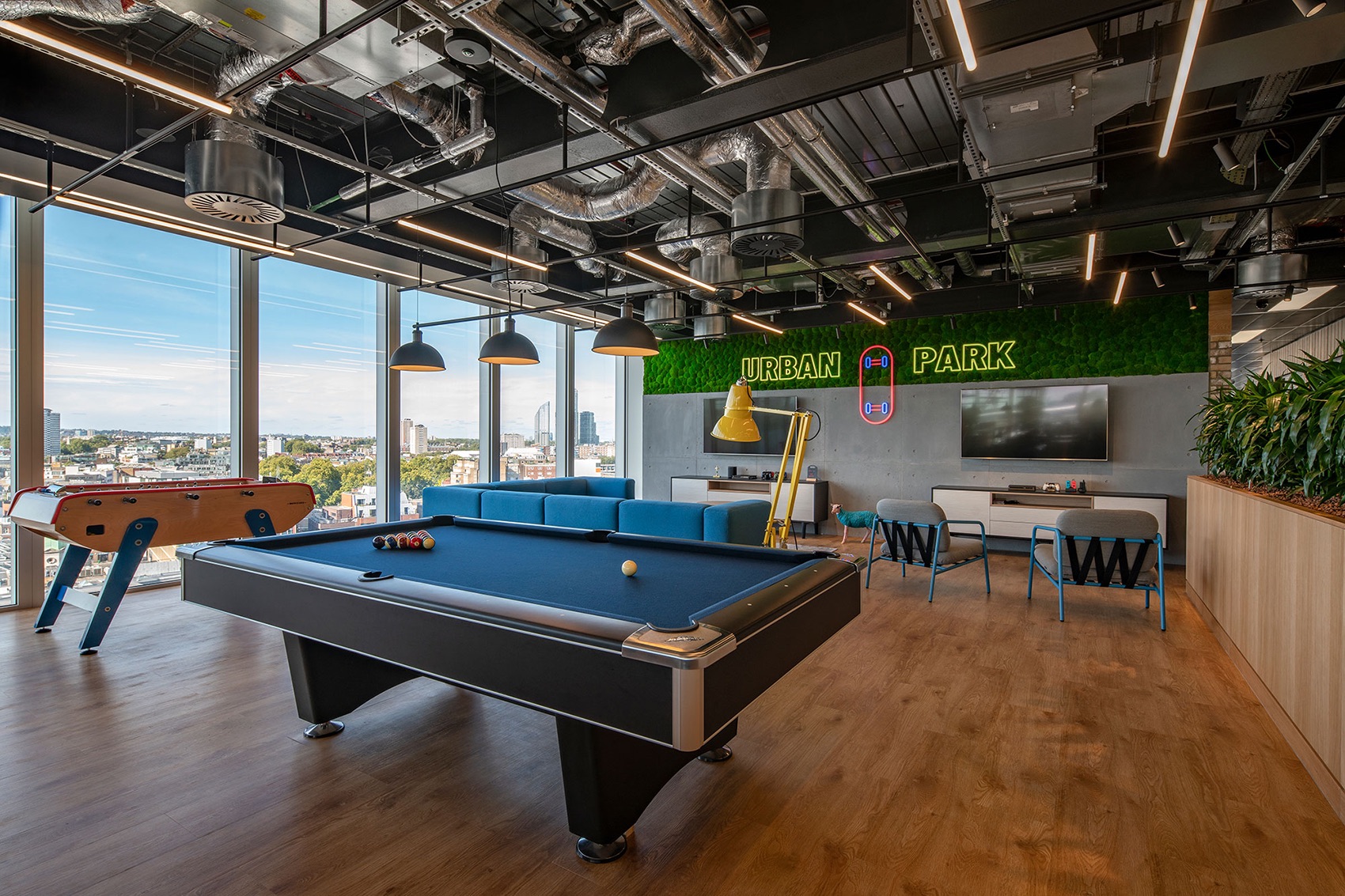 A Tour of The Trade Desk's Cool New London Office
Software as a service company The Trade Desk recently relocated into a new office in London, England, which was designed by workplace design firm Peldon Rose.
"The Trade Desk wanted this office to be an inspirational environment that would see the London office become iconic for the company. The bold, impressive design represents their pioneering approach and plays an important role in their attraction of new staff. The design has lifted the limitations of a traditional office by developing a community-focused landscape that caters for every personality and demographic.

The workplace consultancy programme on this project was really influential in us identifying the beliefs and behaviours that The Trade Desk staff found to be most important. This process allowed us to align ourselves with the shared vision and passions of The Trade Desk. Through the staff engagement questionnaires and workshops, we took away some really key values and principles that helped shape the look and feel of this new London office.

The findings showed us that the level of trust, pride and friendship between The Trade Desk and their staff was incredibly high, and to some extent, quite literally off the charts. This insight was priceless as it enabled us to focus on creating an office design that promoted freedom and autonomy. To do this, they needed more space to ensure that there were no limitations in the space and activate people to socialise, eat and collaborate with each other.

Another key finding from the workplace consultancy was that there is no concept of presenteeism in the business. Their people are valued on their performance, energy, culture and passion for the business. Having this in-depth appreciation of their people and their day to day behaviours was an essential part of the space, as the office has been designed to maximise the space and allow people to connect in a hugely diverse landscape. To facilitate this, we have built this space around an activity based working philosophy, with a desk for each member of staff. This was because they wanted everyone to feel that they had their own individual space, even though they are not required to use it.

Staff culture at The Trade Desk is one of the most integral elements of their business. They invest heavily in talent and development. One of the most important parts of this project was to develop a homely family environment that inspired their people. There was an acknowledgement that this office would both allow for business growth as well as play a pivotal role in attracting new talent to the business. When their staff walk into the office, for the first time or even the hundredth time, it was important that the vibe in the space was high-energy, modern and positive," says Peldon Rose.
Location: London, England
Date completed: 2019
Size: 80,000 square feet
Design: Peldon Rose
Photos: Tom Hitch