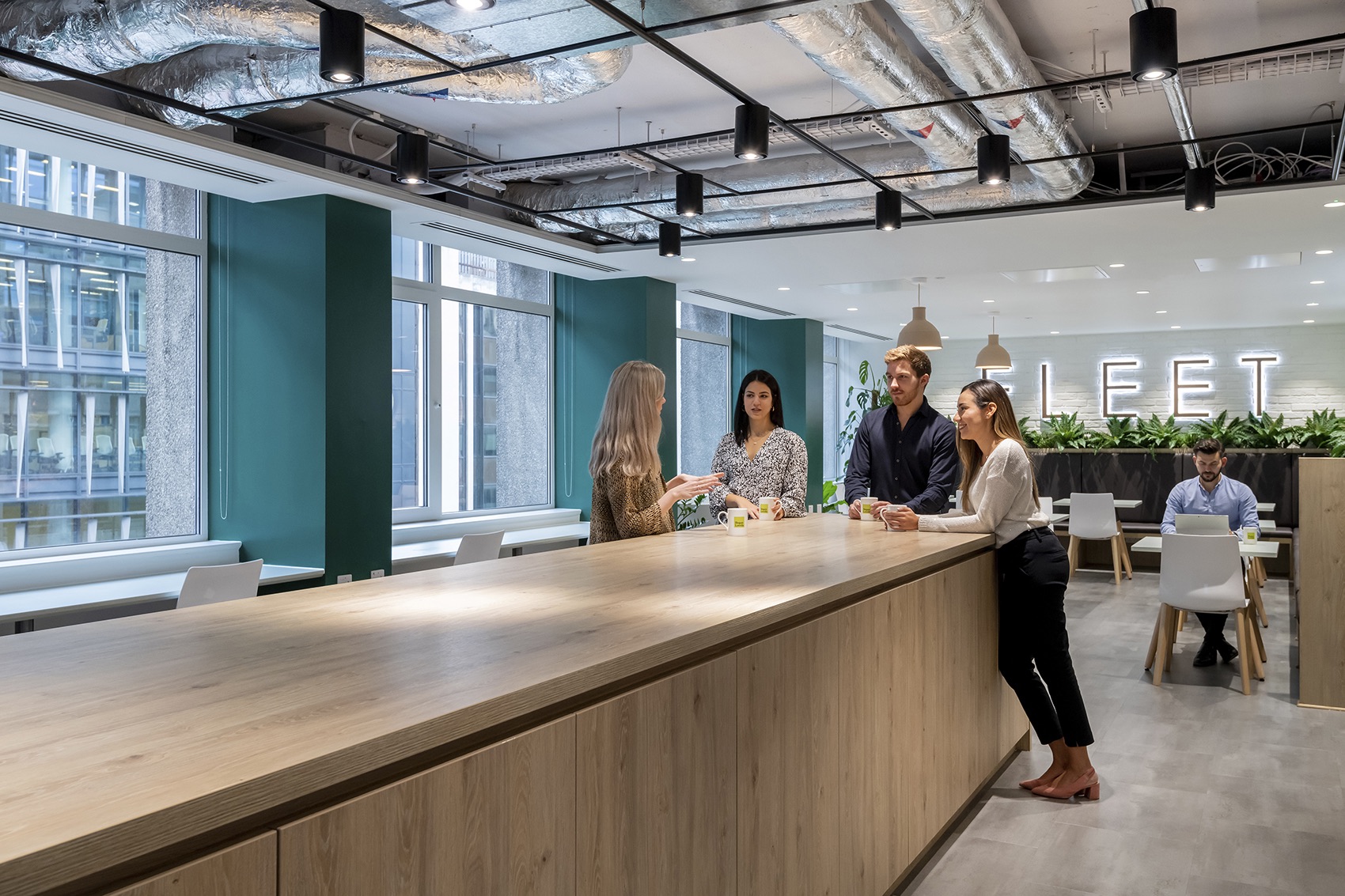 Inside Hogan Lovells's Cool New London Office
International law company Hogan Lovells recently hired architecture and interior design firm M Moser Associates to design their new office in London, England.
"We explored Hogan Lovells' business to understand the needs of its teams, gathering feedback and engaging with staff to refine our strategy before moving to the next stage. From the study, we uncovered a requirement for more diverse work settings to accommodate a range of team meeting styles and personal preferences.

The best solution would be a mix of agile workspaces and "agile ready" floors to enable staff to achieve various types of work while making optimal use of the available space in the building.

Boosting employee satisfaction

We know that quality social areas encourage people to connect with each other throughout the day and that this can lead to more impactful teamwork. Level 3 is dedicated to this task, providing a space for teams split across different floors to engage with each other.

Featuring agile work areas, this level sits at the middle of the building. A "project room" for teamwork enables people of different disciplines to collaborate. Here, the informal breakout area known as "Fleet Café" is the main lunch space. A broad mix of office furniture options encourage diverse use of the space, which doubles up to host team meetings, events and flexible working for visitors.

Designing "neighbourhoods"

Having occupied multiple locations in Holborn for a number of years, staff highlighted the importance of their connection to the area. The concept for the interior was to draw on a familiarity with the texture, colour and scale of different neighbourhood settings, creating clear zones across each of the seven work floors.

Optimising unused space

The basement floor was previously underused and failed to offer real value to the business. It had been treated as a print room and storage space, with little day-to-day use.

To address this, the floor was opened up and split into two sections. One space now acts as a large town hall, featuring video screens for presentations. The other functions as an area for staff to unwind, with a variety of games and space for staff clubs that form a key part of the culture," said M Moser Associates.
Location: London, England
Date completed: 2019
Size: 60,000 square feet
Design: M Moser Associates
Photos: Marek Sikora