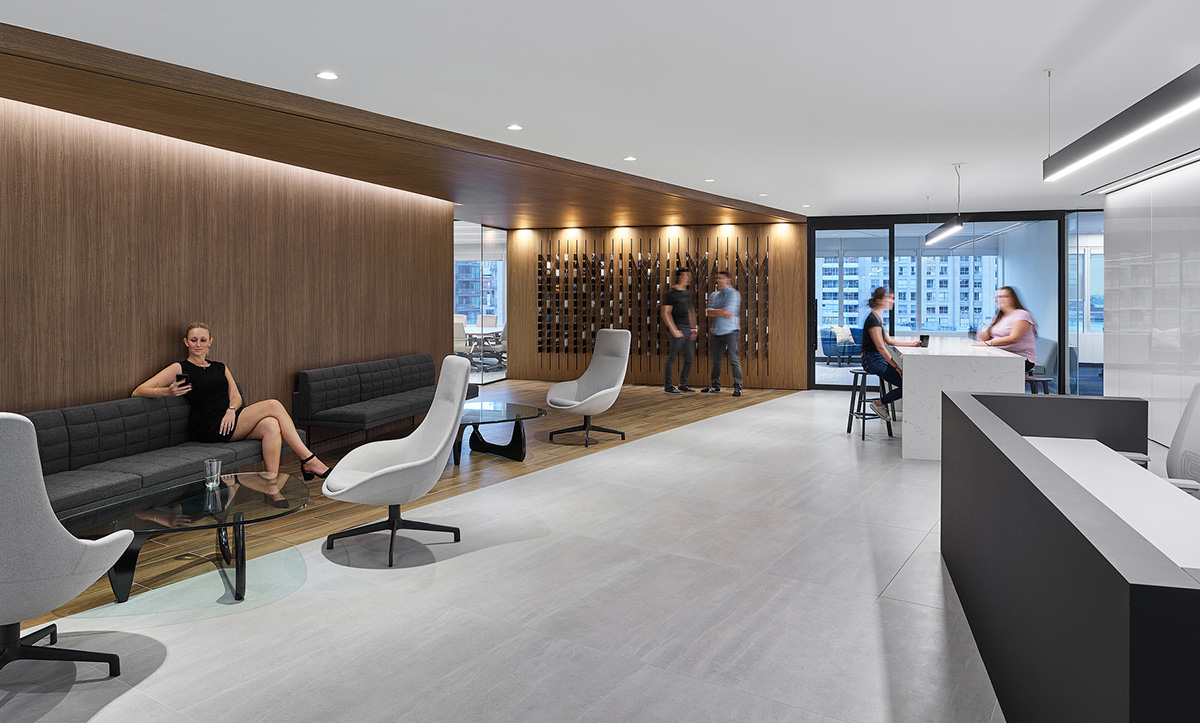 A Look Inside Optimus SBR's New Toronto Office
Business management consultancy Optimus SBR recently hired interior design firm figure3 to design their new office in Toronto, Canada.
"The Optimus SBR office in downtown Toronto serves a unique function for its staff. With approximately 400 employees working remotely in the offices of their clients, the office serves as a home base for occasional check-ins, meetings, and training for new employees.

The challenge of this project, and the primary goal of the design, was to find a way to keep employees feeling engaged and connected to their workplace and coworkers, despite not actually working in the space day to day. The solution was to provide spaces for employees to gather and interact, creating an open environment for communication and connection, and a variety of flexible work spaces, casual seating areas, and private rooms to accommodate different work styles.

In the reception area, an asymmetrical floorplate and awkward architectural elements are made into a visually pleasing focal point through imposed organization. A bar-height table of white marble is the perfect spot for informal meetings and a complement to the sleek grey tiled floor. The transition from reception to meeting room is made seamless through an intersection of materials which include walnut walls, glass panels, and black metal trim, all coming together to form an intriguing corner of lines and textures.

The expansive lunchroom is the core of the office; the central meeting place for events and gatherings. Designed for flow and flexibility, it includes moveable furniture that can be rearranged during celebrations. Natural woods are accented with patterned tiles and brightly colored furniture, lending a sense of dynamic energy to the space.

One of Optimus' beliefs is that "staff are the DNA of the company" and so this was incorporated into the office design. A unique feature wall made up of hundreds of metal plates represents each staff member's values, together forming a framework of their lives on one side, and a DNA-like pattern on the other," says figure3.
Location: Toronto, Canada
Date completed: 2019
Size: 21,000 square feet
Design: figure3