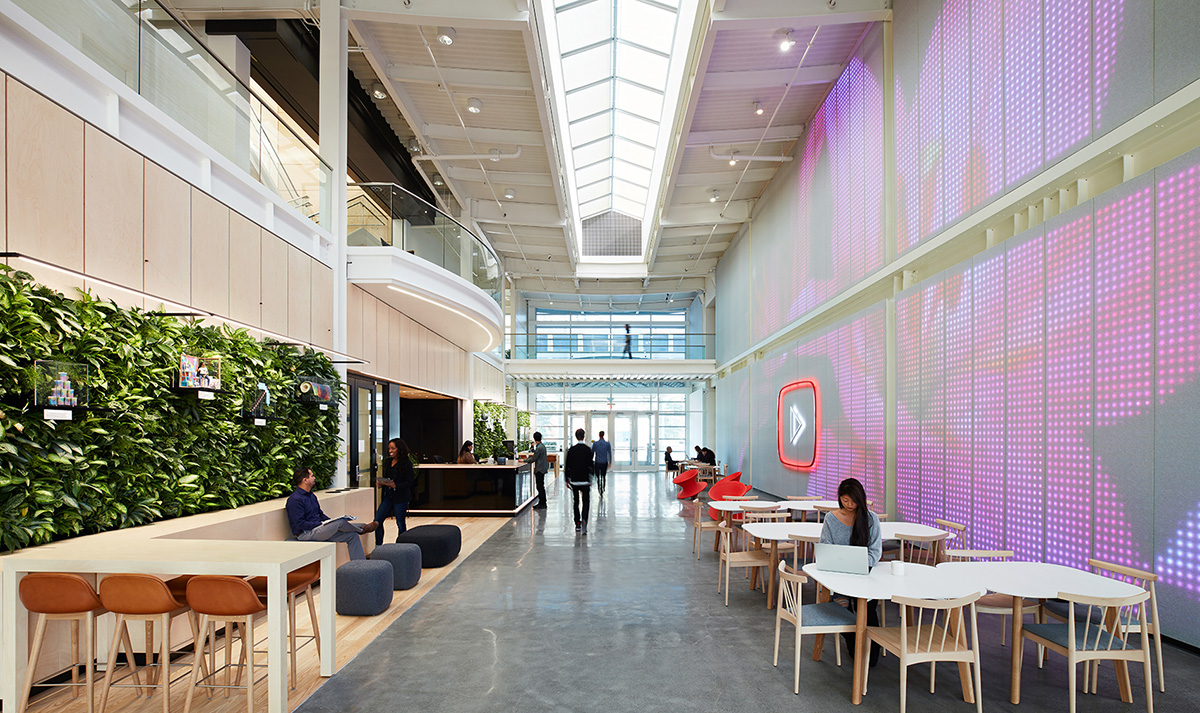 A Look Inside Youtube's Modern San Bruno HQ
A team of designers and architects from architectural firm Valerio Dewalt Train recently designed a new office lobby for Youtube in San Bruno, California
"The building's old lobby didn't reflect the creativity of YouTube or its users. The idea of creating a video wall along one side of the lobby made sense, given YouTube's brand, but the challenge was to make sure the space didn't feel coldly technological—or swiftly look outdated, given the rapid pace of technological change. As technology becomes more integrated into our daily lives, Valerio Dewalt Train wanted to replicate that sense of approachability in the lobby's design.

So rather than add a cutting-edge, high-resolution video screen, Valerio Dewalt Train treated it as an art piece, an abstraction of a screen that celebrates individual pixels. In the floor-to-ceiling digital installation on the southern wall, LEDs are broadly spaced and set a few inches behind a layer of soft acoustic fabric, so that the material catches the light as large circles. As a result, the videos that play on the screen take on an abstract, ephemeral quality. The soft fabric not only improves the lobby's acoustics, but also feels inviting and warm to the touch. When the LEDs are off, they're invisible behind the fabric.

To encourage visitors (many of them YouTube content creators) to interact with the digital installation, the design team spread floor "medallions" throughout the lobby. Each medallion bears a graphic that describes one of YouTube's core values. Stepping on a medallion triggers a reaction on the digital wall.

YouTube's famous "play" icon is outlined in neon at the center of the LED wall. The icon is reflected in the black glassy logo mark behind the reception desk directly across the lobby.

Much like YouTube's online platform, the lobby is designed to encourage creativity, exploration, and discovery, all while celebrating the company's content creators and employees alike," says Valerio Dewalt Train.