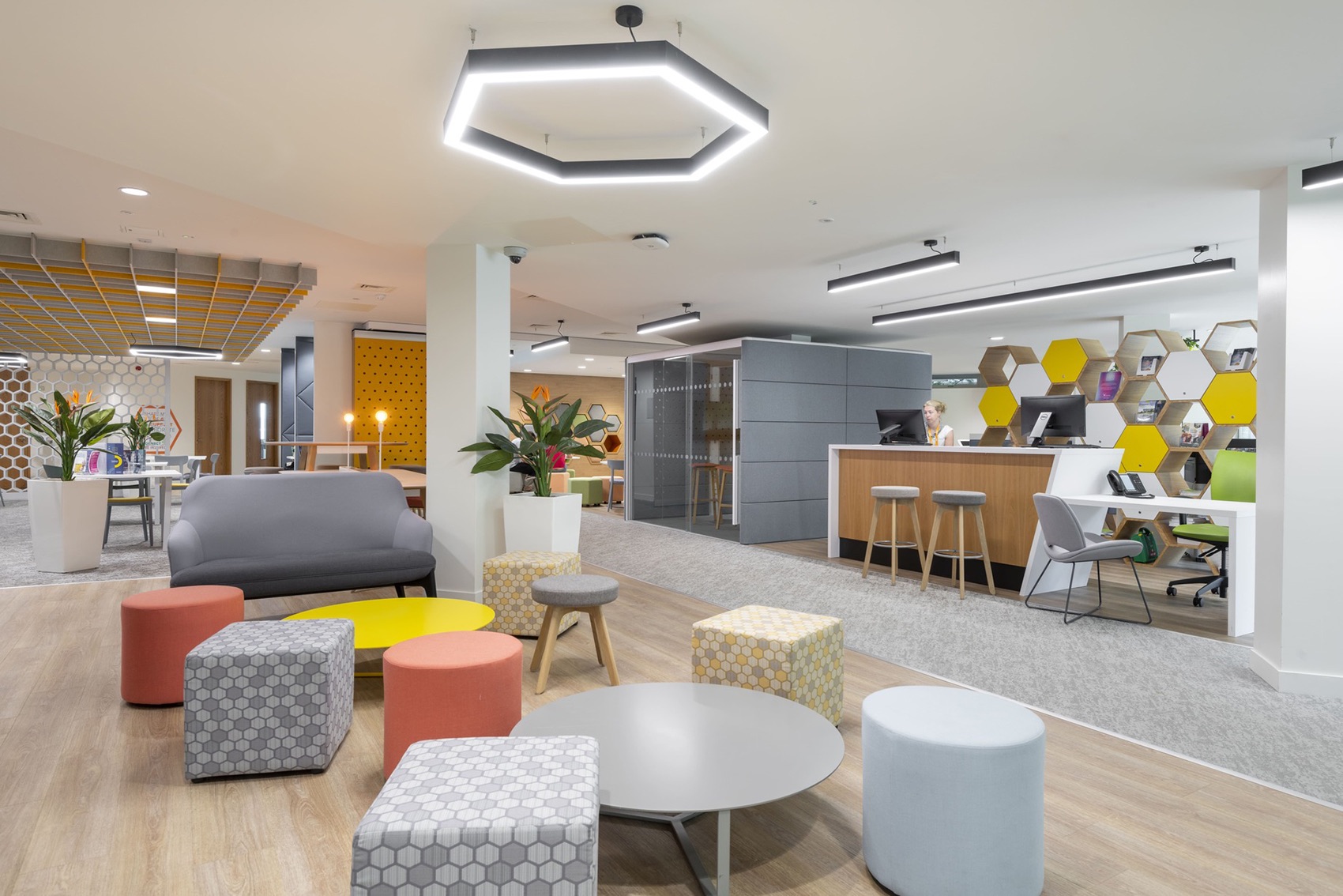 A Peek Inside University of Surrey's Workspace in Guildford
A team of designers from workplace design firm Area recently designed a new part workspace, part student hub for University of Surrey in Guildford, England.
"The University of Surrey wished to transform an old building on campus into a modern student hub, acting as a drop-in for students needing advice or looking for a collaborative place to work.

The client wanted an agile, multi-purpose touchdown space that would attract students and put them at ease. The design had to support a friendly, responsive approach to service provision, with students receiving a personal welcome on arrival.

Following lengthy discussion about what the space needed to deliver, the university called in Area to provide a number of design solutions. There was a comprehensive consultancy process involving formal and informal sessions with staff and students, and the internal PR team helped to communicate ideas and feedback.

The new facility encompasses space for focused individual working, group collaboration and big-screen presentations, as well as quiet rooms providing a haven for closer 1-1 discussions. Fitting the zones together was like piecing together a jigsaw, providing the necessary functionality while maintaining a harmonious whole. The design is flexible, with furniture that can be moved and reconfigured according to need.

The result is a warm, welcoming space with playful, stylish furniture and decorative touches, such as the recurring honeycomb motif, generating a lively, contemporary vibe. The different zones are delineated by floor finishes, screens and aesthetic style, without losing the overall sense of organic cohesion. This is a reassuring and comfortable place where students come to meet, consult or chill, which has received excellent feedback," says Area.
Location: Guildford, England
Date completed: 2019
Size: 6,000 square feet
Design: Area
Photos: Marek Sikora