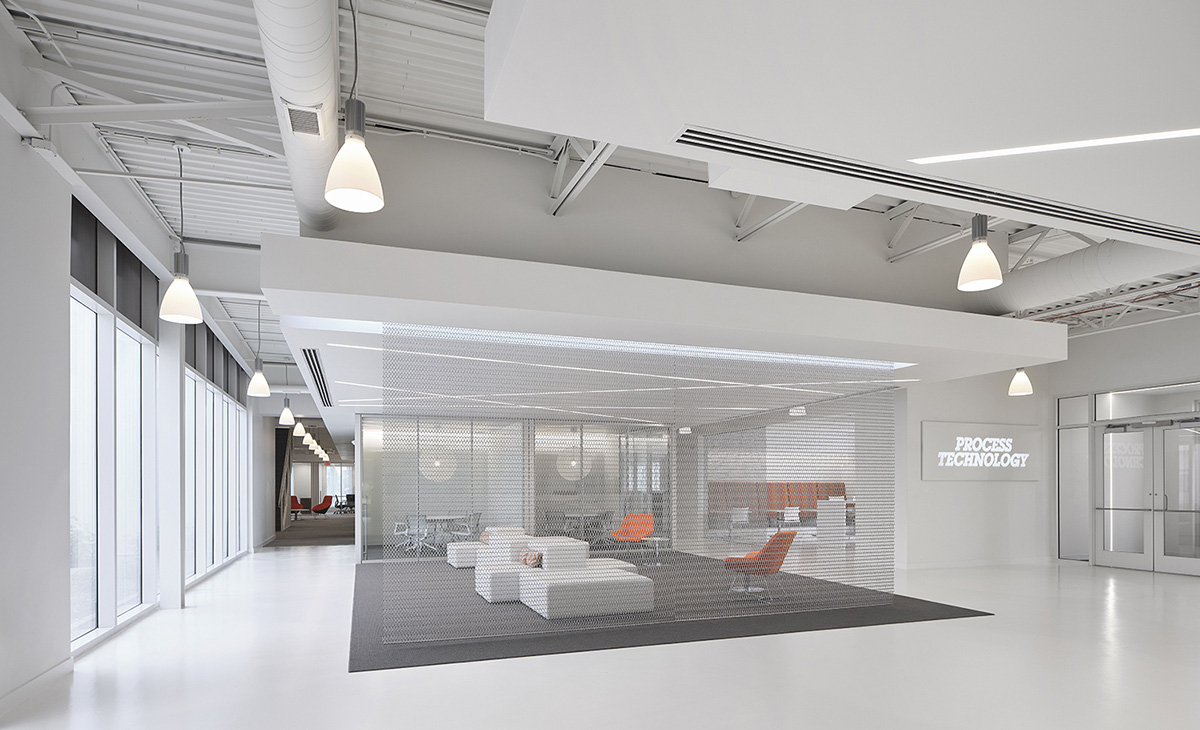 A Tour of Process Technology's Minimalist Cleveland Office
Manufacturing company Process Technology hired architecture & interior design firm Vocon to design their new office in Cleveland, Ohio.
"The project transformed a property that was originally an auto dealership facility. The site was outdated and lacked a cohesive design. The majority of the lot was covered by concrete. Led by Jodi van der Wiel, Design Director and Michael Christoff, Director, Vocon's architects removed 80 percent of the site's concrete, the building's extraneous masses, glazing and non-structurally-sound components. While reusing the existing structure, the landscaping team restored and seeded the lot, as well as planted deciduous trees throughout the property.

The Vocon team then wrapped the entire building in a metal paneling to create a uniform exterior. The design team balanced curb appeal with budget and kept the existing punched openings in place but used scrim inserts to give the exterior visual balance. The exterior also features mesh, which allows for the building to feel lighter and sleeker. Vocon's design team chose to "slice the structure" to emphasize the front facade and diffuse daylight throughout the space.

The property is made up of two separate blocks, with one serving as the office's cultural hub, and the rear space used for research and development. The two areas are connected by a bridge that forms the entryway and the socialization zone. The property also offers a cafe space for employees, an outdoor courtyard, a fitness suite, and a variety of workspace options.

The main office space demonstrates Process Technology's commitment to transparency. They housed the cleanroom directly behind the concierge area, allowing all employees and all company visitors a clear look into the testing, research and development process. The executive offices are also located in the heart of the office's cultural hub, demonstrating the company's openness and availability to employees.

Process Technology wanted its new space to reflect a dedication to wellness and worked to go beyond just offering a fitness space. The Vocon team incorporated natural light and a feeling of openness throughout the office space which creates a variety of workspace options that allows employees to have both privacy and a sense of community. The new headquarters incorporates a quiet zone and is also dog-friendly.

The project's design palette is progressive and modern, reflecting the company's ethos in both the architecture and interior design. The core socialization zone incorporates unique overhead lighting to make the space feel bright and original. The lighting can be color-programmed. The modern and minimalist concierge desk sets the tone of the rest of the office, and the orange accent color throughout the space was born out of Process Technology's recent graphic identity update. ut of Process Technology's recent graphic identity update", says Vocon.
Location: Cleveland, Ohio
Date completed: 2019
Size: 23,500 square feet
Design: Vocon
Photos: Matthew Carbone