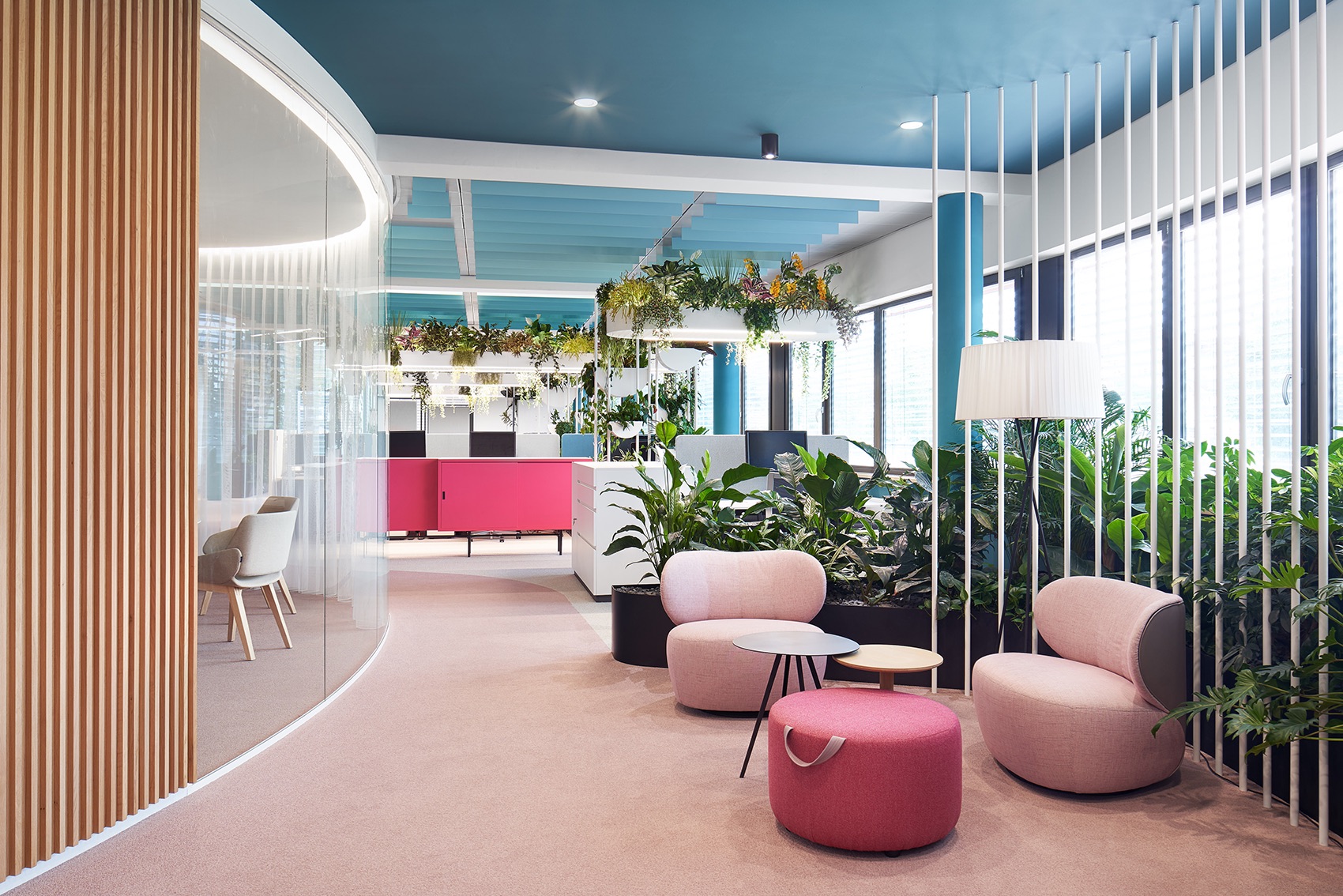 A Tour of Roman Klis Design's Cool New Herrenberg Office
German design agency Roman Klis Design recently hired architecture & interior design firm Ippolito Fleitz Group to design their new office in Herrenberg, Germany.
"The main goal was to transform the globally operative brand design agency into a 'New Work' office, successfully remodelling the workplace into a locus of desire. The transformation brought together the agency's brand identity, insights from behavioural science and our ambition to provide a smart solution to every challenge. The new office is not only a pleasure to behold – it makes a substantial contribution to boosting the productivity of the agency's workforce.

Workplace oasis

First off, we added a new workforce of 2,100 super-performers in the form of green houseplants. They engender a good mood, lower stress levels, boost creativity and enhance performance. Moreover, they improve air quality and overall well-being, as well as diminishing noise levels. They even assist in employee acquisitions – and are extremely easy to handle. The only input they require is regular watering. The nudger knows: Houseplants are motivational power plants. And in fact, the newly greened interior not only increased humidity from 18% to 44%, but decreased the number of employee sick days by 50%.

The yippee principle

One fascinating challenge in this project was to completely transform a building without interfering in the existing structure in any way. A fundamentally different atmosphere was achieved by changing the ceiling landscape. The existing panels were allowed to stay, but these were supplemented by coloured strips. In place of grey metal ceilings, colour gradients create a new spatial depth and a considerably improved mental balance. Blue is a calming colour – and also promotes creativity. A gradual progression into white brings additional openness and lightness to the space.

Workways have been kept neutral to promote concentration. The pale pink walkways are genuine mood boosters and, incidentally, increase empathy amongst employees. Thoughtfully placed water sources and tasteful lighting help bring about an even better mood. Tropical wallpaper meets soft shapes and round tables. And the nudge insight that central Europeans only feel part of a group of up to 24 people was taken into account in every zone. Despite this, much more space for communication has been created overall – which was an explicit wish of the employees, but also a requirement of a changing work culture in which information exchange and a sense of cohesion and belonging play an increasingly important role," says Ippolito Fleitz Group.