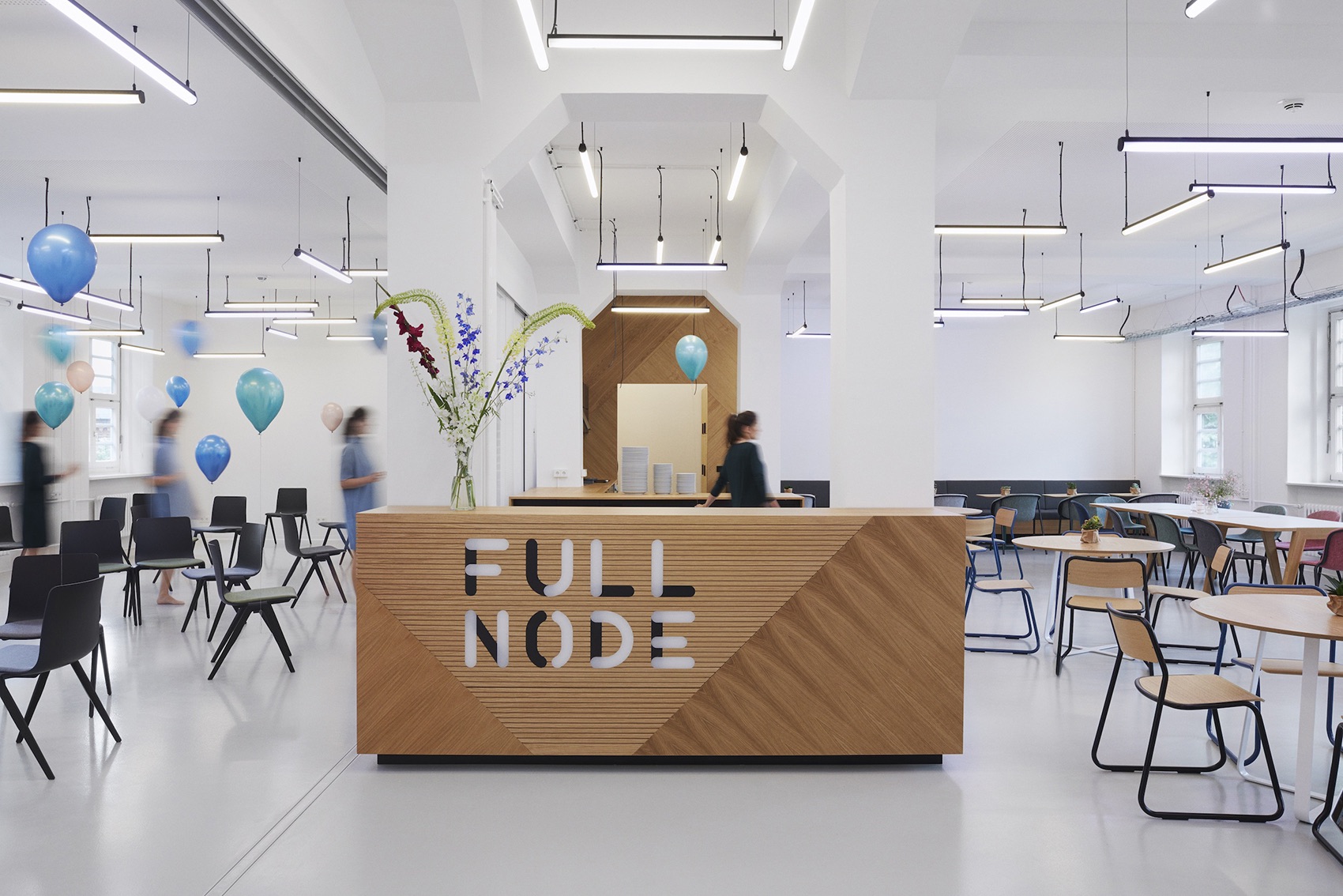 A Tour of Full Node's Cool New Berlin Coworking Space
Coworking space platform Full Node recently opened a new coworking space in Berlin, Germany, designed by architecture & interior design firm LXSY Architekten.
"FULL NODE's workspaces form a non-hierarchical context where cryptographers, entrepreneurs, blockchain start-ups, and freelancers can easily network. The concept promotes communication through multiple spaces that facilitate different working styles, including fixed desks, rooms for workshop, events or meetings, lounges, brainstorming rooms, telephone boxes, audio boxes and even a sleeping box.

The listed former post office on Skalitzerstraße in Berlin Kreuzberg, built by Jakob and Fritz Nissle in 1927, now houses a diverse range of separate office spaces and open co-working areas spanning some 1,000 square meters. The original open floor plan was retained, opening up a coherent space for 100 work stations, which creates a sense of spaciousness while also encouraging communication, dynamism and concentration. Transparent glass walls and acoustic measures facilitate focused work, while comfortable open areas facilitate interaction. A flexible fix and flex co-working space is created by combining the entrance with its reception counter, with a café as well as open workshop, event and various meeting rooms of various sizes.

With the focus on creating a high-quality work environment, the individual design solutions feature timeless materials and quiet contrasts. Finely crafted details reveal the design's high standards. Its young and contemporary look more than meets today's technical and practical needs. Beyond its high quality, this project is characterised by a certain playful ease. The idea of networking is not only reflected in the surrounding light bands and the spatial continuum of the central zone, but also in the theme of bands and chains which is extended to the inscriptions on the inside glass walls. The blockchain code is visible throughout the room, creating a signposting effect. The sequence of open and closed spaces is emphasised by the interlinking chain effect, creating coherent spaces that can accommodate a variety of new working scenarios," says LXSY Architekten.