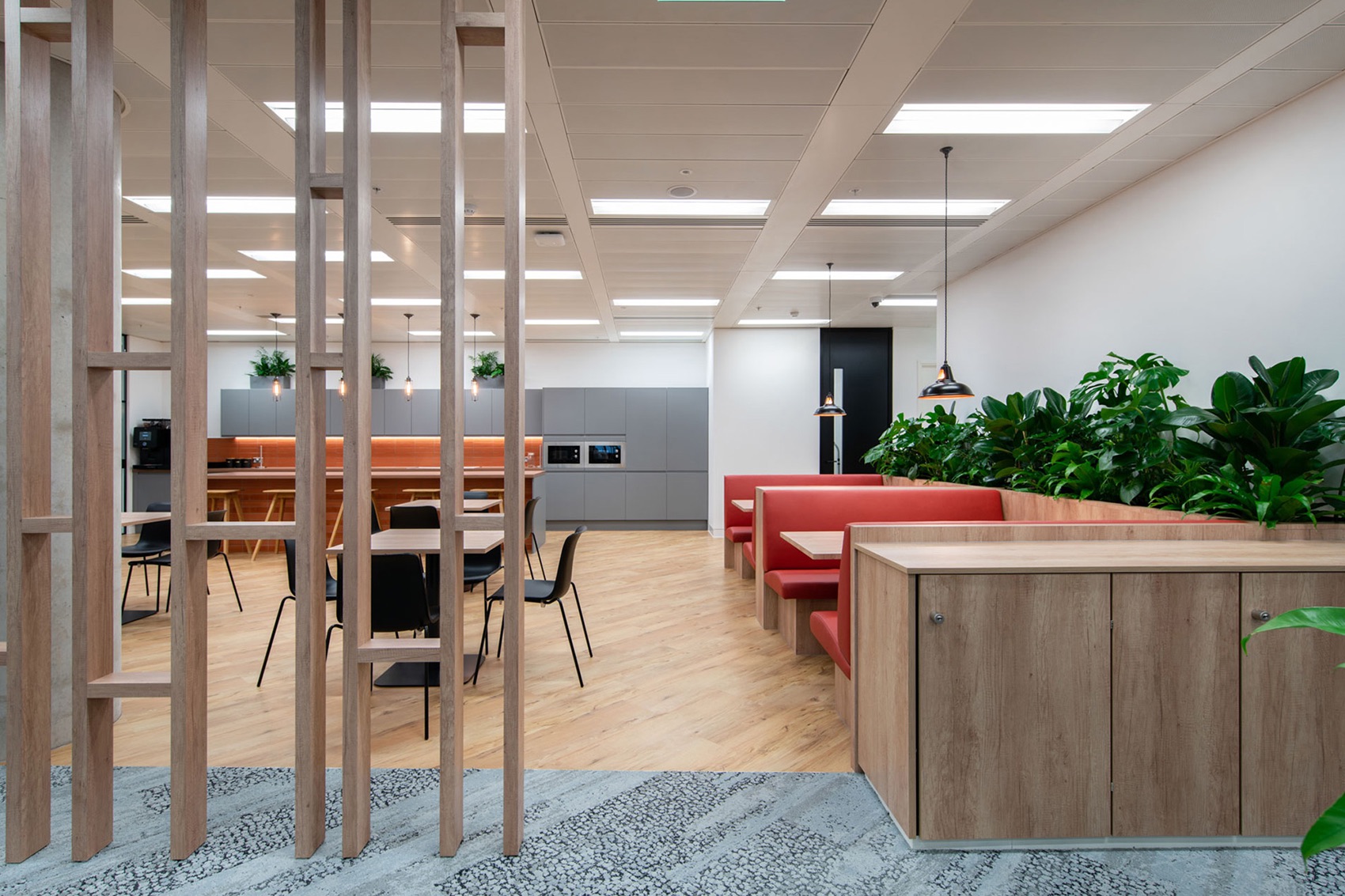 A Look Inside AustralianSuper's New London Office
Australian superannuation and pension fund provider AustralianSuper recently hired interior design firm Peldon Rose to design their new office in London, England.
"As a Members First organisation, AustralianSuper's four core values are Generosity of Spirit, Excellent Outcomes, Integrity and Energy. These values are central to who they are and how they operate, and this ethos also extends to their choice of selected partners. Therefore, we were delighted to be asked to work on this exciting relocation project.

The brief for this project was very specific. Firstly, the design had to maintain their Australian heritage and 'look and feel'. Yet, in addition, they also wanted the design to be sympathetic to the local area of Kings Cross.

A professional environment, appropriate for a global investment firm with multi-purpose space solutions was also essential. As they are a profits-to-members organisation – less is more, so it needed to be practical and authentic. Longer-term, it also needed to cater for the firm's growth aspirations allowing for expansion in the future.

The design inspiration was based on Australia's unique landscape features, to include earthy tones such as greens and oranges and the deep red synonymous with Uluru – one of Australia's most recognisable natural landmarks. Authentic finishes work alongside organic shapes and amplification of natural light. We incorporated graphics of the Eucalyptus tree which is native to Australia. This natural environment contrasts nicely with the modern, contemporary and urban concrete pillars, brick walls and sophisticated grey hues – synonymous to Kings Cross.

We inherited a CAT A office, which gave us a blank canvas to design and create a space that served multi-purpose uses, including the operation of folding walls to establish larger meeting rooms and open-plan areas for gatherings and events when required.

We introduced a range of flexible spaces for employees to choose how and where they work. A central area was designed to allow for large groups to gather for meetings to keep everybody connected.

We introduced a strong biophilic theme to increase connectivity to the natural environment through use of natural materials. This fits perfectly with the Australian theme to include hanging planters throughout the building, and flora hanging within the signage above reception. The main office area was designed to be open plan with plenty of greenery situated amongst the workstations. It has been proven that office plants help increase productivity and replenish focus.

The large kitchen area is both modern and contemporary and incorporates neutral tones, stylish pendant lighting and plenty of greenery. With a high bench table, café style seating and booths, it can also be used for informal catch ups.

As the floor plan is large in this new building, we needed to provide acoustic solutions to maximise productivity and provide quiet spaces away from energetic teams," says Peldon Rose.
Location: London, England
Date completed: 2019
Design: Peldon Rose