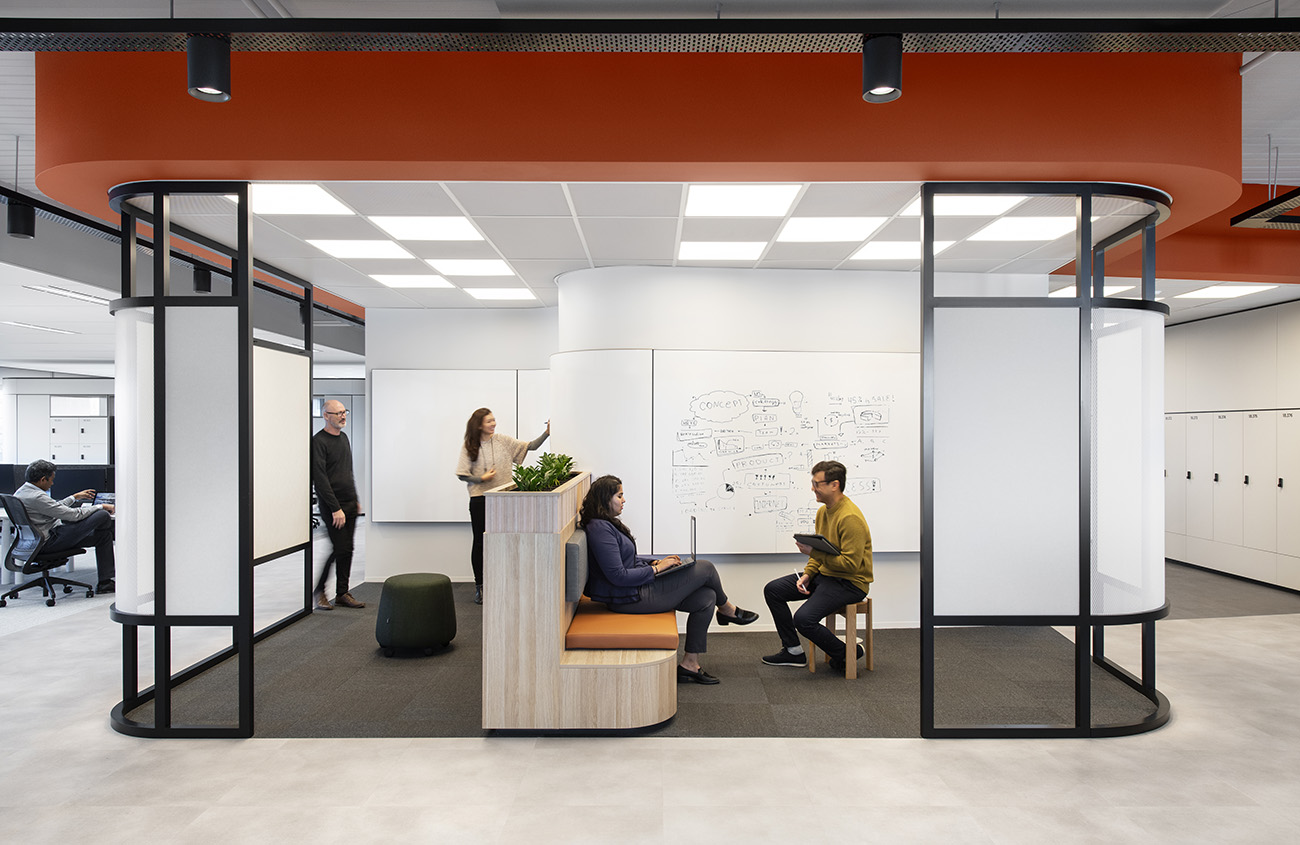 A Tour of QBE Insurance's New Melbourne Office
Australian insurance services provider QBE Insurance recently moved into a new office in Melbourne's Dockland district designed by architecture firm GroupGSA.
"They sought to create a robust 'WELL ready' workplace solution to enhance their ever-changing business needs and build a framework for future ways of working across their broader transformation projects in Melbourne and Sydney. QBE's core purpose is to provide comfort in a time of uncertainty, so its customers can focus on their ambitions, not the barriers in their way.In an effort to capture this moment of change, we drew inspiration from the concept of 'tectonics,' looking specifically at how geological shifts can leave lasting effects.

With large open floor plates there was an opportunity to morph spaces in tune with the workplace needs, creating an assortment of tectonic forms expressed as team neighbourhoods for meeting rooms, team huddles and social spaces for innovation, plus a myriad of retreat and escape spaces to find focus. The staircase is also core to the user experience; allowing people to move freely between each floor, enhancing sightlines across the space and providing unique opportunities for deeper social connections. Responding to many misconceptions on activity-based working practices we embraced the concept of agile working within a team-based environment, rather than taking an agile approach across the whole business. This maintained user autonomy on a personal level and helped to alleviate the stress of going from traditional to complete agile working. The variety of work settings from shared, open collaboration tables to individual focus pods means the space can respond to all different personality types and is not designed for only one type of end user.

Each team neighbourhood houses 12-24 people and contains personal lockers, shared team storage, and a variety of work settings from sit to stand workstations, to singular desks for focused working, and a nearby breakout huddle space for collaboration. This strategy successfully allows staff to work flexibly within their neighbourhood, while providing the comfort and security of a team environment. The side core and large expanse of windows to the facade meant we were able to position the team neighbourhoods for maximum natural light exposure, enhancing the openness of the space and allowing sweeping sightlines over the south Melbourne skyline. To further emphasise the natural light sections of the existing ceiling were removed, and the soffit painted out white to improve the sense of volume and maximise the natural bounce of light.

A gutsy decision was made to hand over half of a floor plate to the customer experience. This resulted in a generous customer co-working zone, with dedicated refreshment counter, meeting rooms, and support facilities. A flexible event space with expansive views welcomes customers and staff alike for shared experiences and events. The material palette and graphics drew inspiration from the Australian environment. Warm oaks and light walnut surfaces were softened with natural stones and upholsteries, including leather and wool fabrics; and extensive planting promoted a connection to nature. Planting was considered as an integral part of the design solution with meaningful joinery planters providing occupants the benefits of being close to nature," says GroupGSA.
Location: Docklands – Melbourne, Australia
Date completed: 2019
Size: 64,583 square feet
Design: GroupGSA
Photos: Nicole England