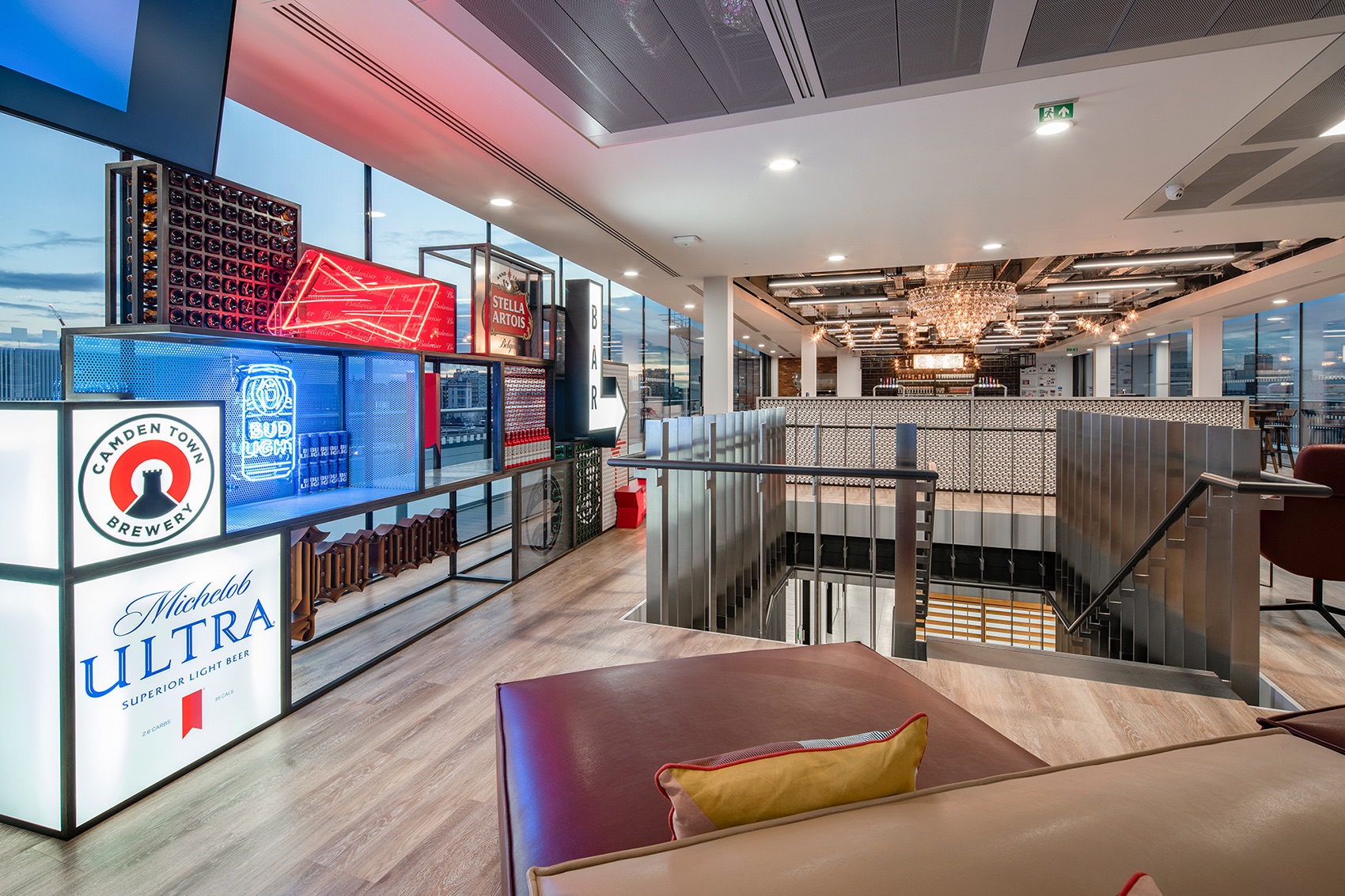 A Look Inside Budweiser Brewing Group's New London Office
A team of designers from interior design firm Peldon Rose recently designed a new office for brewery company Budweiser Brewing Group in London, England.
"The office fit out needed to reflect who they were as a company. We have created a highly functional, but visually striking environment. Everything from the colours, to the furniture, to the light fittings were selected to create a striking, impactful workplace.

Attracting talent was a key consideration in this design; the workplace is no longer somewhere that an employee just comes and sits for the day. It's where they socialise, connect with the company they work for and immerse themselves in their brands. This was the principles we used to inspire our design of the new working environment for the Budweiser Brewing Group.

One of the big drivers for this project was to create an environment that would enable them to bring everyone together from different offices to improve communication and foster a greater sense of pride within the business. Throughout the space there are a variety of informal open spaces and flexible working options that encourage people to connect and collaborate across different teams.

The artwork and branding used in the office design features some of the most iconic and well recognised drinks brands in the world. The office showcases the Budweiser Brewing Group brands and the iconic design work from global brands like Stella Artois, Budweiser and Corona to local ones such as Camden Town displayed around the office. Each meeting room on the 7th floor suite was branded differently – the emotions were captured for each brand and were then distinctively reflected in the look & feel of each individual room; from furniture choice to final wall finishes.

The chosen furniture used natural materials inspired from the industrial look & feel but would also stay relevant in the future. To ensure we got it right, we worked alongside their internal marketing team and design agency, JKR, who also involved Elvis and Okoru to design and install feature pieces in the space. The company's numerous household names were displayed throughout the 8th floor bar and tea point," says Peldon Rose.
Location: Farringdon – London, England
Date completed: 2019
Size: 28,000 square feet
Design: Peldon Rose