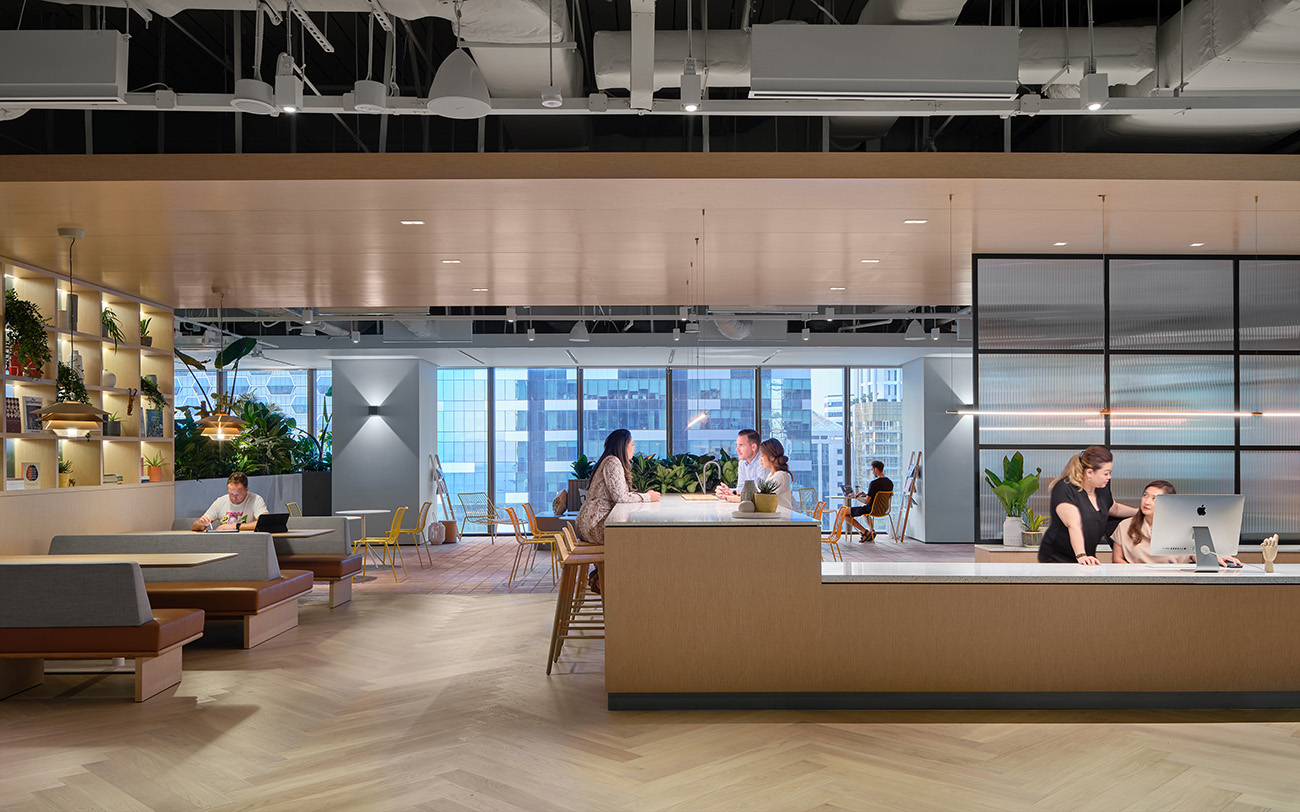 A Tour of Zendesk's Sleek New Singapore Office
A team of architects and designers from architecture studio M Moser Associates recently completed a new office design for technology company Zendesk in Singapore.
"This new headquarters takes its design inspiration from European towns where a big, central, buzzing public square invites large social gatherings and smaller, more intimate neighbourhoods dwell in its vicinity.

The entrance on the upper floor manifests this concept by connecting its open reception with a Café and Barista bar, the combination of which becomes the pulsing heart of the workplace. The transition from the reception to the café evokes feelings of stepping out onto a terrace, with a garden bringing people closer to nature and communicating a sense of serenity.

Socially connected districts

The flow of the space follows a sequence that invites staff and visitors on a journey from public to private. Large pantries, collaboration areas, and playful amenities available on both floors create urban spaces that encourage discourse and meaningful exchange among staff.

Such a focus on connectivity through design contributes to a convivial culture that nurtures human relationships and reinforces a family-oriented work environment.

A large staircase connecting the two floors serves as a meeting point for staff to get together and share ideas in a casual setting. It leads to a multi-functional void deck named The Fountain, where movable furniture and an extensive wall used as a projection screen can repurpose the environment for town hall meetings and other company gatherings.

Private spaces and parks



Quiet corners and smaller, more intimate collaboration booths cater to the needs of those in search of a place to retreat and focus. These include a mini garden behind the reception on the upper floor, where an abundance of plants creates a hideaway withdrawn from the rest of the office and facilitates a closer connection to nature.

More biophilia integrated throughout the workplace helps to clean the air and create smaller parks and green areas, bringing people closer to nature to provide a healthy work environment.

Empowering flexible communities

This office empowers each of its business units to operate as an independent neighbourhood with a microclimate that enhances agility and flexibility. Staff in each team is encouraged to move around and select their preferred way of working within their designated area. More open spaces are available to staff on both floors, including the main public square, the void deck, and other social areas, promoting cross-team collaboration and knowledge sharing in a diverse range of settings.

All workstations are height-adjustable, following company values of providing a warm and comfortable environment that adjusts to the needs of its occupants. Plants, artefacts, and other accessories integrated throughout this agile workplace contribute to a proportionately charming atmosphere, enlivened by local influences from Singaporean artists," says M Moser Associates.