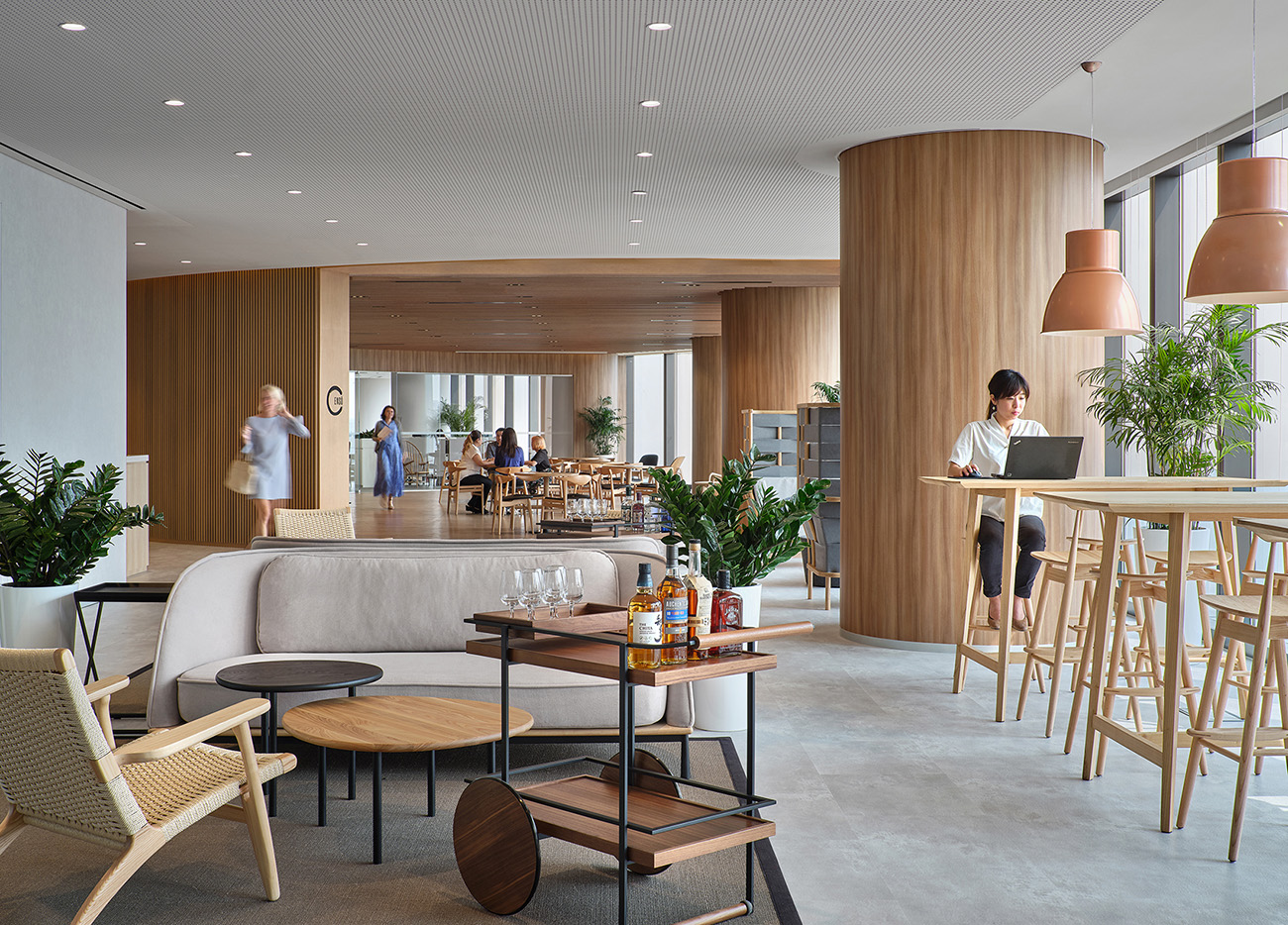 Inside The New Offices of Beam Suntory in Singapore
Global beverage company Beam Suntory recently hired architecture firm M Moser Associates to design their new office in Singapore.
"As the world's leading bourbon distiller and the pioneer in Japanese whisky, global premium spirits company Beam Suntory sought to reflect its unique heritage and passion for craftsmanship in a new, socially vibrant office that attracts and nurtures dynamic talent.

We addressed this challenge with a design-build solution interweaving elements of art, social experiences, and wellness to deliver a unique workplace experience that creatively celebrates the company's East-meets-West culture and honours its lifelong purpose of inspiring human connections.



Inspiring human connections

A key objective was to create a socially vibrant environment that embodies Beam Suntory's brand mission of 'inspiring human connections'. Our deep understanding of the company's cultural heritage enabled us to conceptualise, design, and build a central front of house named the Ensō. Meaning "circle" in Japanese, its curving form symbolises balance and connection in zen philosophy and reveals stunning views of Singapore, elevating the journey from the reception and lobby area.


Honouring the company's history, we created the Ensō with a dynamic shape to recall the emblematic wooden barrels used in the production of whisky. Its simple and natural look-and-feel is inspired by Japanese and American craft to form a welcoming environment where staff come together over casual conversations, town hall meetings, and wider company events.

Illustrating a history measured in centuries

Beam Suntory was created in 2014 by combining the world leader in bourbon and the pioneer in Japanese whisky to form a new company with more than 200 years of cultural history. M Moser brought this "meeting of two cultures" to life using artworks to reflect emblematic elements from each brand across the open office. The reception mural is the artistic highlight of this workplace. Illustrated on etched copper, it takes its essence from the origins and values of the two formerly distinct organisations to create an emotional journey depicting a tale of two cultures coming together as one.



Wellness in the workplace

The office communicates a sense of comfort through natural materials and biophilia. Meeting rooms are located around the core of the floor plan to infuse maximum daylight inside the open office, with unobstructed views of the Singapore skyline.
Elements of "Growing for Good" are graphically inscribed onto walls to reflect the company's commitment to protecting water and the environment and creating harmony between people and nature.

Encouraging movement and collaboration

As brand custodians of legacies, Beam Suntory staff are encouraged to "unleash their spirit" and lead the company's entrepreneurial culture of "Yatte Minahare – Go For It!" by collaborating across departments and functions to drive innovation. This is realised with an open plan office interspersed with breakout areas that facilitate interactions among staff and provide ample space for movement between meeting areas while valuing individual focus with private booths and corner seats.

Created as a place of gatherings for staff to share ideas and innovate, this new Beam Suntory office takes people on an engaging storytelling journey through history. It supports objectives of attracting talent with a visually creative and entrepreneurial environment while empowering teams to collaborate and continue building meaningful brands," said M Moser Associates.