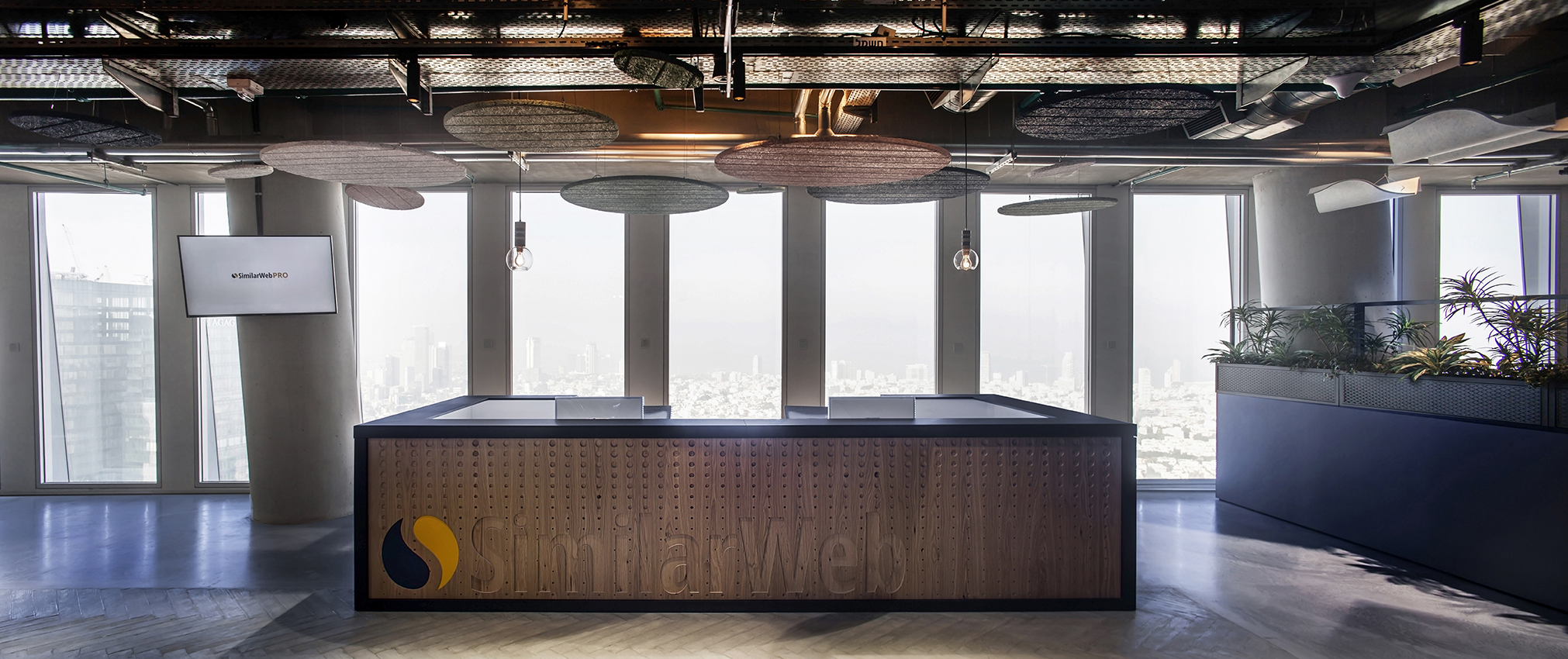 A Look Inside SimilarWeb's Modern Tel Aviv Office
Web analytics service SimilarWeb hired architecture and interior design firm Roy David Studio to design their new office in Tel Aviv, Israel.
"RDS was entrusted with a complex task; how could all the company's employees (380 in total) be seated in an open space layout and at the same time preserve the required quality of design and acoustics. The designers arranged the open space according to the various teams. Each member of each team was placed around an "inner courtyard", a collaborative seating area that encourages teamwork and innovation. The courtyards are located adjacent to the curtain walls that provide plenty of natural daylight and a spectacular view.

To stay atop the tight schedule, the studio made the bold decision to custom design the majority of the elements in the space custom in order to meet the client's needs and reflect the swarm motif in the best way possible. The custom designed elements include: employee workstations, equipped with whiteboards and private storage units, acoustic lighting fixtures, and a variety of carpentry pieces showcased throughout the space.

At the head of every cluster of four workstations, one can find personal lockers atop which are cushioned seating for informal meetings as well as greenery.

The ceiling in the open space is exposed and painted mostly in a charcoal black. The exception being a single pipe is painted in a eye-catching turquoise. The intention being to assist with orientation in the space, being that it runs along the main pathway throughout the office space.

Hangout areas are scattered throughout both floors and are easily recognized due to the acoustic elements hung from the ceiling that resemble a "flock of birds" hovering above. Due to the open space arrangement in the majority of the office, the client emphasized the importance of the high quality of acoustics in the conference rooms. Elements such the colorful wood/wool acoustic ceiling tiles that emphasized the swarm concept in their composition. Both elements further emphasizing the swarm design concept throughout the space.

Befitting the high-tech industry, which prides itself in ensuring the wellbeing of their employees, one can find numerous recreation rooms in the space; ranging from a health café, gym, music room, VR room, meditation room and more," say Roy David Studio.