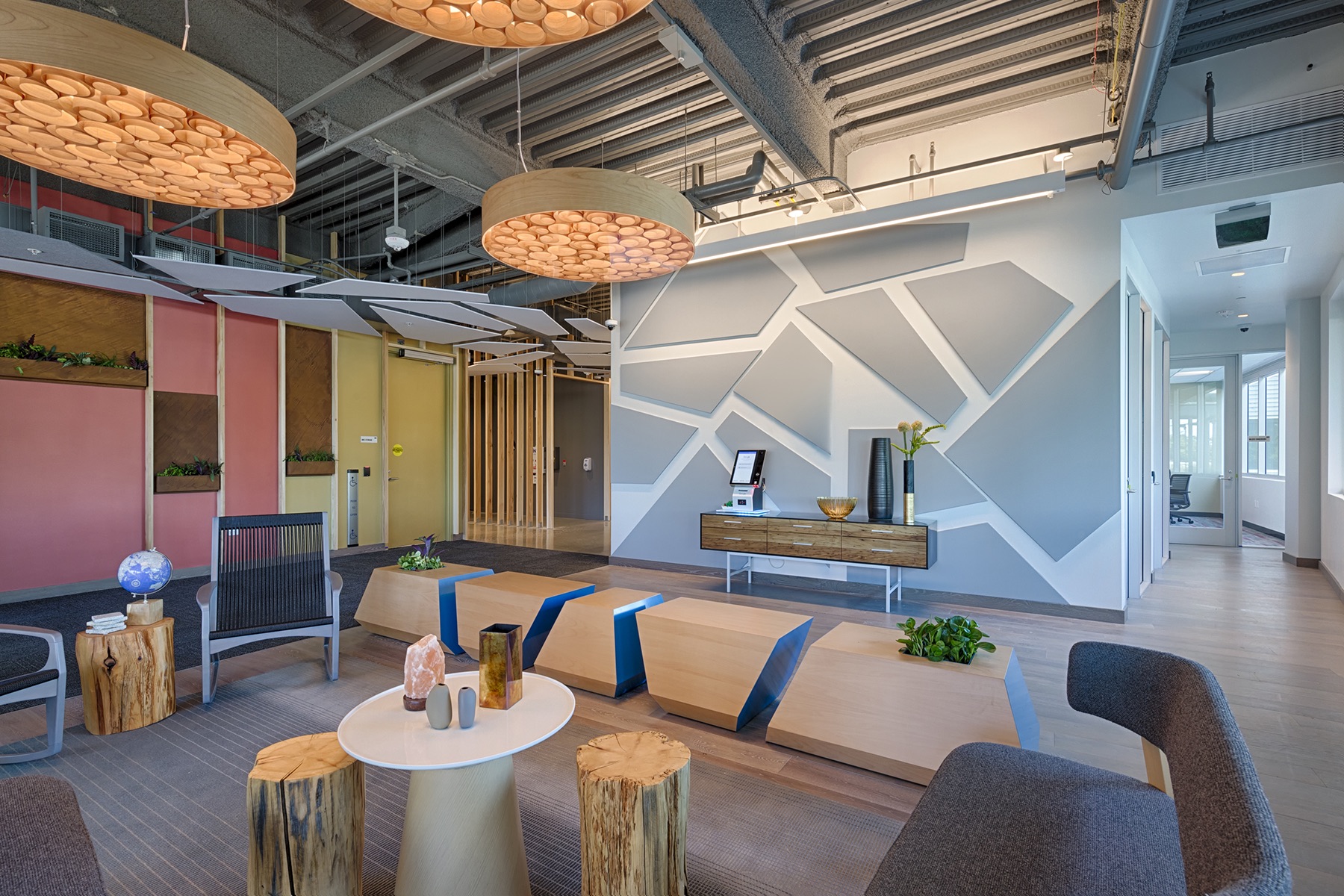 A Tour of Google's Cool New Mountain View Office
A team of architects and designers from architecture firm Form4 Architecture recently designed a new office for global search engine company Google in Mountain View, California.
"For the offices of a global search engine company, Form4 Architecture created a modern and sophisticated workplace that celebrates the story of salt production, a prominent Bay Area industry dating back to 1854. The design draws upon the history and characteristics of the South Bay landscape, as well as the confluence of nature and industry.

The workplace includes three branded cafés with al-fresco dining and seating for 216; a fitness center with lockers rooms and outdoor exercise area; meeting rooms in a variety of configurations for group interactions and private conversations; a 178-seat auditorium aptly named "Tech Talk" for company presentations and guest speakers; and 50 electric vehicle charging stations, upholding the tech company's adherence to sustainability.

Ceiling elements define the main circulation throughout the floor, referencing the natural shape s of salt ponds in the San Francisco Bay while also providing acoustic absorption. Lighting fixtures and seating configurations throughout are evocative of salt's molecular makeup and geometricity. The rustic beauty of Drawbridge, CA—a nearby ghost town formerly known as Saline City—and the surrounding salt marshes are reflected in the colors and materiality of the reception area. Wood partitions, glass walls, and metal-mesh screens provide delineation among office areas, while allowing for visual connectivity and permeation of natural light. The Tech Talk corridor, which connects the reception area and caf é, features an abstract representation of the Bay through history as its materiality transitions from planting to wood to metal.

Comprising roughly 40 percent of ground-floor amenity space, the fitness center includes locker rooms, refresh bar,and outdoor exercise area. The fitness areais equipped with aerobic equipment (situated at the window looking to the outdoor space), weights, and machines, as well as trainers and instructors for group exercise. The glass wall at the entry to the fitness center depicts a historical map of the Bay, while amorphous benches imply coastal outcroppings," says Form4 Architecture.