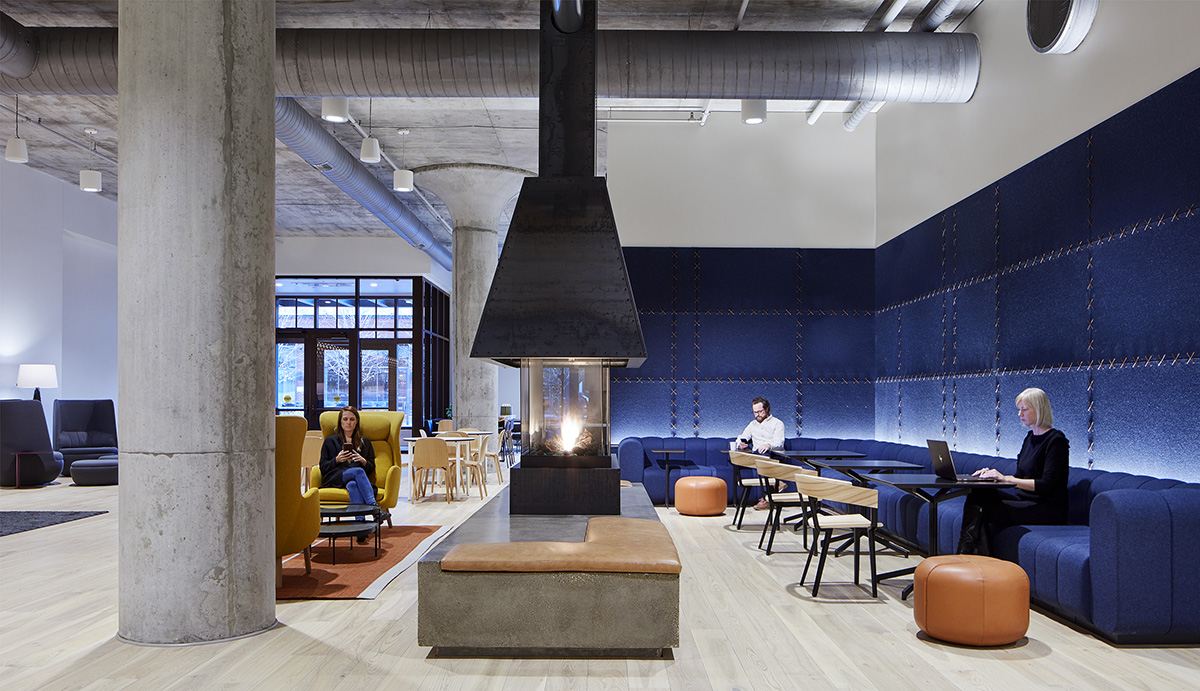 A Look Inside The Nordic's Minneapolis Office
A team of designers from architecture and interior design firm Studio BV completed a new interior for The Nordic office building in Minneapolis, Minnesota.
"Our vision was to create a space that is unlike any other in Minneapolis. A Nordic modern warehouse. Warm, bright, textured, soft, and welcoming. This building is where you want to work, where you want to meet for happy hour and where you brunch on Sunday.

The New Center of the City

The building takes shape and creates an edge between the street and the plaza, the plaza stretches between two buildings creating an outdoor plaza that is half living room half big backyard that links the Loose Wiles Building and The Nordic. The plaza activity and the people create a constant energy and dynamism that defines the neighborhood and Minneapolis.

The materials are shifting from warm and richly textured to bright and soft. The space is rich and relaxing. The interior is anchored by a fireplace lounge and a warm coffee bar. The custom designed fireplace creates an edge the separates the lounge and work area from the circulation space in the lobby.

The coffee shop is warm and bright and blends into and connects the plaza with the lobby lounge. Custom features are the stars of the project. The entire lobby is anchored by a custom patterned light feature wall that guides you from the entry deep into the space to the elevator lobby. This pattern was inspired by Swedish traditional textile patterns. The concierge desk is a custom wood crescent shape that was inspired by ship making in the Scandinavian countries. This walnut desk contrasts with the custom ash flooring. The walnut desk is large and anchors the lobby to create a warm sculptural element as a focal point in the large open space.

The other signature space is the cozy fireplace lounge. The design team wanted to create a warm and soft space to anchor the cold poured concrete ceiling and columns. The design team created a large scale woven wall panels installed alongside a custom sofa. This sofa and wall condition are a soft counter balance to the building architecture. The saturated color helps to create a scale shift and an intimacy in a large open space. The team also worked with artists to do custom installations in the project. The team worked with a local artist to develop a series of small to medium sculptures that create a gallery next to a lounge space," says Studio BV.
Location: Minneapolis, Minnesota
Date completed: 2019
Size: 16,000 square feet
Design: Studio BV
Photos: Corey Gaffer