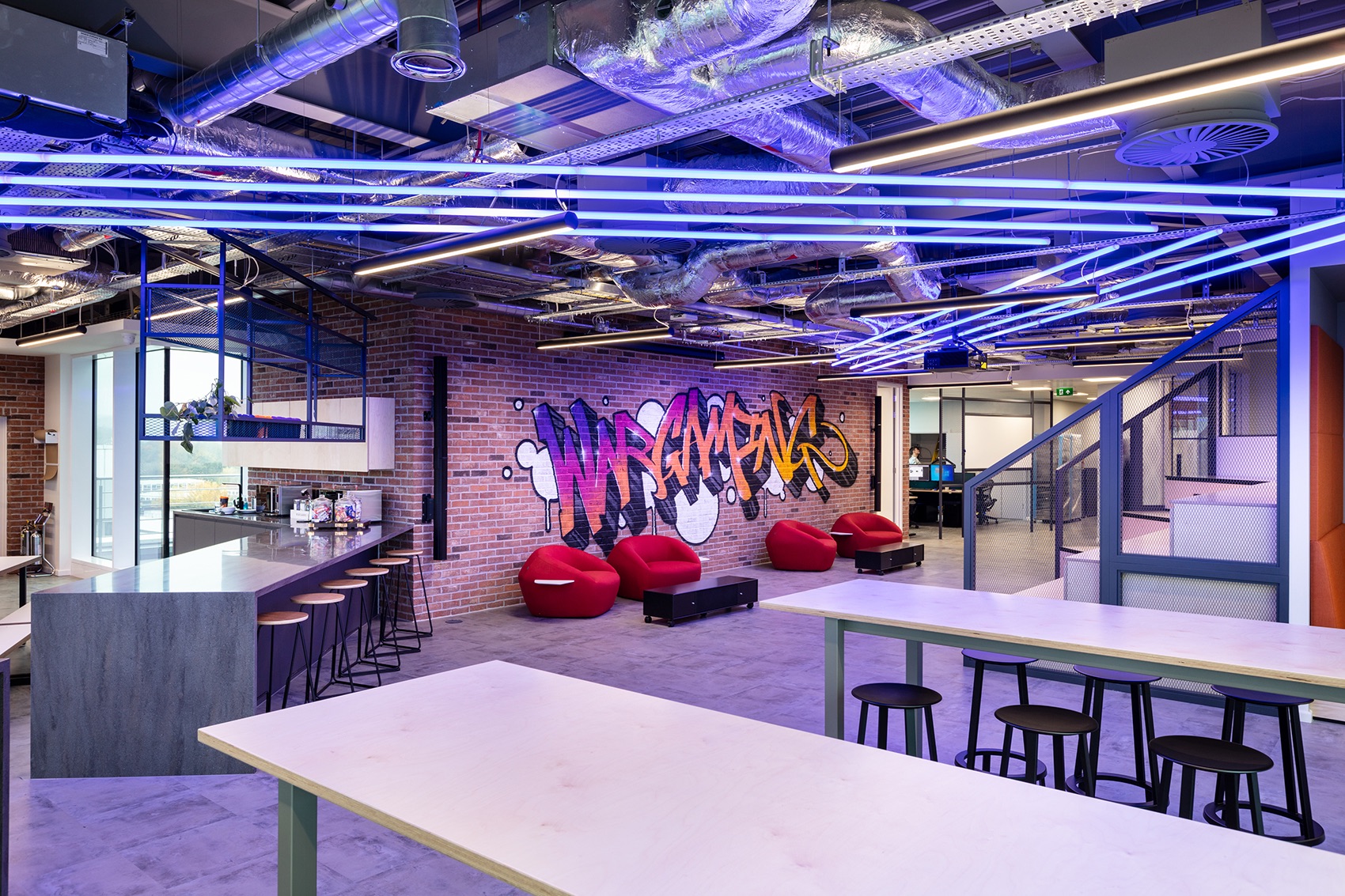 Inside Wargaming's Cool New Guildford Office
Game development company Wargaming recently hired architecture & interior design studio Thirdway Interiors to design their new office in Guildford, England.
"The office is located in Guildford, recognised as the UK's gaming hub for many tech companies and a hotspot for attracting industry talent. The space started out as a blank canvas which provided a number of benefits to the team. The client's identity could be truly implemented through creative branded elements and ThirdWay's design team could closely collaborate with the client. The working parts of the office are divided into fixed desking areas, agile/collaborative workspaces with high tables and soft seating and also meeting booths and meeting rooms.

A bold and bespoke graffiti wall takes centre stage in the breakout area, beautifully cast across exposed brick wall. Wargaming's branding is also heavily featured within the main reception desk, subtly through furnishings and the Wargaming camo net suspended from the ceiling in the collaborative working area, of course!

Employee wellbeing played a large role throughout the design phase with a key area being the social kitchen/breakout area complete with a fully functioning "power-up point" (cafe). This open-plan area also boasts a large bleacher making it the ideal spot for team meetings and company events – complete with bespoke neon lighting which dominates the exposed ceiling.

Something unique to this project was creating the right environment to spark creativity whilst ensuring everything worked logistically- resulting in a number of fully acoustic meeting rooms and gaming areas to allow the team to successfully test developing games.

Wargaming's new office not only maintains its core family culture but now allows it to flourish whilst providing the company with a home that can grow with them," says Thirdway Interiors.
Location: Guildford, England
Date completed: 2020
Size: 12,000 square feet
Design: Thirdway Interiors