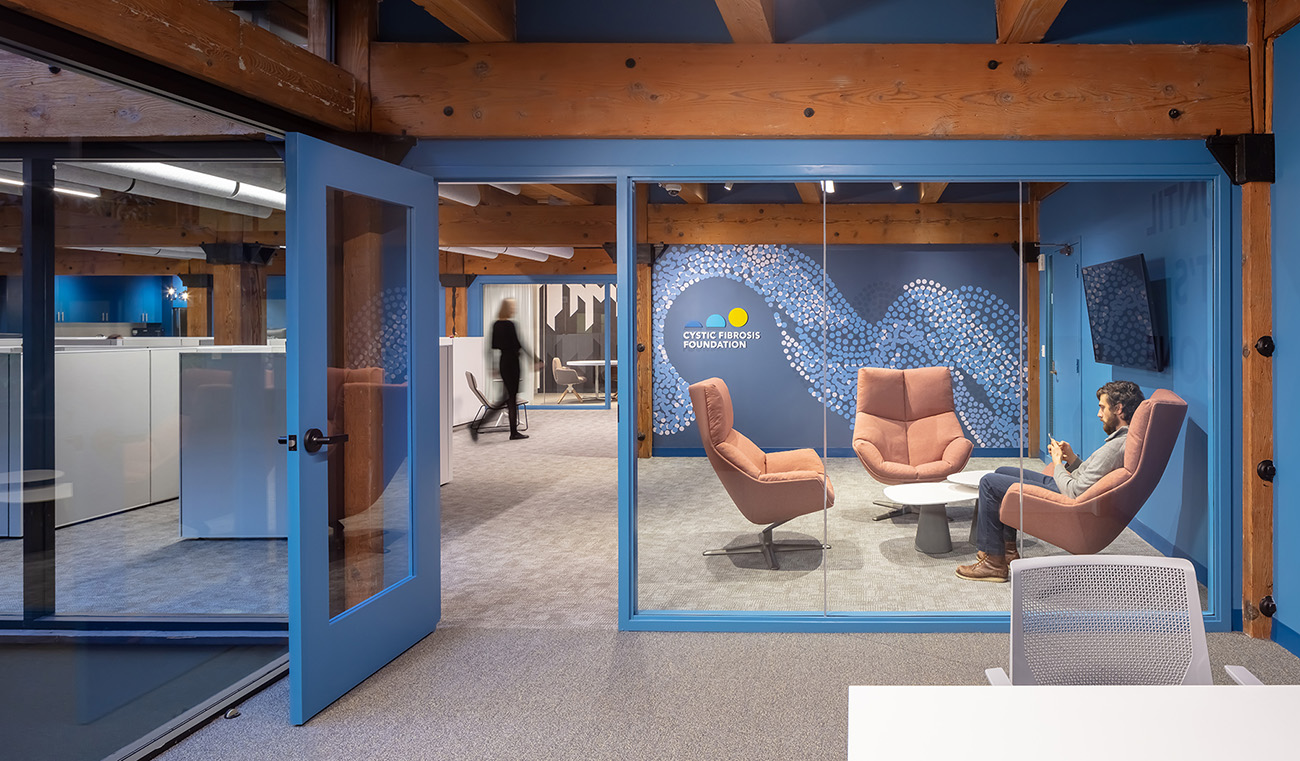 A Tour of Cystic Fibrosis Foundation's New Minneapolis Office
A team of designers from Studio BV's new non-profit division Design Forward recently designed a new office for Cystic Fibrosis Foundation in Minneapolis, Minnesota.
"The concept for the new Cystic Fibrosis Foundation office is about contraction and release. This idea comes from the body's actions when breathing. Breathing is the basic functions of life. This simple act is at center of the CF disease and treatment. Its the most simple invisible action that is sacred and emotional to all who are touched by this disease.

The ceiling (often invisible like breath), will express this idea of movement and structure. Using acoustic felt panels the open work areas will have angulating panels that mimic the softness and rhythm of breath. This ceiling design will provide a contrast of softness and light to the heavy and rigid timber structure. This light and texture contrast will help create a visual break from the heavy architecture. This playful design move will help your eye connect the workspaces together. This connection to breathing and the body is an important link to the Foundation's mission and deepens the connection the Foundation has to the families they support.

This design is optimistic and playful making a connection to the families and children that are battling Cystic Fibrosis. We believe that this design will deepen everyone's connection and commitment to finding a cure for CF. The design will also inspire and support the amazing people who dedicate their life's work to fighting for a cure for CF," says Design Forward.
Location: Minneapolis, Minnesota
Date completed: January 2020
Size: 4,000 square feet
Design: Design Forward (Studio BV)
Photos: Farm Kid Studios