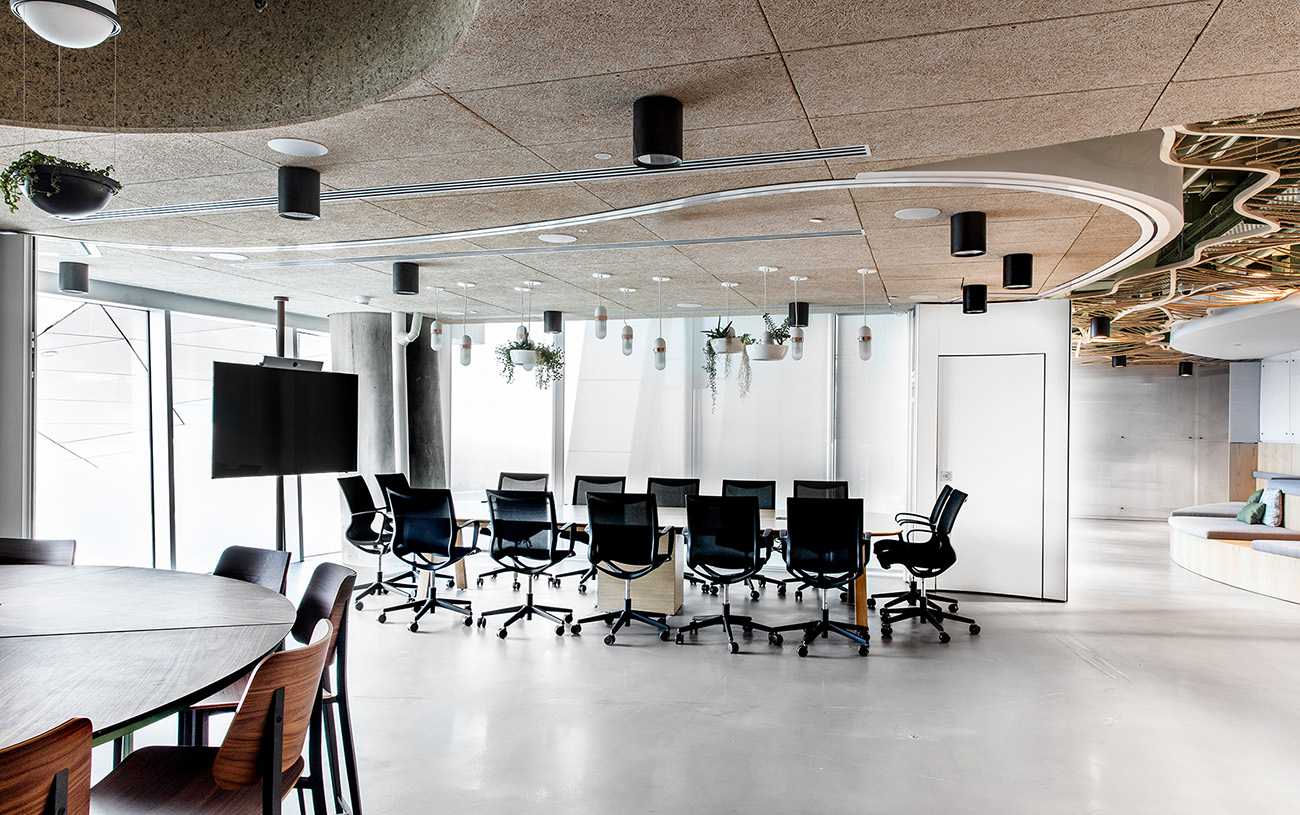 Inside Hinoman's Eclectic Tel Aviv Office
Food tech platform Hinoman recently appointed architectural firm Roy David Studio to design their new office in Tel Aviv, Israel.
"We were commissioned to design a space that reflected both the company's scientific aspect that involves the cultivation of their primary product – a unique plant named 'mankai' that enables an all- natural yet unprecedented composition-consistent vegetable origin in the rivers of Vietnam.

The company, established in 2011, has dedicated itself to help meet the soaring global demand for healthy, secure and sustainable food, with an innovative, all-natural and highly nutritional-source plant cultivated with breakthrough technology.

The primary design challenge was to create a complex program integrating both offices highly innovative indoor labs with strict requirements; restrictions, while maintaining an integral, flowing, moderate line to recreate an atmosphere whose inspiration was drawn from the rivers of Vietnam.

The solution was to locate the labs in the heart of the space. While access to the labs is restricted to authorized employees, the labs exterior facilitates a dynamic flow represented by layers of material with the depth of both fabricated & natural materials. The entirety of the public sequence works through the space in a fluid "motion" that functions as a river with 'social islands' embedded in it, each with different functions and styles of interactions. The styles of social interactions include, dynamic meet up space that combines 3 different spaces shifting according to dynamic furniture and partitions, a semi-private hangout that integrates different types of seating and private conference rooms. The variety of spaces ensures a vast occurrence of social encounters both planed and spontaneous.

The aesthetics of the program and the space were developed via an extensive research of the 'mankai' plant's inherent features, particularly its unique style of reproduction and its place of origin, a natural forest setting. To create the story of the 'mankai' birth; reproduction the studio recruited artist Ohad Benit, together with designer Avi Fadida, to create countless detailed wooden hand-crafted elements that execute an parametric 3-dimension wooden ceiling designed to conceptualize the foliage of Vietnam forests. By using live data implanted into the parametric modeling platforms during the execution process, we were able to 'live update' the different models to adjust to real space conditions from flooring, to lighting, to building systems and structure," says Roy David Studio.