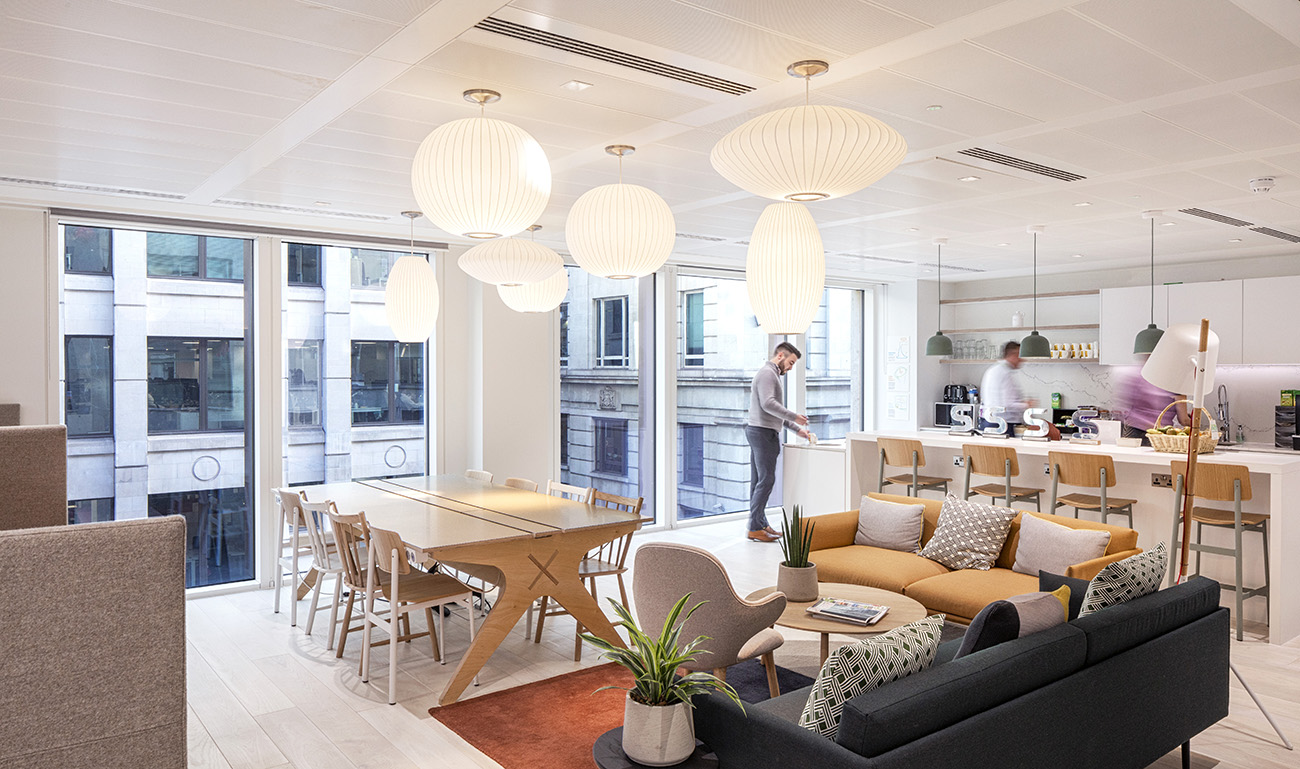 Inside The New Offices of Skanska in London
Multinational construction and development company Skanska recently hired architecture firm John Robertson Architects to design their new regional headquarters in London, England.
"Our design is aimed at creating a 'family feeling' in the office, reflecting Skanska's established approach in its offices in Sweden (Malmö and Stockholm). Employees from different parts of the company are encouraged by agile working methods, rather than by hotdesking, in the spaces where they need to work. In addition, the lower ground floor space provides an area for staff to socialise during breaks, fostering a strong collaborative culture. Bid spaces on the office floors allow project teams from different disciplines – construction, cementation (piling and ground engineering), logistics, and M&E – to meet and share knowledge and expertise with colleagues.

The remaining upper floors are let to other occupiers, with a coffee shop – operated by Benugo – on the ground floor. JRA undertook the base build, refurbishing the original building by creating new elevations on both Moorgate and Coleman Street. This included introducing floor-to-ceiling windows to fulfil BCO standards and replacing obsolete building services. Over 44 spaces for cycles, 38 lockers and six showers are provided for users of the building. The practice worked closely with Skanska's in-house team, including Nick Baker, who acted as the project lead within Skanska, and Harvey Francis, Executive VP, who led Skanska's steering committee to design the new offices. JRA's design represents a response to Skanska's desire to create spaces more akin to 'integrated neighbourhoods' rather than distinct clusters of desks that only serve defined parts of the company's business.

Our approach has been to collaborate closely with Skanska at all stages of this project to ensure the design is aligned with the company's long-term objectives for establishing and developing a regional headquarters. The design also provides built-in flexibility to reconfigure parts of floors to enable the opportunity to establish and manage large teams for major new projects at short notice, if necessary." said John Robertson Architects.
Location: Moorgate – London, England
Date completed: 2020
Size: 45,000 square feet
Design: John Robertson Architects
Photos: Peter Cook