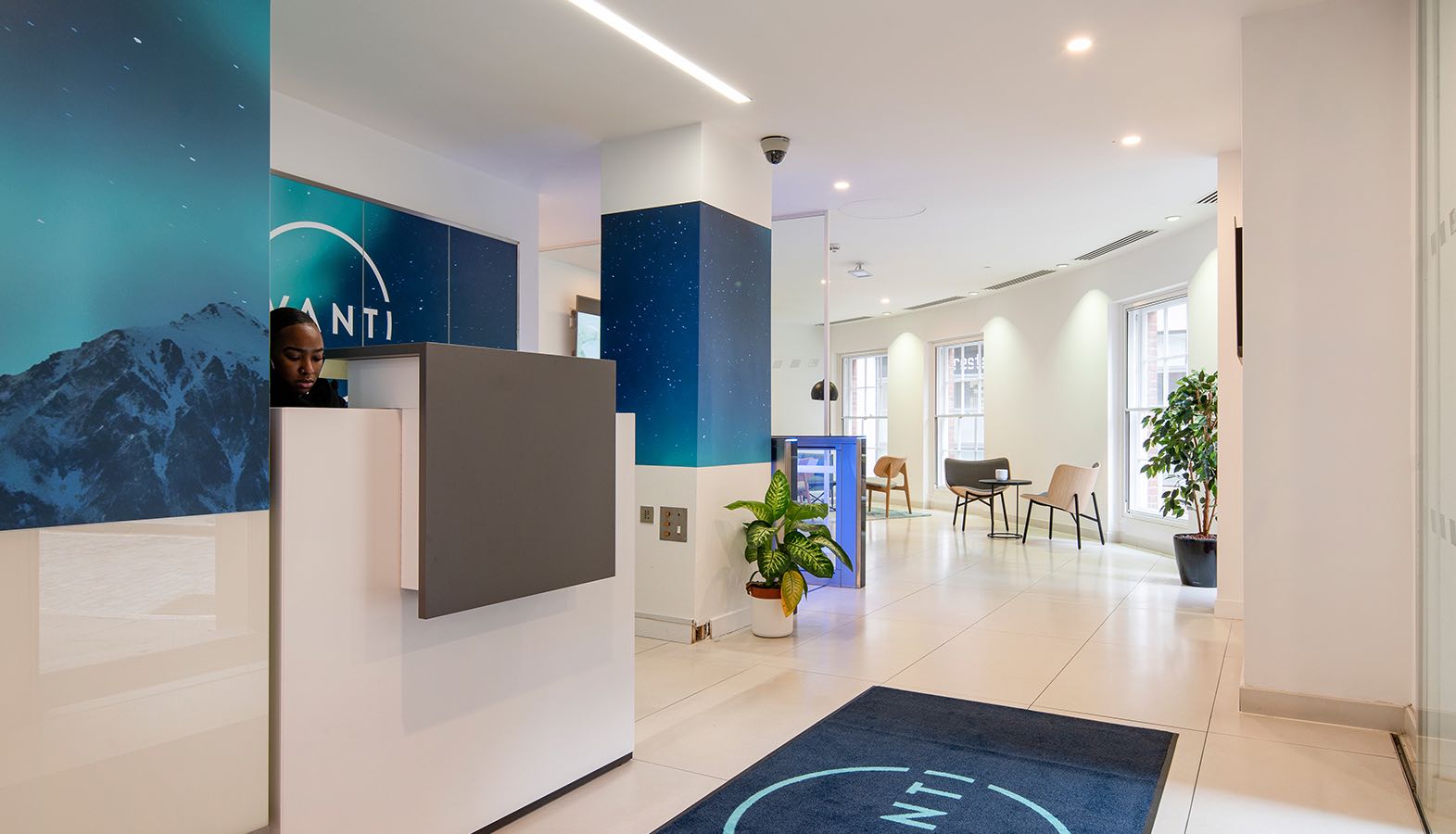 A Look Inside Avanti's New London Office
Satellite technology provider Avanti hired workplace design firm Peldon Rose to design their new office in London, England.
"While the building has many fantastic architectural features, the physical layout presented challenges. The company was reducing from six working floors down to three. We created a new agile working environment, providing employees with lockers, new soft seating and collaboration areas and bringing meeting rooms onto the working floors. The teams were all previously locked away in separate 'department rooms' so by removing these walls we also removed the silos, bringing teams together across three floors. We also introduced a library to encourage research, inspiration and focus away from the main team areas. Sitting beneath the eaves on the fifth floor, the library provides a space for quiet contemplation that was previously lacking in the office. The ground floor hosts bleacher seating that caters to all-hands company meetings and social gatherings, while opening up the reception area has created a welcoming environment, with a coffee bar on the ground floor where staff have the option to sit and work, or just grab a quick coffee on their way up to the desks.

The top floor benefits from a series of panoramic views that take in some of London's most famous architectural landmarks, both historical and contemporary, from St Paul's Cathedral, to One Blackfriars and the Shard. These views are enhanced by floor-to-ceiling glazing, providing an abundance of natural light. Breakout areas and a variety of seating areas have been placed around this perimeter of glass to give workers the opportunity to experience the outside world, escape and socialize. We placed the new tea point on the top floor as a way of increasing flow to these communal areas, bringing staff from different teams into one clear space where they can interact with one another. Employees are also very fortunate to have a stunning roof terrace, which has been dressed to allow them to enjoy uninterrupted views down as far as the Thames – weather permitting," says Peldon Rose.
Location: London, England
Date completed: 2020
Size: 23,000 square feet
Design: Peldon Rose