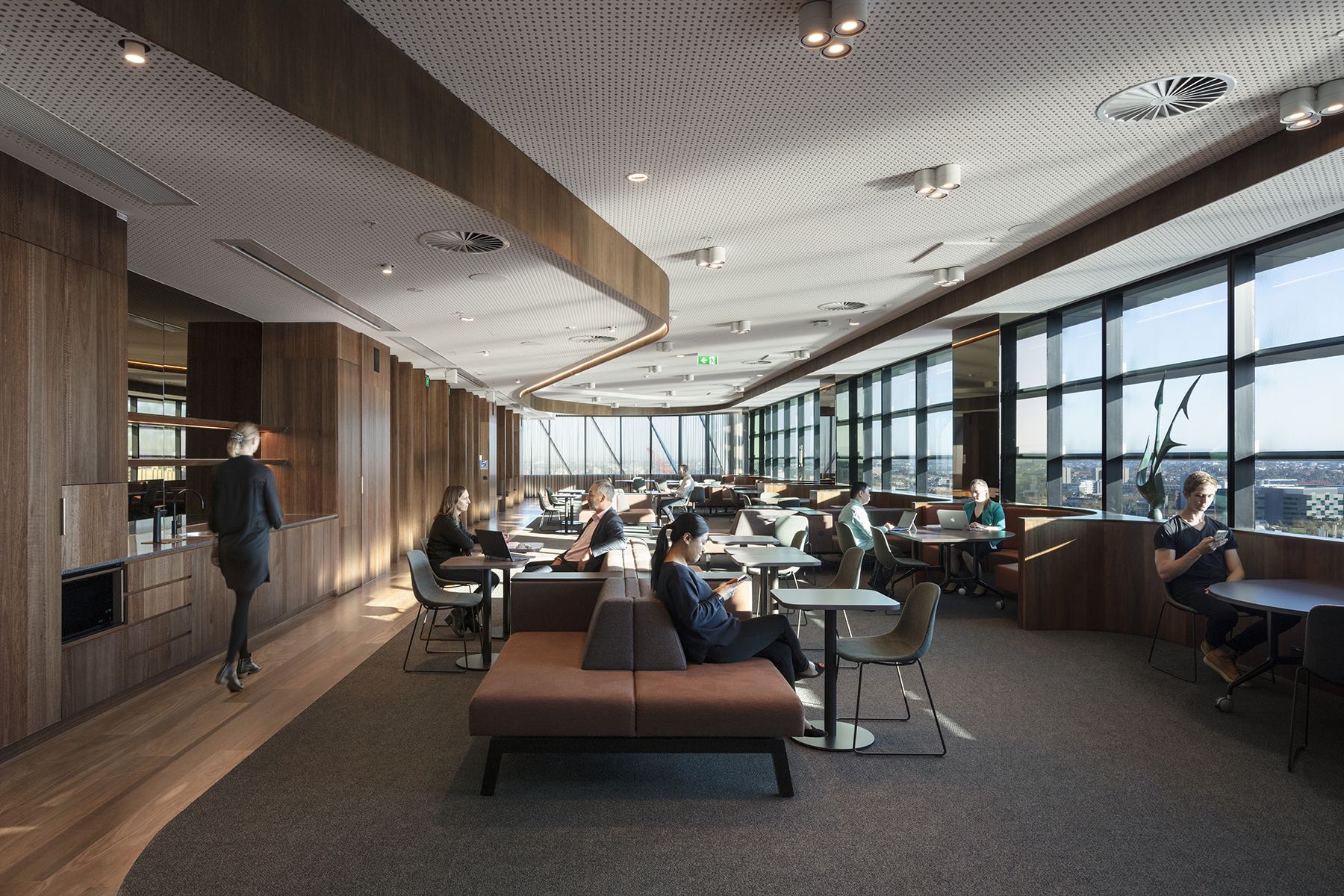 A Look Inside VCCC's New Melbourne Office
A team of designers from architecture and interior design firm DesignInc recently designed a new office for Victorian Comprehensive Cancer Centre (VCCC) in Melbourne, Australia.
"We often look to nature for design inspiration and this was certainly the case in the recently completed Clinical Informatics and Health Services Research Hub. Situated on Level 13 of the Victorian Comprehensive Cancer Centre, the 1400sqm space comprises executive offices, a boardroom, meeting area, open plan work areas and a flexible event zone. According to DesignInc Associate Jane Sayers, "Our key vision was to create an inspiring venue that champions innovation and collaboration and showcases Australian research and clinical care to international and local research leaders."

The scheme is anchored by a central timber wall that incorporates a tea point, break-out booths, meeting and collaboration zones and bar tables suitable for either work or socialising. It can also be extended via 'interlocking' furniture modules that dock at various points along its edge. Resembling an oversized rock formation, the wall's many undulations evoke the feeling of walking through a dense forest or some other natural environment. As such, it expresses ideas of journey and destination and functions as a dynamic wayfinding device, effectively leading visitors through the space.

Timber is likewise used along the windows' edge as booth seating and throughout the interior as flooring, wall and ceiling finishes. Punctuated by custom terrazzo feature joinery, the overall material palette is rich, robust and earthy, complemented by seating upholstery in autumnal tones. It's an unmistakeable reference to the Australian landscape, and the significance of Indigenous culture, and in celebrating both, the space is given a distinct visual identity. The end users' wellbeing is also improved through this incorporation of natural elements and patterns that provide a sense of calm and relaxation.

The design provides a high-quality workspace with a large boardroom, meeting spaces, offices and open plan work areas. An innovative, flexible event space supports activities including informal collaboration, seminar zone, and social functions ranging from stand-up events to formal dinners for up to 100 guests. With a deep floorplate, the spatial planning considers the way people access and logically move through the space, whilst providing an enjoyable experience," says DesignInc.
Location: Melbourne, Australia
Date completed: 2019
Size: 15,069 square feet
Design: DesignInc
Photos: Dianna Snape