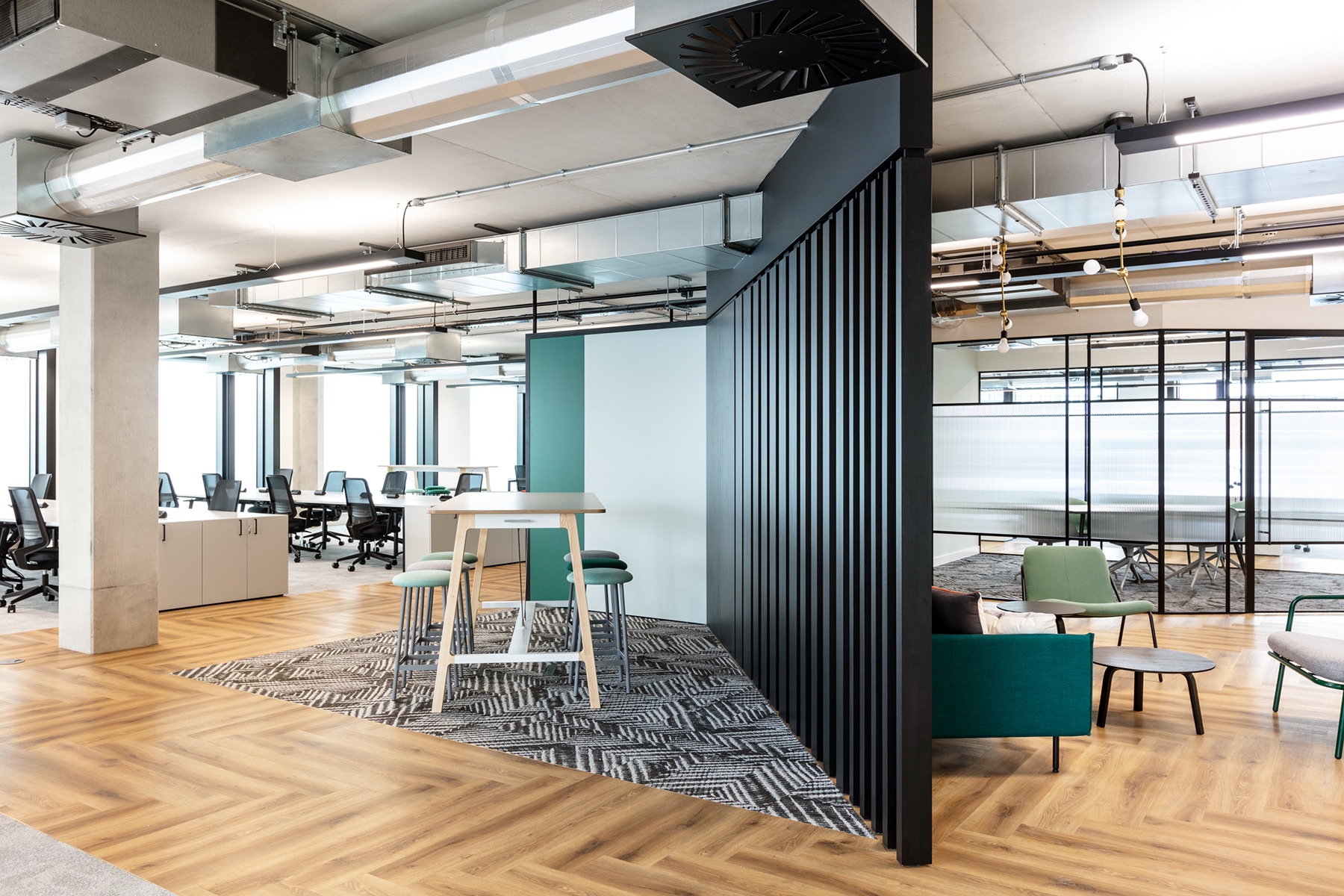 Inside The Max Barney Estate's New London Office
Family run property company The Max Barney Estate recently hired workplace design firm Thirdway Interiors to design their new office in London, England.
"The objective was to be able to attract tenants to the space and leave a lasting impression through the power of great design. With creative sectors likely to move in such as tech companies, financial services, recruitment for creative companies or design agencies it was important for a sense of Shoreditch to be injected into the space. The challenge being to finetune the boldness of that inspiration as to not risk putting off potential tenants.

ThirdWay's design team needed to make a statement by getting creative with the floorplate, choice of materials, furnishings and features. This is noticeable upon entering the reception area where a graphic linear 3D feature wall in a black wood effect provides the wow factor. The laminate merges into different size linears, providing visitors with a sneak peek into the working area as well as letting natural light into the reception. The unique angle of the wall deters from what would be a simple boxy floor plan and creates a dynamic reception space.

The Max Barney Estate is a design-led firm with many employees originally from the architecture and construction world, meaning that the client had both an eye and love for design. This gave ThirdWay's design team full confidence in being more playful and daring with some aspects of the space. They also seized the creative inspiration that surrounds Shoreditch which provided numerous ideas to play with.

The primary concept behind the design came from the building itself with inspiration taken from the shapes of the building and window elevations and created an idea for linear lines to be emulated through parts of the interior design – the Crittal meeting room partitions being one of them. Working to the same concept, a fluted manifestation was added for privacy to the meeting rooms.

The flooring features a herringbone effect which again accentuates the linear elements and provides a more creative feel in comparison to a typically straight laid floor. The stunning grain effect running through welcomes a pop of warmth and colour throughout. The carpet was also laid in a herringbone style to match up with the vinyl pattern in the main circulation areas.

The two-tone tea point takes inspiration from surrounding buildings as does the unique details throughout the space. Neighbouring cool places such as The Ace Hotel, Boxpark Shoreditch and Shoreditch House prompted the choice of finishes and fittings with subtle hints of brass incorporated into carpet trims, tea point handles and feature lights," said Thirdway Interiors.