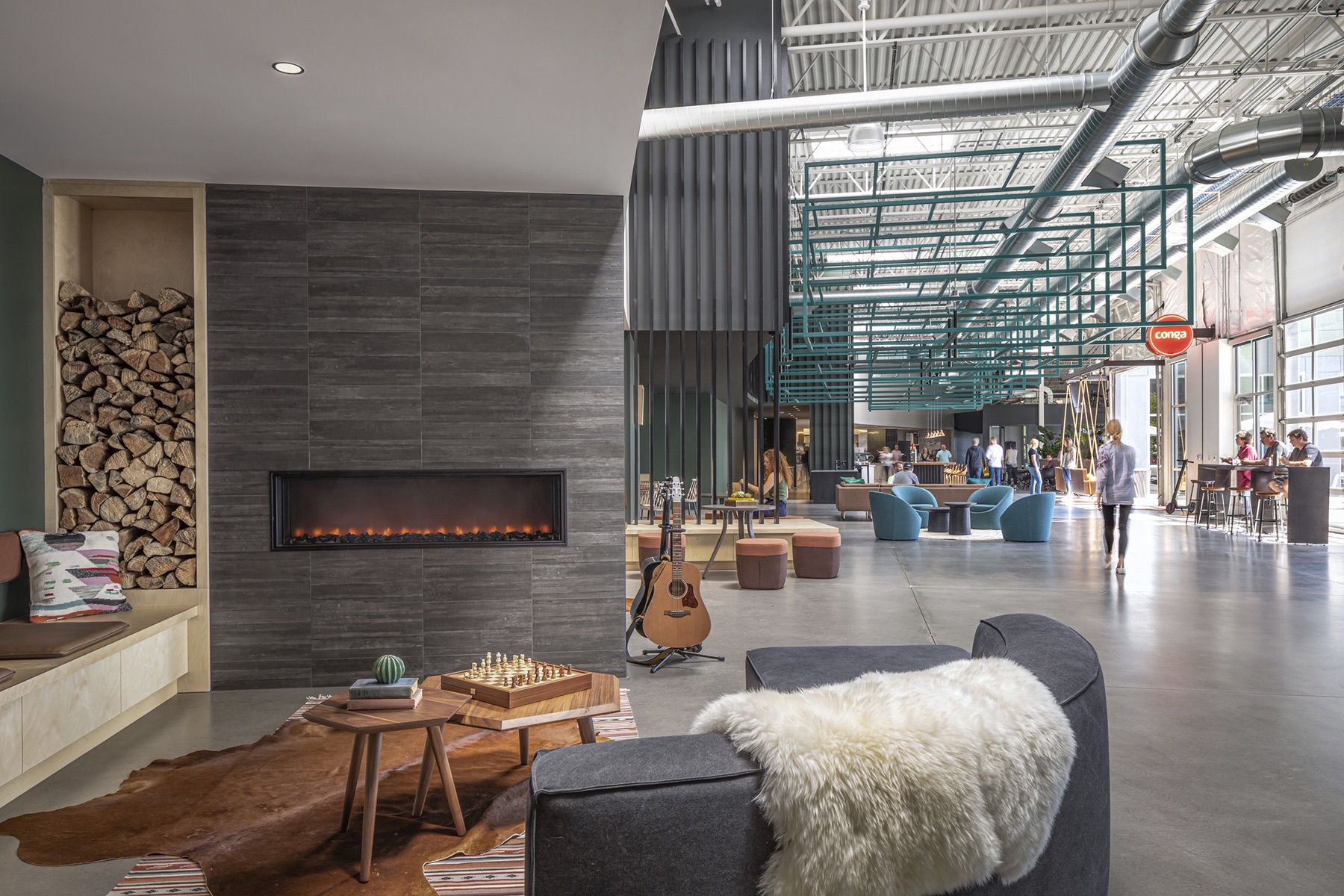 A Look Inside Conga's New Broomfield Headquarters
Software company Conga recently hired architecture firm DLR Group to design their new headquarters in Broomfield, Colorado.
"Conga's goal was to bring its Colorado-based employees to one centralized office designed to accelerate innovation, productivity and company culture. At an impressive 88,000 SF, the new space ​houses open desking and 50 private offices for about 650 employees.​ Before their pencils ever even hit paper, DLR Group's design team found that Conga employees identify themselves as explorers​. The ​designers considered what makes exploratory outdoor adventures so compelling and empowering, and sought to bring that feeling into Conga's workplace.

This inspired a meandering path through neighborhoods aptly named, "A Walk Through Conga's Colorado." In the new Conga office, employees can choose their own adventure each day, based on the activities and tasks they must accomplish. Inhabitable framing elements, ceiling armatures, colors, and materials all emphasize the contrasts that come with exploration, from expansion and contraction, to boldness and muted, to density and space.

A central hub serves as the core of the office, with vibrant color, texture, and intimate social energy coming from the surrounding cafe, lounge, and fitness spaces. A large, abstracted forest canopy floats above t​he central core and serves as a focal point in the office. ​As employees meander outward from the core, the path is flanked by work neighborhoods. Here, focused work throughout the open floor plan is encouraged by less saturated colors infused with a sense of serenity. Inspired by the modern worker who seeks movement, flexibility and convenience, DLR Group integrated several collaboration spaces of all shapes and sizes, including phone booths, huddle, meeting and board rooms, as well as large conference rooms.

The office is designed to encourage access to daylight and the outdoors. ​Eight large garage doors invite employees to seamlessly bring their outdoor adventures inside. Throughout the space, opaque, translucent, and transparent layers intermingle to create a sense of wonder and intrigue. Even the more private software engineering scrum rooms that are tucked away at the western edge have passthroughs to green indoor parks and transparent walls that invite interaction and observation.

Amenity spaces are also integrated into the design concept to honor Conga employees' adventurous lifestyle. These areas vary from wellness rooms, a library for heads down work, and a fully stocked café and kitchen. Additionally, the space is equipped with interior bike storage, a fitness center, yoga room, and locker rooms with showers," says DLR Group.
Location: Broomfield, Colorado
Date completed: 2020
Size: 88,000 square feet
Design: DLR Group
Photos: Caleb Tkach