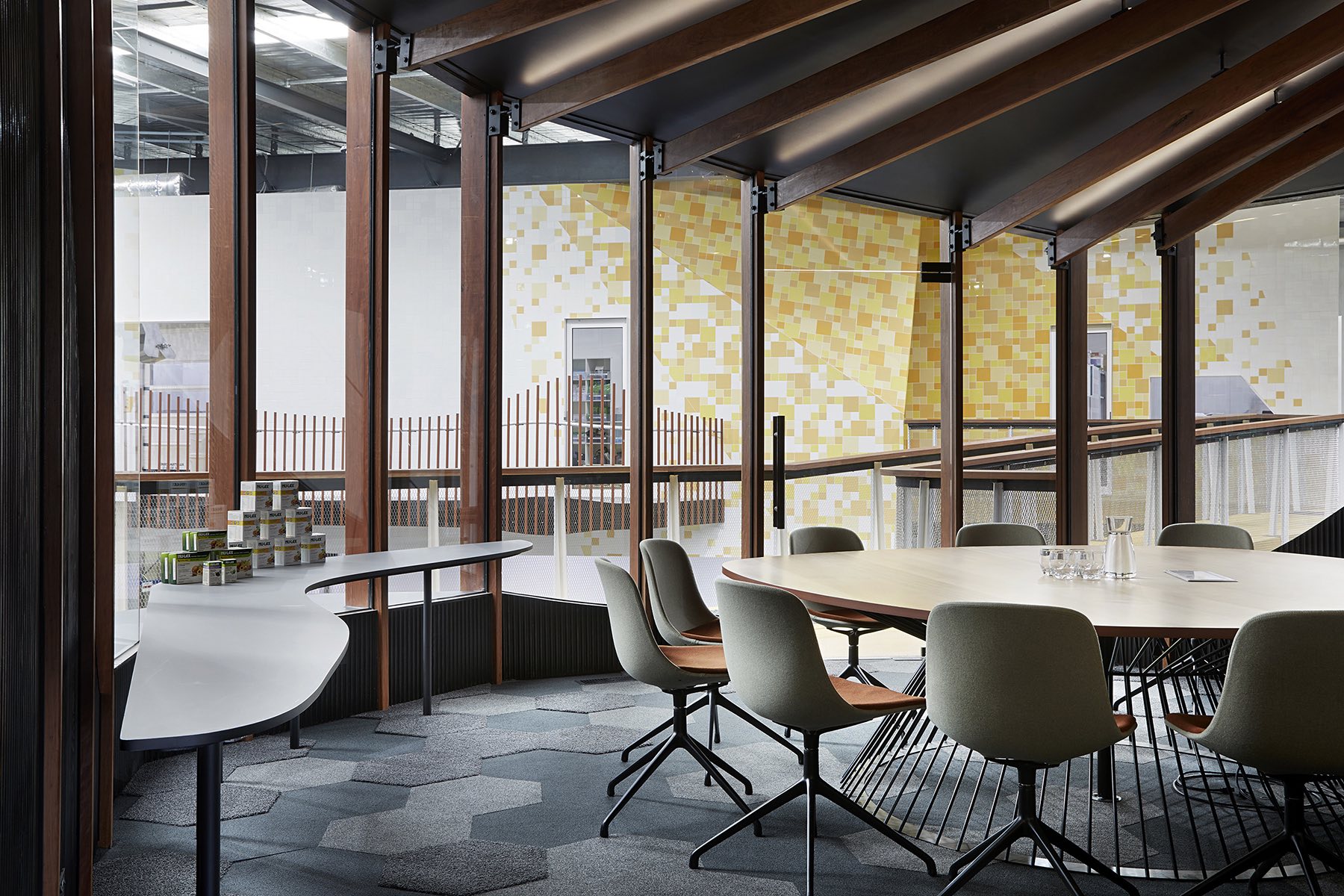 A Look Inside Orchard Manufacturing's New Melbourne Office
Dietary supplements manufacturer Orchard Manufacturing recently hired architecture firm BENT Architecture to design their new office in Melbourne, Australia.
"The brief for this project was to create an innovative and engaging workplace that would not only meet the practical needs of a new production facility for Orchard Manufacturing but would also reflect the natural origins of the company.

Orchard Manufacturing is a national health company specialising in the production of fruit-based laxatives. Practically, the brief called for a series production and administrative spaces that would typically be quite separate in this type of building – sometimes in completely different buildings on other sides of the city. Our approach was to integrate and, where possible, overlap these functions in order to create a cohesive working environment, where employees from different parts of the company were brought together as one.

The creation of an inspiring work environment that represented the natural ethos of the company was an essential part of the brief. The existing building was adjacent to a nature reserve, yet there was no interaction or relationship between the industrial building and its natural landscape. Incorporating the natural landscape in an interior environment that is, by necessity, sterile is problematic. Our approach was to take the spirit of the surrounding natural world and weave it through the interior of the existing warehouse shell, using colour, texture and organic forms to create an uplifting and exciting space, bringing a smile to employee's and visitor's faces alike.

Beyond the passive design principles we incorporate into every project, this project was all about social sustainability: creating a sustainable workplace by connecting people to light and natural materials.

Large windows within the walls of the production areas create visual connections to other parts of the facility and allow natural light to filter through from roof lights in the warehouse. Of course, this reduces the need for artificial lighting, but importantly gives employees (particularly shift workers) a connection to the natural rhythms of day and night, improving the health and well-being of staff.

The design also aims to break down hierarchies and give everyone a sense of belonging to the one company. Flows established in linework and decorative expression reinforce the connection between the different parts of the organisation. The production area in this scenario is the spiral referred to in Hundterwasser's quote; the point where the products are created. The journey through the interior spaces culminates in this via the elevated walkway, " says BENT Architecture.