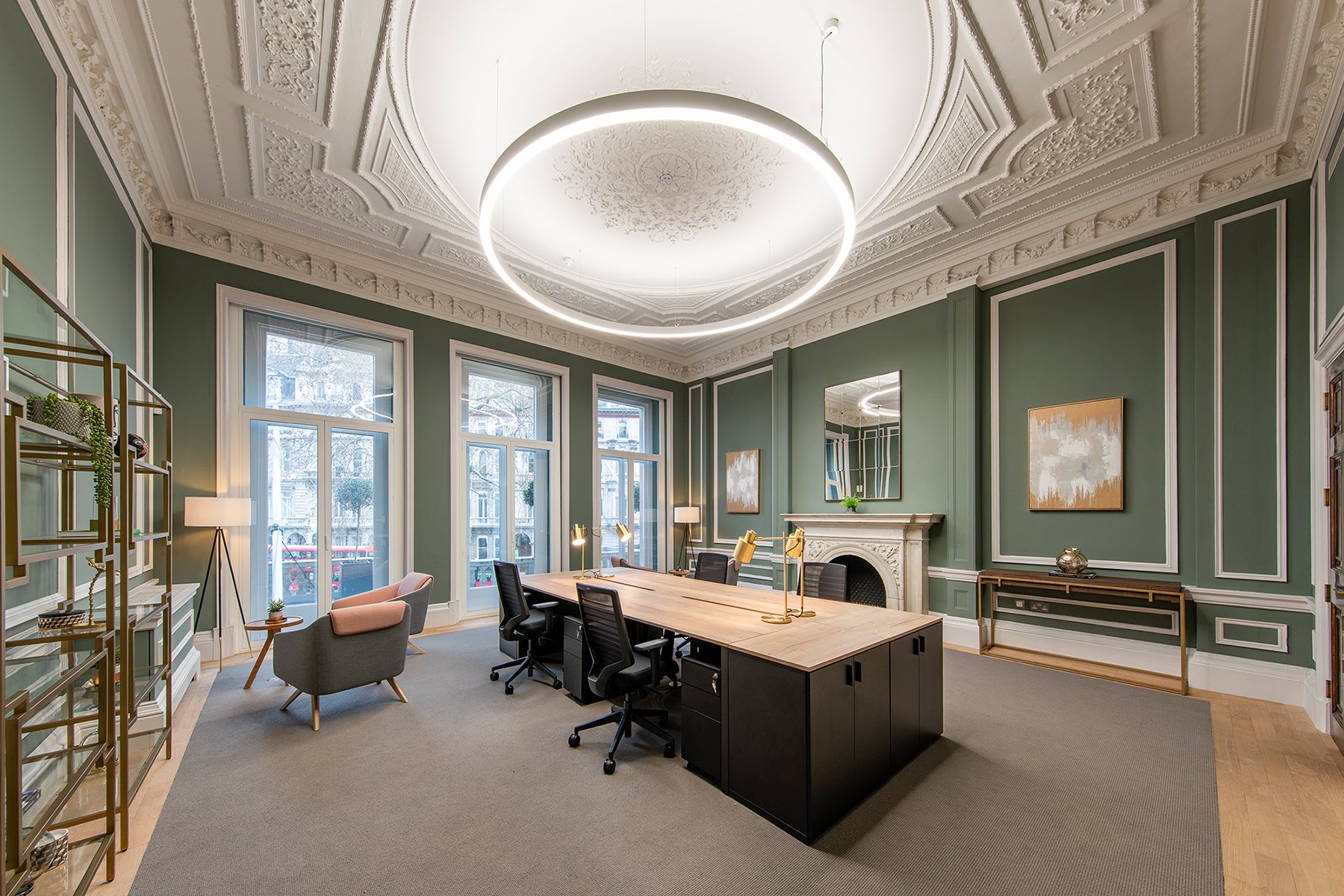 A Tour of 22 Grosvenor Gardens' New London Office
A team of designers from workplace design firm Peldon Rose recently completed a new office for commercial office building Grosvenor Gardens in London, England.
"The first floor of the building retains the stunning architectural features typical of the decorative French Renaissance style, with grand tall ceilings, detailed architraves, pilasters and elegant cornices. Working in a Grade II listed building, we effectively worked around the existing heritage features and sought planning approval for additions such as partition walls.

We situated the executive working area in the main room, keeping the original marble fireplace as the centre piece to the design. There is a solid oak table with brass desk lamps which acts as a workstation for four people. We needed to ensure we retained the historical grandeur befitting of this room and we were successful.

We built a separate meeting room and a second workspace area to seat a support team. We introduced a WC to this floor and built a modern tea point area with a breakfast bar and high-stool seating. Break out areas were strategically placed in vacant areas with stylish soft seating to offer relaxed areas for collaboration away from desks.

The main challenge of the lower ground floor was to maximise and retain limited light sourced from only a skylight and an outside terrace. This alongside carefully considered lighting ensured that we opened-up and effectively brightened the floor including a bright and light kitchen and a breakfast bar.

With a view of enriching natural light, we added glazed doors to an enclosed meeting room, with additional agile workstations within the natural coves of the room with cove seating and tables for private work. Further agile working spaces and break-out seating areas were introduced.

A core area of this floor was designated as a key workspace area. Here we introduced a modern, design-led feature wall with tech graphics, applied vibrant colours and feature lighting to overcome a dark space.

Throughout the lower ground floor, we sourced modern furniture and soft furnishings such as armchairs, coffee tables, café style chairs and standing floor lamps using modern textured fabrics and energetic colours. We also introduced tall smart lockers to maximise storage efficiency and to ensure clutter free work areas," says Peldon Rose.
Location: Belgravia – London, England
Date completed: 2019
Size: 16,000 square feet
Design: Peldon Rose