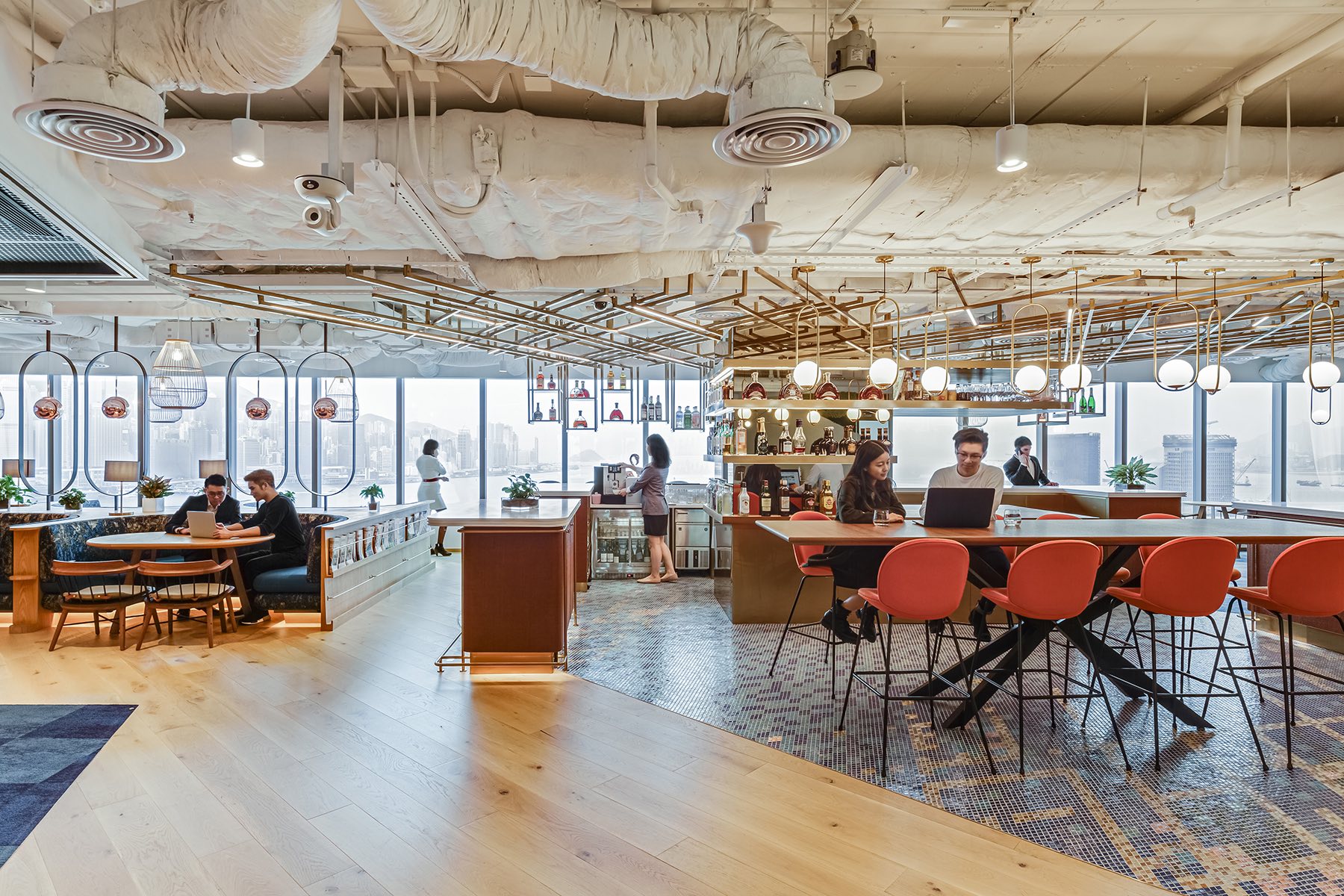 A Look Inside Pernod Ricard's New Hong Kong Office
French beverage company Pernod Ricard recently tasked architecture & interior design firm M Moser Associates to design their new office in Hong Kong.
"Despite being in the business of selling "moments of conviviality", Pernod Ricard's previous office hindered cross-department communication and social interactions, leaving ample room for improvement for its once-siloed departments to connect with one another.

We designed the office from the perspective of Pernod Ricard customers and staff to facilitate meaningful human connections, with the front of house as the pinnacle of all celebrations. This approach helped to create a work environment that spatially speaks to the company's convivial culture and instils pride in hosting guests and events in-house as opposed to third-party venues.

The bar standing at the nucleus of the front of house exhibits a casual and upscale ambiance without coming off too pretentious; a nudge to the company's values of promoting simple, open, and direct relationships. A training room in its vicinity uses sliding acoustic doors, to provide a quiet environment for learning and knowledge sharing when closed, and nurture a lively and connected community with the rest of the front of house when fully open.

Opportunities to connect are extended throughout the rest of the workplace with a variety of open, collaborative zones; a dramatic improvement driving a holistic cultural transformation across the organisation. Driving much of the design inspiration, the company's values of instilling "conviviality at work" improve efficiency while maximising chances for spontaneous encouters among staff.

Connecting people with Pernod Ricard brands

With a world-renowned portfolio of premium products, one of our key objectives was to incorporate visual elements from some of Pernod Ricard's most iconic brands into its meeting spaces with distinct patterns and decors while maintaining consistent subtlety in honour of the company's modest nature. Colors, adjusted lighting, furniture, and accessories are integrated and curated in each meeting room to fit a particular brand's unique identity and cater to the needs of its occupants.

Inspired by the hospitality industry's most essential need to make its guests feel welcomed the moment they step inside, Pernod Ricard wanted its new office to offer choice and imbue a sense of familiarity and comfort from the outset. Health and wellness are prioritised by locating all meeting rooms around the core of the floor plan, thereby infusing the social hubs and working areas with maximal daylight. Flexible configurations, including sit-stand desks, fitness and yoga equipment, as well as green walls and other biophilia tactfully placed around the office, contribute to a healthy environment where staff feel engaged and taken care of," says M Moser Associates.
Location: Hong Kong
Date completed: 2020
Size: 20,000 square feet
Design: M Moser Associates
Photos: Harold de Puymorin