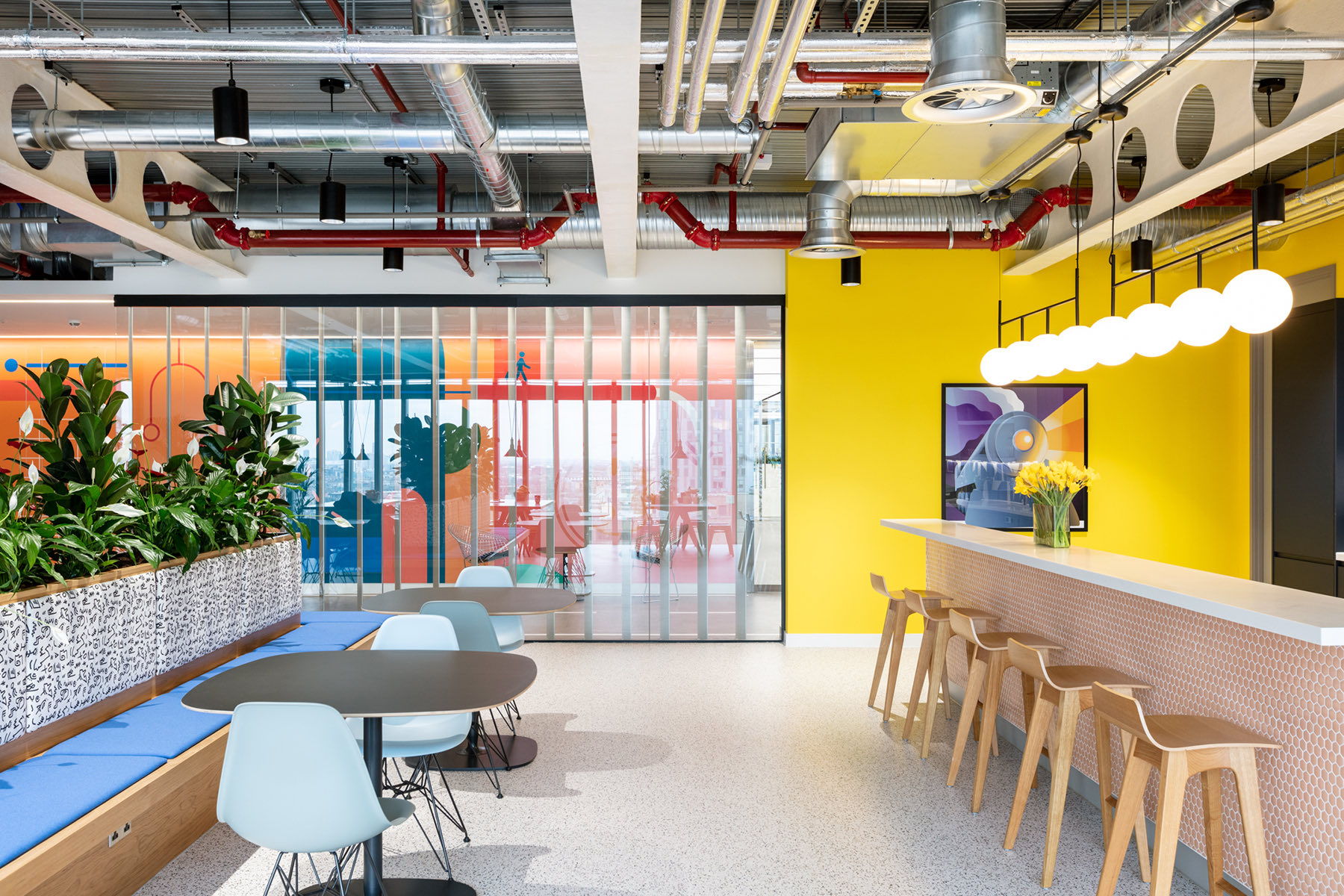 A Tour of Travelfusion's Cool New London Office
Travel payment platform Travelfusion recently hired workplace design firm Modus to design their new office in London, England.
"In order to create a space to reflect Travelfusion's forward-thinking culture, Elli and the Modus designers balanced two themes: travel and the Memphis design movement. For those who are unfamiliar with Memphis, it is a colourful, fun and wacky design style that was founded in Italy in the 1980s. Such is the cyclical nature of art, Memphis has crept back into vogue in recent years and combining it with the travel-themed elements has made for a unique, contemporary, innovative design.

The pattered ceramic tiles, angular wall prints, striking printed fabrics and luxurious terrazzo-effect flooring all owe their inclusion to the Memphis revival. Equally, the kitsch breakout area furniture underpins the Memphis theme without tarnishing the space's contemporary edge, while a suitably varied colour scheme pervades.

In addition to Elli and the designers, Modus's graphic design team played in a key role in achieving Moshe's vision. For example, to reflect the travel theme, the graphic design team created arrow graphics for the concrete flooring. Not only does this create a circulation route between different areas of the office, it gives the impression of a tarmac airport runway. Above this, the plasterboard ceiling with integrated strip lighting was lowered to mirror the concrete runway. This draws attention to the circulation route and helps to connect the different areas of the office.

Modus's graphic designers also created wayfinding wall signs with icons (male and female figures for toilets, a coffee cup for the tea point etc.) to accompany the circulation route. These are inspired by authentic British Airport Authority signage, making for quirky, fun and fitting details. Another moment of inspiration came when Modus decided to install a bespoke office divider made out of airplane-style fins. This makes for an eye-catching feature and complements the artistic theme by providing an element of abstractism.

As Travelfusion values communication and teamwork, Moshe also wanted the design to imbue a buzzing atmosphere and support collaboration. In order to achieve this, the Modus design team opted for an expansive open-plan layout combined with multiple meeting rooms. The shared desks cultivate a team-led, egalitarian environment, while the meetings rooms offer extra spaces for private conversations and creative collaboration. Additionally, Modus introduced ad-hoc meeting zones around the space to drive employee engagement.

Another key aspect of the layout design was its direction to the sun. Instead of designing the layout in line with the existing floorplate, Modus shifted the perspective by creating a space that faces true north. This innovative design decision reflects Travelfusion's progressive ethos and brings the bold, colourful Memphis aesthetic to life", says Modus.
Location: London, England
Date completed: 2020
Size: 16,000 square feet
Design: Modus