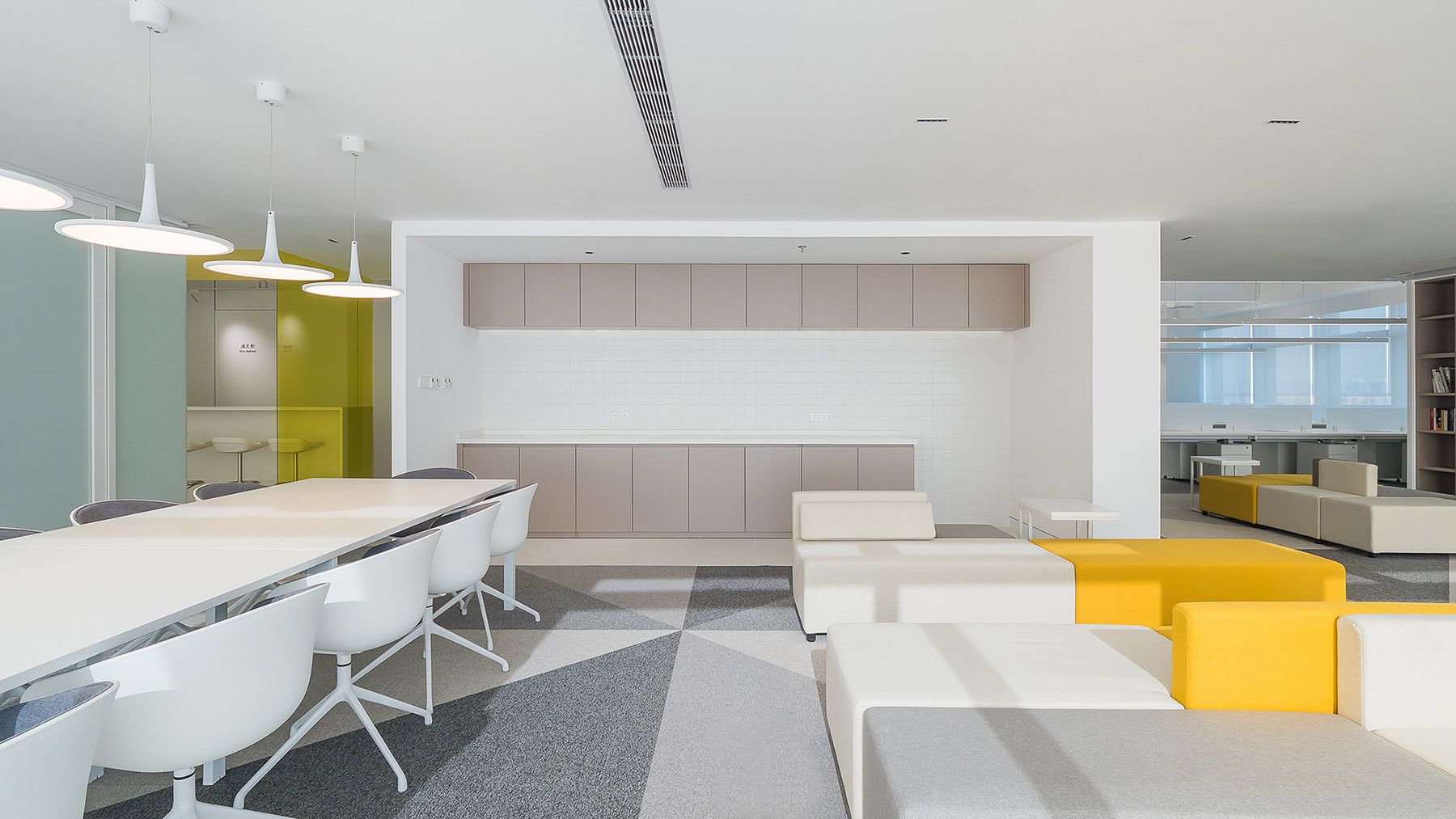 A Tour of ViaBTC's Minimalist Shenzen Headquarters
Cryptocurrency technology company ViaBTC recently hired architecture firm ONEXN Architects to design their new office in Shenzen, China.
"The importance of orientation lies in its strong links with the surrounding nature, which brings light and views, and it is far from the designer's control. What normally happens to our clients is that they only have conceptual requirements but feel difficult to detail them. In this case, our customers only requested their space to be located at the northwest corner and all other problems remain to be allocated by a systematic design strategy.

To build a practical and dynamic circulation as well as cater for the huge demand of workplaces, we located the public areas along the south side where a beautiful garden is faced so that everyone can enjoy a glimpse of nature. All departments are located in the northwest where people can enjoy an unblocked outside view of the city. The open office for software developers is located on the northern side as they need to shut the roller blind to avoid the glare while working, and we were able to avoid the negative impact of the orientation and the noise of the traffic from outside.

Public buffer zone

The multi-functional public area is the place for fun, including afternoon tea, reading, fitness and group gathering. It is necessary to have buffer areas, commonly known as the public service area. By combining some living functionality such as entertainment, we expect that our clients can enjoy a relaxing and community-like atmosphere in a refreshing space full of natural lights.

To design the space with a strong sense of community, we arrange the positions for each piece of furniture to form a socialized perception and cater for the multi-purpose usage at the same time, instead of dividing the space with walls. What we did is creating the public space which conveys populates happiness and the sense of living ritual.

Flowing intersection and sections

In the corridors surrounding the core, we inserted several buffer zones with installations such as colorful boxes, leisure areas with bar tables. Our design not only attracts people's attention but also blends in a little fun while people walking through the area. More importantly, our design broke the stereotype of IT companies which are often clumsy and enforced view of technology.

In this case, we discarded the passive way of directly entering the room via the corridor. We also created several types of space with different extents of resilience and scales where the functionality can be applied, and such spaces also increase the possibility of employees' communication and socializing," said ONEXN Architects.
Location: Pankrac – Prague, Czech Republic
Date completed: 2019
Size: 13,121 square feet
Design: Onexn Architects
Photos: Chao Zhang