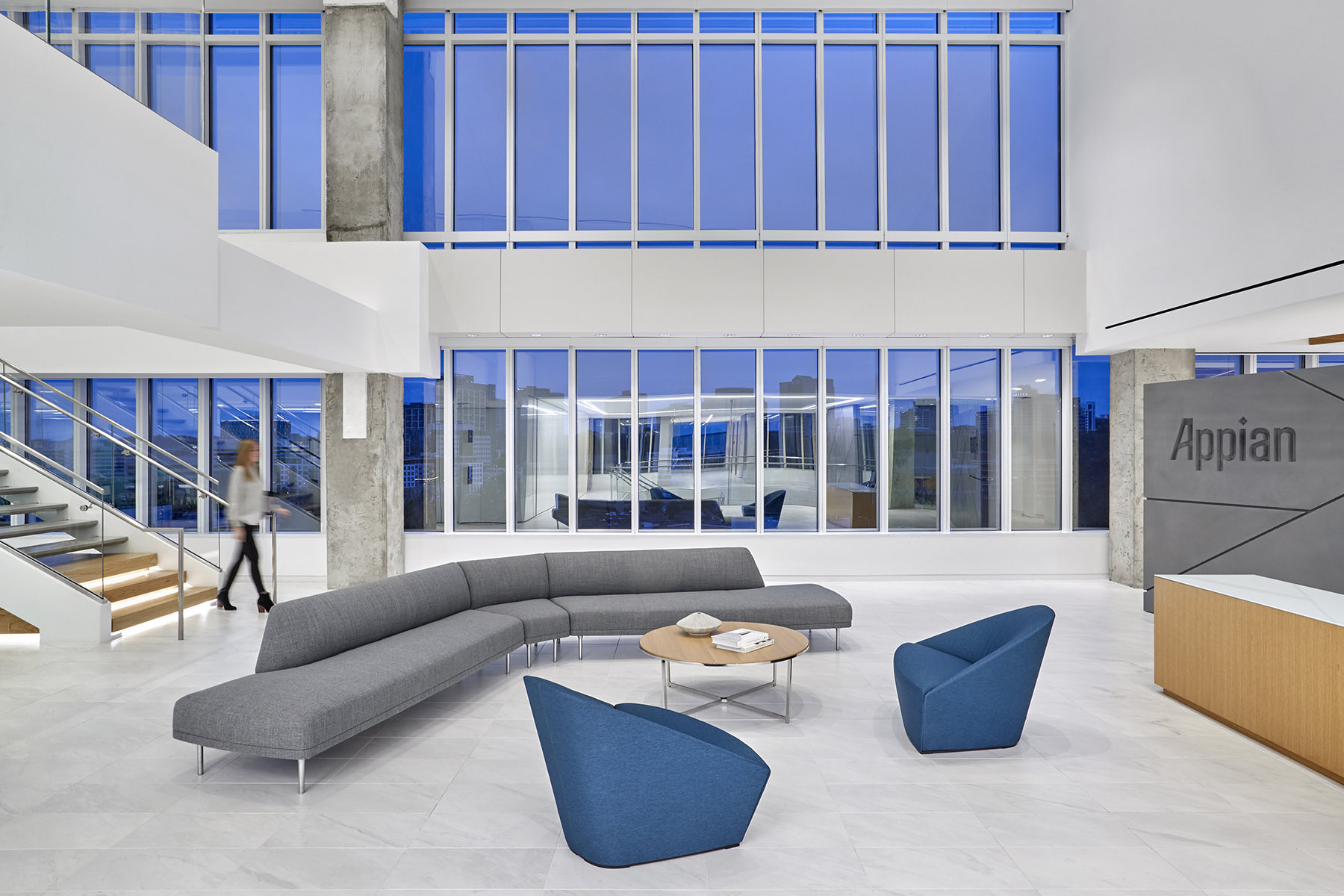 A Tour of Appian's Modern New Tysons Headquarters
Software company Appian recently hired architecture firm CallisonRTKL to design their new headquarters in Tysons, Virginia.
"Appian's Agile teams of 6-8 people work in two-week "sprints" to solve specific problems or tasks with everyone participating in morning "stand-up" meetings. Every two weeks, the teams reconfigure to work on new solutions. All of this requires ultimate flexibility in space layout, furniture and mindset. The Agile work model was used for Appian's software developers and technology experts and the layout, finishes and spaces were adapted accordingly. The Appian way of authenticity was first reflected in the material choices, like poured concrete in the wall design which connects all floors, including the "treehouse" atrium on the mezzanine level.

Reflecting the Agile method, CRTKL's design team worked with Appian staff in a highly collaborative process — encompassing observations, focus groups and even customizable office components so they could put together their ideal workspaces like a puzzle. In the final design, each of the eight floors has its own finishes, multiple huddle rooms, white boards for "sprint" planning and a comfortable, residential feel with big, bold branding and colors.

With amenities like a pond, walking trails, sports courts, auditorium and cafeteria on campus, employees now enjoy a space to decompress and spark inspiration after their sprints. For their part, Appian hired coaches to train staff in the Agile method: ensuring that this forward-looking way of working would fit their highly flexible, bright, airy and inviting new office space," says CallisonRTKL.
Location: Tysons, Virginia
Date completed: 2020
Design: CallisonRTKL
Photos: CRTKL