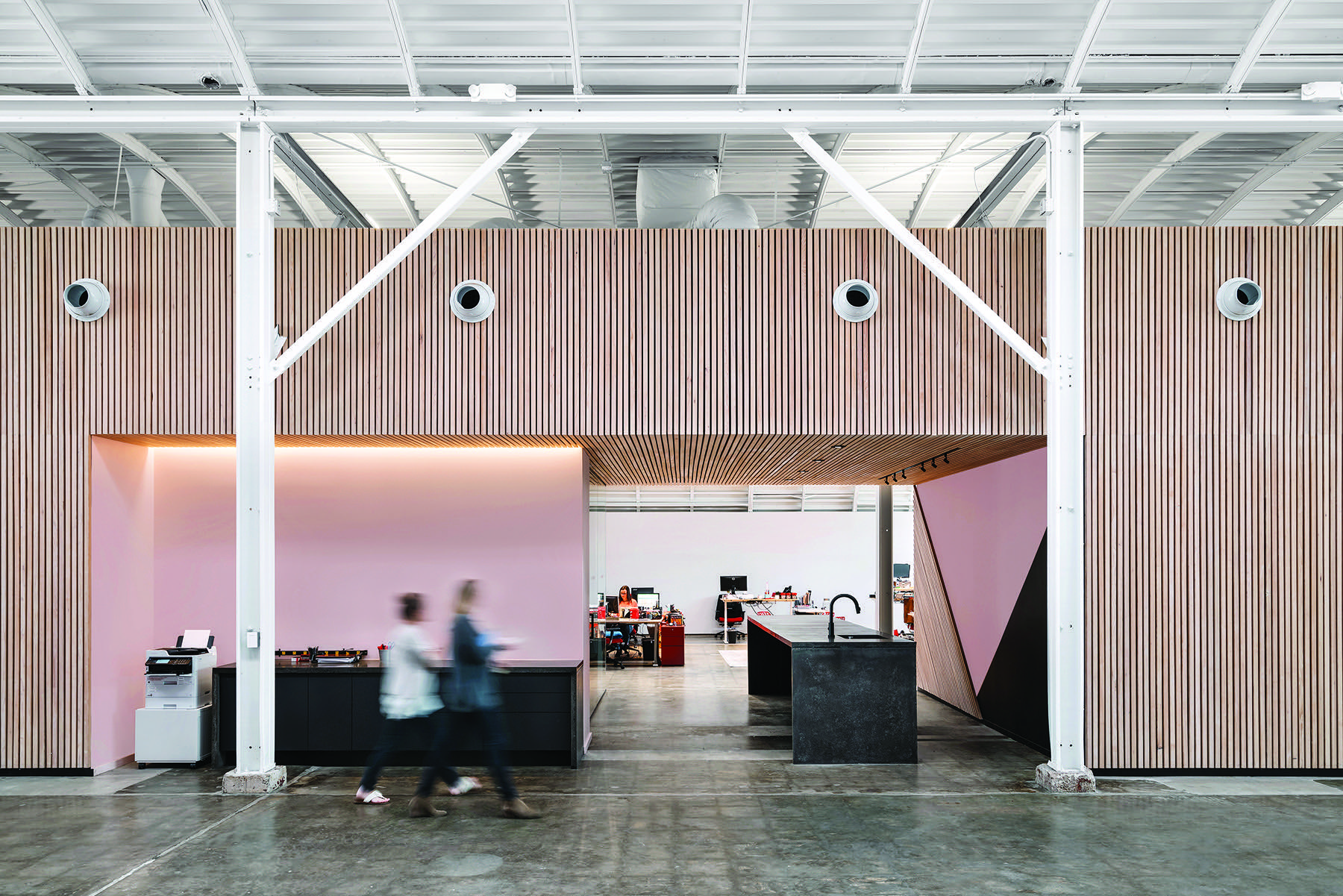 A Look Inside Red Velvet Events' New Austin Office
Event planning agency Red Velvet Events hired architecture and interior design firm MAGIC Architecture to design their new office in Austin, Texas.
"The Red Velvet Events office occupies a 1940s three-bay Quonset hut that was previously an airfield maintenance shed and a discount furniture outlet. The task was to renovate a forgotten building into a playful corporate headquarters for a local Event Planning company.

Built during WWII, the building had suffered from decades of haphazard repairs and leaks from flawed internal gutters. Previous occupants had filled in most windows and concealed the curved structure with a suspended ceiling system. The primary goal of this adaptive reuse project was to clarify the building and expose the ingenuity of the Quonset structure.

After removing decades of haphazard repairs and layers of roofing, the most important technical task was how to insulate and roof the building for decades to come. Working closely with the structural engineer, the existing roof structure was delicate and barely self-supporting. To overcome this, a deepened corrugated metal deck and straps improved the structural vault and allowed for rigid insulation and membrane roofing to be installed.

The second goal was to bring controlled daylight to every desk. Placed at the crown of each vault are ten linear skylights spaced, 20 feet apart, provide diffuse daylight throughout the interior. Providing unobstructed views to the outside are two custom-colored window walls. The windows also amplify the company's branding message to thousands of drivers daily.

The third goal was to be playful and not be too serious. Fun moments were integrated into the experience through the use of swings in the reception area, a large scale Corten Steel Jackalope sculpture and dominos used for wall tile in restrooms," says Magic Architecture.